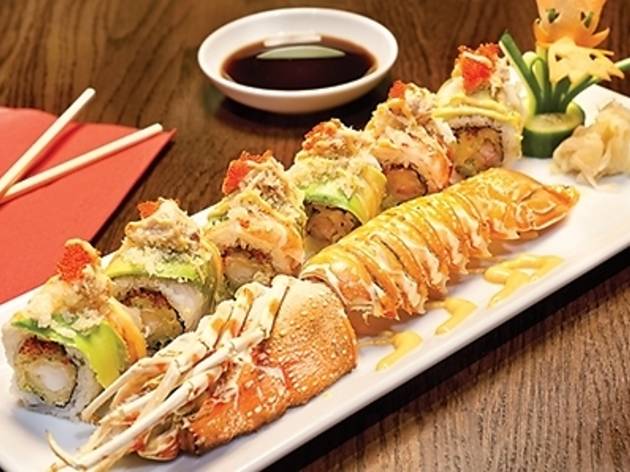 In Japanese culinary literature, miyabi is the knife given to sashimi masters who've reached the highest level. In Istanbul, it's the name of the new sushi restaurant in Akatlar opened by Yüksel Akkök, who previously served as the manager for Mori and Ioki. Its open kitchen serves as proof of Miyabi's ambition to raise your expectations of sushi.
The eatery is located on a quiet side street in the middle of the city. Compared to the larger and more crowded sushi and Chinese restaurants in town, Miyabi has a rather calm and peaceful atmosphere.
From the valet who assists with your car to the personnel who send you off, the service is, in a word, attentive. It's also quite fast for what you'd expect from a sushi restaurant. We'd also be remiss if we didn't mention the warmth and tranquil elegance the wooden décor adds to the space.
The small garden out front is sure to make the eatery more colorful soon, while the area set off by a sliding door is perfect for parties, celebrations and business lunches.
As for our picks from the menu, the tempuras are well fried and flavorful. In addition to all the classic options for fans of convention, the Chef's Roll section also features sushi with cooked seafood as well as dishes like the crazy roll, the yummy yummy roll and the lobster dynamite roll. The maki are somewhat smaller than you might be used to, but you can always opt for the noodle options to get your fill.
The prices are reasonable for a sushi restaurant, with the maki (cut into six pieces) ranging from 6-18 TL and the rolls from 24-28 TL. The most expensive option, the lobster dynamite roll, costs 42 TL.
In the end, every restaurant starts out with the goal of reflecting its stance and its mission in its name, but it's debatable how many maintain a level of consistency, exuding the same level of excitement and effort when the years go by and their signs are weathered. It might be too soon to make the call, but we have a feeling Miyabi just might become an Istanbul classic. It's your turn to try. Seda Naniç Zeybek
Venue name:
Miyabi
Contact:
Address:
Akatlar Mahallesi, Zeytinoğlu Caddesi, Yaren Sokak, No 6/14-15
İstanbul


Opening hours:
12.00-23.00