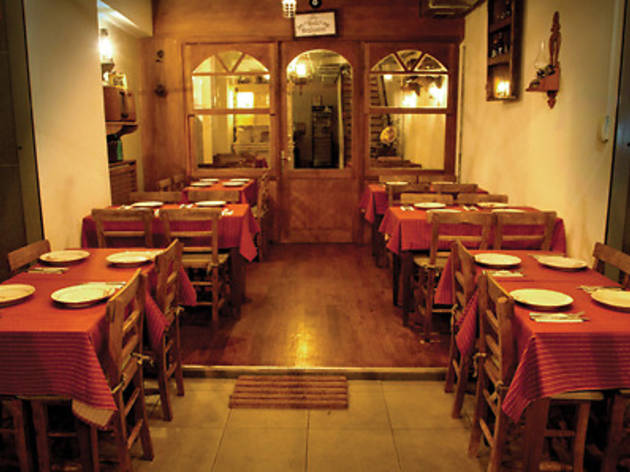 The moment you step inside to see the shelves lined with lace handkerchiefs, a gramaphone, oil lamps and other antique decoratives, you understand that the bohemian soul of Moda Meyhanesi is a carefully cultivated one. It seems some Kadıköy locals have already become regulars, since we're unable to find a seat neither inside nor outside when we visit on a Saturday night, four-and-a-half months after its opening. One of the two attendants grabs a table and two chairs and seats us next to the street right away. We're brought mismatched porcelain plates that remind us of our grandmother's house, as well as small glasses and a tiny bowl of white chickpeas. And a one-page menu so uncomplicated it could be called a list: save for a couple of special meze, most of the dishes are priced in groups.
There are no main courses but warm starters like kokoreç (seasoned, skewered lamb's intestines), uykuluk (sweetbread) and döner kavurma (braised lamb). Kulüp Rakı, Tekirdağ Rakısı and Yeni Rakı are the most popular options, though you'll also find Efe and Altınbaş brands here. If you order a large bottle and can't finish, they draw a line on your bottle and serve it to you on your next visit – whether you're a regular or not. We're delighted to be given an option of goat or cow when we ask for cheese with our rakı, just as we're surprised to learn that an eatery with the word 'meyhane' in its name doesn't offer any fish, yet the idea here isn't to have a full family meal; it's to have a couple of bites to accompany your drink. When the waiter forgets our order for the white cheese patties, we don't remind him, since we've been fooled by the small size of the plates and ordered a filling meal as is. The haydari (yogurt spread seasoned with garlic, mint and dill) is thick, just as it should be. The gavurdağı salad (a medley of tomatoes, cucumbers, yellow onion, parsley, lemon juice, olive oil, sour pomegranate and walnuts) is perfect – tangy, juicy and made without scrimping on any of the ingredients. We're tempted by the fava beans but try the fried eggplant instead. What a great choice this is... This incredible meze is topped with a yogurt, garlic and tomato paste sauce that makes us think we're eating kebap, not meze.
Only the kokoreç disappoints. It's much greasier than we expected, and in spite of all that spice, something's missing from its flavour. The prices aren't that expensive compared to similar eateries in Kadıköy, but given the small portions, they aren't cheap, either. The service isn't quite where it should be yet. Yet the flavours and atmosphere are so enticing that we're sure to revisit Moda Meyhanesi as soon as we can.
FROM THE MENU
Kulüp Rakı (small bottle) 45 TL
White cheese patties 8 TL
Gavurdağı salad 10 TL
Olive oil and cheese meze options 6 TL
Meat meze options 12-18 TL
Venue name:
Moda Meyhanesi
Contact:
Address:
Moda Caddesi 82/B
İstanbul


Opening hours:
Monday-Friday 12.00-01.00; Saturday, Sunday 12.00-00.00.