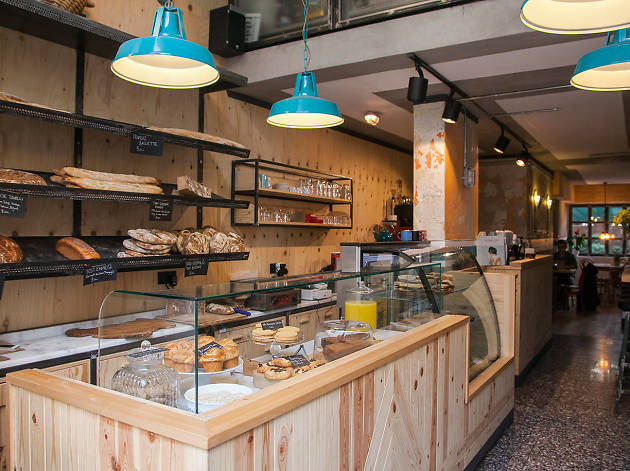 It's no lie that there are only a dwindling number of areas left in Istanbul where the original soul of the place remains intact, and the good-neighborly relations of the past persist. One of these is Moda, where local residents are cautious of and guarded against flash-in-the-pan trends and newcomers. Once the banner for Naan Bakeshop went up on Moda Caddesi, we frequently overheard the reproachful words of old-timers – the real residents of Moda – who were more concerned about the butcher shop it displaced.
Nowadays, we see those same elderly residents walking out of Naan with a bag in their hands. There's only one reason for this: Naan came to Moda not to throw its weight around, but to become a genuine neighborhood bakery. Some of you might remember the place from its former location in Resitpasa. In reality, Naan – and its owner Sandy Abut – was the reason that the phrase "artisanal bread" started entered the common lexicon of many Istanbulites. Sandy is a baker with a deep admiration for the finesse and mastery that go into making bread, as well as the time that goes into preparing it from yeast to dough. After shutting down her shop in Resitpasa, Sandy briefly worked at Borsa, preparing breads for local venues – later taking a break from the bread game. Thankfully for us, the hiatus was short lived, and Sandy started scouting for a place to open up with close friend and business partner, Onur. Early last summer, they found their new home on Moda Caddesi and got to work right away.
As you probably will have guessed, bread plays the leading role at Naan, with a variety of options, like rustic sourdough bread, toast bread, multi-grain, walnut & raisins, and whole wheat, ranging in price from 5-12 TL. Sure, it might seem expensive at first, but the breads at Naan are surprisingly rich, so they weigh significantly more than regular breads. To get a taste of Sandy's breads fresh out of the oven, we recommend the breakfast for two at Naan, which comes with an artisanal bread basket. You'll also find delicious quiches, börekitas, cookies, open-buffet lunch options, vegan alternatives, and salads. You might even get lucky and visit on a day when they're serving pizza, so it's a good idea to drop by often… That is, if you can find room between all the elderly neighborhood residents. Glad to have you back, Naan!
By Merve Arkunlar

Venue name:
Naan Bakeshop
Contact:
Address:
Moda Caddesi 113, Kadıköy.
İstanbul


Opening hours:
Mon 11.30- 22.30; Tue-Fri 09.30-22.30; Sat, Sun 09.30-21.30.