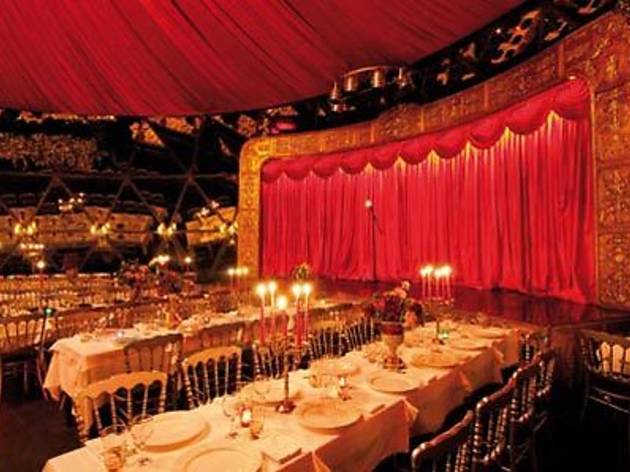 Nahide or Nahide Palas, the venue that's dazzled innumerable guests with its entertainment, food and ambiance, has upgraded and become a palas (palace). The Moulin Rouge-red of the corridor merely hints at what you'll find inside. The host is even more of a femme fatale, bubbly and sexy character than we remember. First of all, Nahide's show group greets you at the door; then this perfect crew sings you Nahide's version of worldfamous showtunes all night long. The one or two familiar pieces at the entrance, left over from Joke Circus, make you feel at home, in a familiar place and in safe hands. The set up of the previous venue, Al Jamal, still remains, including a perfect circle with a box seatarrangement under a giant dome. In terms of changes to the place, the new venue features two rows of seating, as well as tables in the dancing area - in the middle. The mirror on the construction encircling this set is dizzying, and when you take all of this in, you also understand what people mean when they say, "You're either inside the circle or you aren't." You'll want to share the excitement of being inside the chamber with your loved ones.
Gazi and Bilal Ateş have prepared a brand new menu for Nahide Palas. Starters include kısır (cracked wheat, veggie and olive-oil salad), fava spread (mashed broad beans), baba ghanoush, lentil köfte, Lebanese cacık (cold garlic & cucumber soup), barbunya pilaki (a meze with red kidney beans) with cinnamon, grilled eggplant, grilled peppers and şakşuka (a dish made with peppers, eggplant, tomatoes and onions). The warm plates include Swiss chard dolma, chicken börek (a filo-dough pastry filled with chicken), 'the prostitute mantı you've missed,' arangini and chicken kokoreç (a skewered dish made with animals' intestines). As for entrées, you have your pick of chicken chops with spinach, Cahide's famous şaşlık kebap or the salmon Provencal. The dessert menu includes profiterole sandwich, sexy chocolate and baklava with apple and walnuts.
A note for those wishing to make reservations at Nahide Palas: the table in the middle of the circle is as popular as the stage-front tables and box seats. Make your reservations a week in advance and you'll get to experience the hydraulics under the mid-chamber table, forcing you to levitate as the waiters are serving your entrées. This table, one of the highlights of this interactive venue, is called the 'lucky table.' Those who can't get a seat here are green with envy. Nahide is a mysterious place not unlike a circus tent, isolated from the city's square concrete buildings by a red cloth. The entertainment continues with new shows; among familiar faces in the 16-person crew, are the newly recruited German trapeze artists and, of course, Hala. The opening act is Precilla, followed by the shameless nun's cabaret, the time tunnel of music and Michael Jackson. The acrobatics show, put on by artists in tutus that emerge out of four agent-looking trapeze artists' topcoats, adds even more excitement to your evening. But we won't give away all of the surprises. The shows begin onstage at 22.30 and run till 02.00. The dancing on and among tables continues not until the night's over but until your batteries have run out.
You'll probably come across someone's bachelor or birthday party while you're here, usually in the summer. The themed live music nights on Tuesdays start with Selami Şahin and continue, full force, from there. We'll also recommend the two cocktails you'll adore: the Zuzu Satsuma, which is Satsuma served with vodka in a glass with assorted lights; and the çakma Nahide, served with passion fruit in a jar. Each cost 30 TL. After visiting her motel, Nahide invites you to her palas, where she's taken the entertainment to a whole new level.
Venue name:
Nahide
Contact:
Address:
Kadırgalar Caddesi Maçka Demokrasi Parkı 2
İstanbul


Opening hours:
Daily 20.00-02.00.