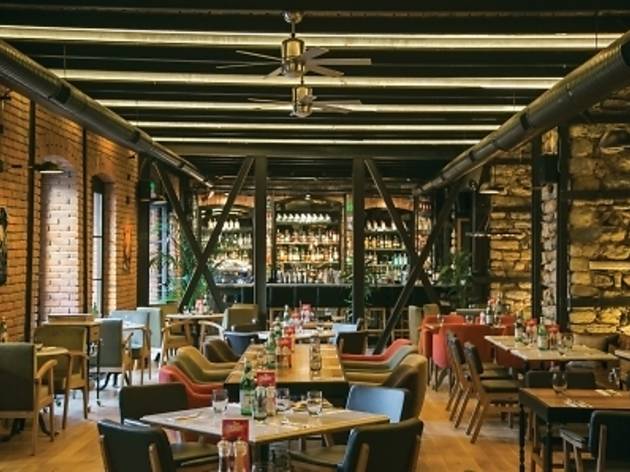 Time Out says
With dozens of new restaurants entering the local eating and drinking scene each month, it's justifiable that they all claim to be exceptional in one way or another. Yet in the case of Nola Istanbul, there truly is an element that sets the restaurant apart – one that dates back more than 700 years.
Nola Istanbul is nestled beneath one of the few remaining sections of the city walls built by the Genoese in the mid-14th century, which were largely destroyed following the Conquest of Constantinople in 1453. It took nearly five years for the restaurant's owners to complete restorations to the abandoned building resting against the wall and obtain the necessary permits. Their hard work seems to have paid off, and they certainly deserve props for their diligent efforts to protect the historic structure.
The interior of the two-story restaurant has a regal atmosphere, similar to how you might imagine a king's feast hall would look. At night the lighting helps draw attention to the medieval walls, which evoke a sense of serenity. The lower floor is quite spacious, while the top floor is divided into a small exhibition space and a soundproofed party area equipped with a special sound system. This area is available for rent for those who want to host private parties underneath the old city walls, and we hear the restaurant's owners intend to host live performances here in the near future.
Nola Istanbul also boasts a large courtyard. Had the owners been greedy, this space could've easily been designed to seat twice the number of people it currently does, but thankfully they chose to prioritize their patrons' comfort. As a result, we're met with a summer garden the likes of which we'd be hard pressed to find elsewhere in Beyoğlu. Set beneath the watchful gaze of graffiti artist Leo Lunatic's panda, the courtyard is sure to be one of the hottest destinations next summer, especially if we take into account Nola Istanbul's Mediterranean-inspired fare. Just about every item on the menu is a testament to the restaurant's emphasis on keeping the ingredients fresh, particularly in the case of seafood, which arrives at our table as close to its natural state as possible, overpowered by neither sauce nor salt. The sea bass ceviche is a must-try, as is the pan-fried salmon. The menu also includes pizzas, pastas, risottos, carnivorous main courses and a dessert section featuring tantalizing treats like authentic Italian tiramisu. If you simply can't make room, we recommend finishing off your meal by ordering a cup of Turkish coffee, which comes with an assortment of bite-sized lokum.
Details