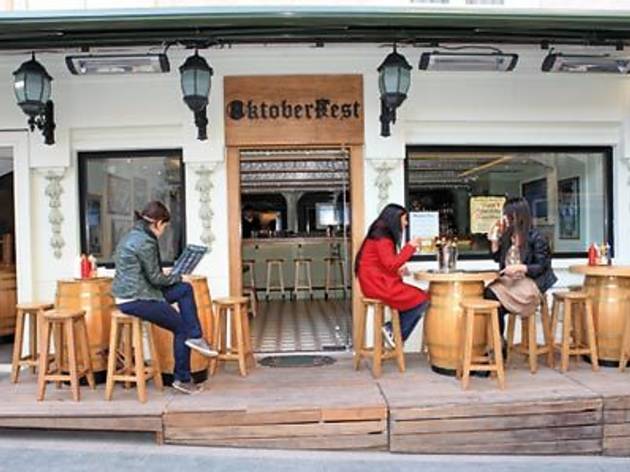 1/2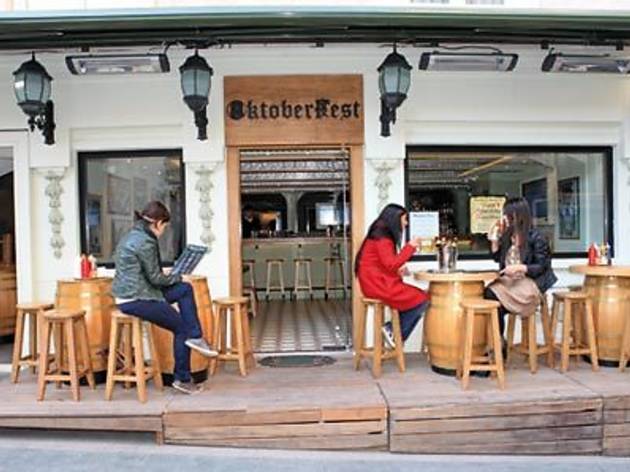 2/2
This venue, identical to the tiny bars in the streets of Munich, charms passersby with its exterior. The tables made out of barrels, surrounded by stools, give the venue character, as do the crown mouldings and lamps. Oktoberfest is even more enticing in the evening, with the smell of beer seeping out into the street as the venue gets crowded. There is a long bar and several tables inside, with a total indoor outdoor capacity of 30 people. The décor is abundantly pale green and white with wood, while the music is Dutch.
Oktoberfest's menu consists of festival-like varieties. As expected, beer plays the lead role here. Don't look for a thousand and one kinds of German beer on the menu, since importing alcohol isn't easy in this country. Still, Oktoberfest does what it can, endeavouring to widen the variety in time. What you'll find now are well-known brands such as Efes, Beck's, Miller, Amstel, Budweiser and Heineken, along with Swedish beers like Aecht Schlenkerla Rauchbier Märzen, Norrlands Guld, Spendrups and Mariestads, which you won't find elsewhere. If you want to taste an authentic German beer, try Aecht Schlenkerla Rauchbier Märzen's smoky and full flavour. Oktoberfest also offers beer cocktails. The Monaco, made with vodka and hot sauce, and the Beer Breezer, prepared with Bacardi and mint, are our favourites. Oktoberfest also appeals to the staunch antibeer crowd with vodka, rakı, gin and cocktails.
However, the real surprise at Oktoberfest, where margarita and mojito are featured on the menu, is that there isn't a trace of pork here. We're not saying that all the dishes should be topped with bacon, but the lack of even one pork sausage struck us as weird, to be honest. Speaking of food, let's go on with the menu.
You'll find beer accompaniments like Buffalo wings, cheese fries, jalapeño poppers, scalloped potatoes, coleslaw and crispy onion rings. After beer, the second headliner of the menu is the hot dogs. The Jumbo Berliner with veal Frankfurter sausage, caramelised onions, grated cheddar cheese, pickles and BBQ sauce made with a special kind of mustard; the Munich cheese dog with veal sausage, melted cheddar and iceberg lettuce; and the Oktober dog with smoked sausage, jalapeño, chilli sauce, grated cheddar and caramelised onions are must-try dishes that go great with beer. Oktoberfest even comes to your aid with options that combine hot dog and beer. You can scarf down the Jumbo Berliner and 33 cl of beer for 10 TL, two Munich cheese dogs and 33 cl of beer for 11 TL, or two Oktober dogs and one 33 cl of beer for 12 TL.
The prices are very reasonable, and if you purchase a 70 cl pitcher of beer, the fries are complimentary. All snacks and hot dogs are served on green and white chequered service paper. They've added another German touch to the presentation by placing toothpicks with German flags on the dishes. All of the pub grub is well thought-out. Even if we can't agree on one or two things, Oktoberfest deserves praise for both flavour and presentation. We hope to see small changes made to the menu in the future.
From the Menu
Beer shot 1 TL
Crispy onion rings 6 TL
Buffalo wings 5 TL
Jumbo Berliner 7.50 TL
Aecht Schlenkerla Rauchbier Märzen 20 TL
Venue name:
Oktoberfest
Contact:
Address:
Minare Sokak 4
İstanbul


Opening hours:
Daily 16.00-02.00.