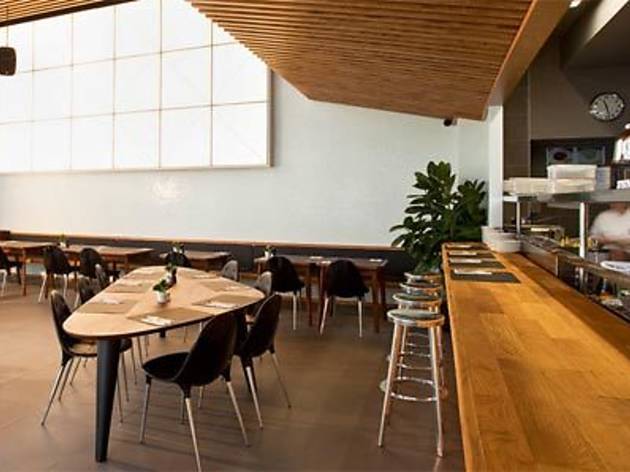 The restaurant has tall ceilings and a wooden decor, as well as a small front yard. The front of the restaurant is perfect during the summer months for people who want to dine outdoors. If you walk into the restaurant's interior and it's close to noon, it is possible that you will see students running around and working like bees. The students of the academy who have already gone through training for four months are required to intern to receive their diplomas, and this restaurant gives them that opportunity. But don't think that all they do is cook during their internships; they serve and keep the restaurant running, as well. The head chef of the place is the students' teacher Gökhan Sorguç, who has experience in Michelin starred restaurants and has even worked with Gordon Ramsay. Chef Gökhan Sorguç tells us that the menu consists of food that requires skills in the kitchen but not so much for serving.
For example, it takes a lot of effort to cook ovenroasted veal ribs that only serve 40 portions. The ribs have to be cleared of all their fat. The students serve the food, offering information about their ingredients and the preparation. A cheerful student tells us that the tomato soup is prepared with a special kargı tulumu (aged cheese) that is produced in Çorum (only 53 kilos a year). The soup and the cheese are both delicious. This is followed by shrimp patties laid on a bed of salad with truly fresh vegetables. Stewed seafood, Parmesan-coated chicken breasts with truffled mashed potatoes and papardelle with wild mushrooms are some of the main courses. French chef Paul Bocuse's signature warm caramel, strawberry and vanilla ice cream is on the dessert menu. The chocolate ravioli is delectable. The menu isn't crowded, but it's filled with food that requires hard work and sophistication. The wines haven't been forgotten, either, with red, white and rosé wines that match each dish added to the menu. The students have studied the pairings well and also help with the wine selection.
Okulun Mutfağı also has easy pick-up breakfast options such as plain, cheese and ham croissants, poğaça (flaky, savoury pastry), simit (Turkish bagel with sesame), freshly squeezed orange juice, lemonade, mint lemonade, coffee and tea. People working around Maslak, living close by or just passing through... You should stop by Okulun Mutfağı to see what the MSA students have been up to, to taste their specialties and to grade them.
From the menu
Tomato soup with kargı tulumu 9 TL
Shrimp balls in a bed of vegetables 19 TL
Oven roasted veal ribs with truffled mashed potatoes 37 TL
Chocolate ravioli 9 TL
Venue name:
Okulun Mutfağı
Contact:
Address:
MSA Meydan Sokak, Beybi Giz Plaza B Blok 123-136
İstanbul


Opening hours:
Mon-Fri 12.00-17.00.