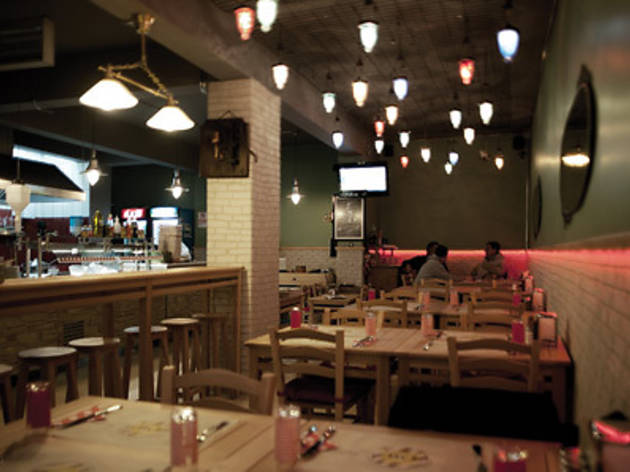 Time Out says
At first glance, you'll probably think that OMG stands for 'Oh My God'. It doesn't. Instead, it's shorthand for the Turkish phrase 'Offf Muhteşem, Götürrr' (which roughly translates to 'incredible, dive in'). OMG, which opened last February in Barbaros-Batı Ataşehir, offers modernised versions of regional dishes, both in terms of flavour and presentation. The story goes that owners Aykut Altın and Emrah Şarlak, both graduates of Galatasaray High School, sought to recreate the flavours they tasted throughout Anatolia in Istanbul. The initial plan was for OMG to operate as an establishment focused on food delivery, but the warm décor and atmosphere made it a mostly sit-down restaurant in no time. The white brick walls, wooden tables without tablecloths and colourful lamps hanging from the ceiling render the venue delightfully simple, while the open kitchen and bar stools give it the feeling of an American diner.
The menu is based on Konya-born Cevdet Özenli's Anatolian specialties. First to arrive at your table is a plate of pickles, zahter (a blend of various spices and ground nuts) as well as raw cracked olives from Hatay, served in olive oil from Cunda. The 120cm-long oven-baked pides are made with a special dough that uses four different kinds of flour; the result is a thin, crispy dish. In addition to classic Konya pide varieties like ground beef, bıçakarası (with chunks of beef) and Meram (called Mevlana in Konya) with ground beef and cheese, you'll also find those with chicken and veggies, Turkish sausage, white cheese and braised meat. Our recommendation is to try the two dishes that you'll only find at OMG. The first is the pide with pastrami and hummus, and the second is the pide with kokoreç (seasoned, skewered lamb's intestines).
The must-try main course here is the Hatay-style whole chicken rubbed in salt, which you must order two hours before visiting the restaurant, since it takes nearly that long to make. Cooked in its own juices, the chicken is as tender and flavourful as can be. Another main course to try is Konya furun kebabı, or lamb's meat that's been seasoned with rock salt and slow-cooked in a tandoor for four and a half hours. It arrives at your table with stuffing rice that includes currants, pistachios and lamb's liver, and it's good enough to win over even those who profess not to eat lamb. Antakya kağıt kebabı, or Furun Köfte, features chopped meat with veggies and plenty of garlic – the same meat used in Antakya tepsi kebabı, aka the OMG Special Burger. If all these terms have you a bit confused, you could always opt for the dürüm (wraps) made with chicken in salt or tender lamb's meat. What makes the dürüm stand out is the soft lavaş bread baked on premises. The chicken dürüm comes with a special white sauce, while the lamb dürüm is served with salsa.
Meat isn't all you'll find at OMG, of course. There are also creative olive oil dishes like thinly-sliced celery with quince and oranges, stuffed leeks and stuffed onions. Beets with yogurt – an offering you'll only find in several Istanbul meyhane – is also on the menu. The soup menu also deviates from the norm, with local flavours like dried okra soup and pumpkin borani soup as well as daily options such as yayla (a yogurt-based soup). We highly recommend the okra soup, made with dried okra brought from Amasya as well as pepper paste, sumac, tomatoes and lamb's meat. The chestnut profiteroles feature chestnut puree from Bursa, while the apple samosa sits halfway between a baklava and Apfelstrudel, packed with apples instead of regular baklava ingredients such as pistachios or walnuts.
What really blew our mind, though, was the Sacarası, a dessert from Konya made with incredibly thin dough, stuffed with pistachios and topped with sherbet, then served with clotted cream. OMG also excels at drinks: here you'll find the nostalgic Niğde gazoz (soda), hard to come by these days; you can try it plain, but while you're at it, try it with mint syrup (Niğde Menta) or melon syrup (Niğde Melon). And if that's not summery enough, OMG has a special menu for hot weather: grills, like the marinated chicken breast cutlets grilled with zero oil, or salads, like the Viyana Kartoffel featuring gherkins, salt-marinated red onions, mustard and fresh onions, are perfectly light and flavourful.
FROM THE MENU
Hatay-style whole chicken rubbed in salt 28 TL
Konya furun kebabı (lamb's meat cooked in a tandoor) 18 TL
Pide with pastrami and hummus 15 TL
Details