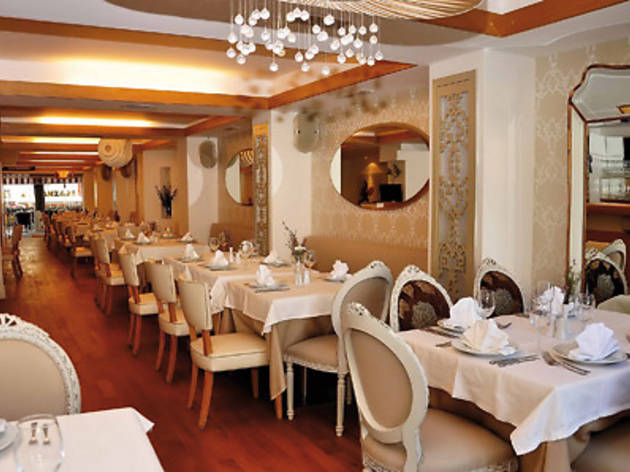 Pasha Bebek opened in Bebek to revive the culture of eating and drinking in old İstanbul. They serve the best examples of Turkish, Armenian and Greek mezes and traditional Turkish dishes. The warm Greek tunes take you to a warm summer evening on the shore, though you also have the chance to hear live buzuki, accordion and violin melodies on some nights of the week. Though the real draw, of course, Turkish, Armenian and Greek meze dishes.
Pasha Bebek also offers homemade dishes for lunch daily between 12.00-15.00. Just to whet your appetite, here are a few items off the menu: fava beans, topik (a dish with potatoes, chickpeas, onions and spices), stuffed grape leaves, stuffed quince, pickled pastrami, pâté de foie gras, roasted eggplant, shrimp, çerkez tavuğu (shredded chicken with bread, pounded walnuts and red pepper sauce), bomba pilaki (cold stew of dried beans with olive oil and onions), cacık (cold dish of diluted strained yogurt,cucumbers and garlic), artichokes in olive oil, sweet potato in olive oil, muhammara (a meze made with red pepper paste, toasted bread and crushed walnuts), black eyed peas, tarama (fish roe meze), fish with mayonnaise, pabucaki (an eggplant dish from the Aegean region), fish patties, fish kokoreç (skewered fish), fried calamari...
As for dessert, you'll have a hard time choosing among the delectable options; we recommend the irmik helva (semolina dessert) and fig dessert.
From the menu
Topik 7.5 TL
Pabucaki 10 TL
Tomato and rocket paste 7.5 TL
Grilled entrecote 24 TL
Fig dessert 10 TL
Venue name:
Pasha Bebek
Contact:
Address:
Küçük Bebek Caddesi No: 14
İstanbul


Opening hours:
Daily 11.00-23.00.