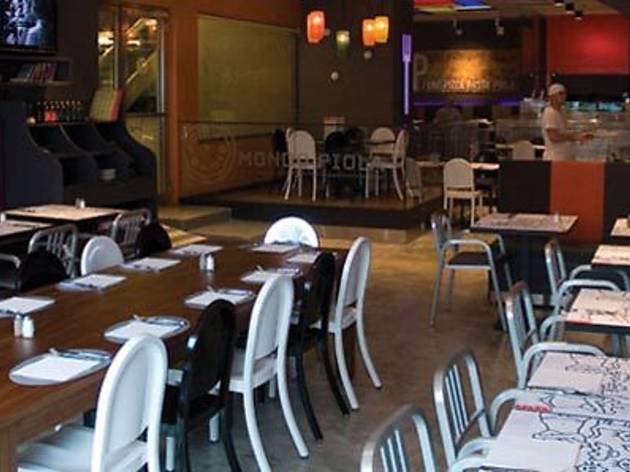 1/2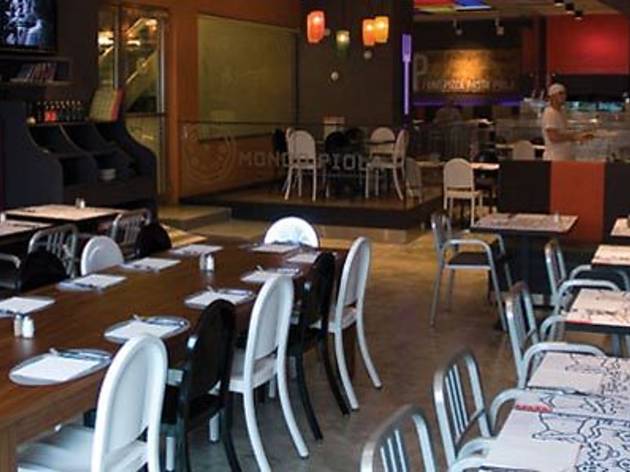 2/2
Time Out says
After opening branches in the United States, Brazil, Argentina, Chile, and Mexico, this Italian pizza chain has opened its second branch in Europe at the Istanbul Point Hotel in Barbaros. Its high ceilings make it incredibly spacious, while the wide windows invite the morning sunshine and the evening glow inside. Similar to other branches of Piola, the ceilings are filled with color and lighting, with a specific section of glass decorations with colors resembling Piet Mondrian. The massive colorful figurines placed on the walls like forks brighten up the led panels, as well as support Piola's modern style. The most intriguing corner is the open kitchen. The sight of pizza dough flying through the air sure works up an appetite! The special brick oven used to cook the pizza is a show of authenticity.
The average capacity is 100 people. Towards the summer, they are planning to put tables out onto the veranda. Piola's guarantee is "To present the true soul of enjoying life." Throughout its other branches across the world, this famous pizza chain hosts art shows, movie premieres, and book tours. We hope that this craze for Piola will not be limited to only one restaurant, and that these kinds of events will become more popular throughout Istanbul.
The menu consists of the world famous Piola pizzas such as "Pizza Piola", "Pizza Italia", and "Pizza Mantova." Aside from other pizzas such as "Gnocchi" and "Diavola," Turkish ingredients have also been introduced into the master menu of Piola. Examples of these ingredients are Mozzarella, braised meat, spicy olive oil from Kars, mozzarella, pastrami, cherry tomatoes with Parmesan from Kayseri and mozzarella, smoked "mostar" with rocket salad. From Ankara to Istanbul, these different ingredients from around Turkey are present in the special "white pizza" category. White pizza is, just as you would imagine, pizza without tomato sauce. Aside from this there are light pizzas along with 60 different pizza types at Piola. They are all light, thin crust, incredibly tasty and very traditional; some even contain pork. With its pizzas and its colors, Piola is a dynamic, modern and tasty pizzeria. Prices look high at first, but it's definitely worth it. Aside from renewing its master menu and keeping its classic recipes such as the Pizza Italia, Piola also has salads, pasta, carpaccio, and dishes with meat and fish. Being that "there should never be a menu in Turkey without meatballs," they've incorporated meatball dishes as well. However it would be a mistake to expect a "Turkish meatball" taste, as they are also prepared Italian-style. For dessert, our choice is definitely the famous Tiramisu.
Don't miss the digestive liquors either. The drink menu includes Turkish and Italian wines, beer, whiskey, cocktails and liquors, much more than we're accustomed to finding at a pizzeria, but less than we're used to finding at an Italian restaurant. Before dining, a Spritz Campari can help whet your appetite, and after the Sgroppino Al Limone is a must; they both cost 8 TL.
From the Menu
Pizza Italia 19 TL
Pizza Ortomisto 20 TL
Valpolicella Allegrini (1 glass) 15 TL
Tiramisu 12 TL
Spritz Campari 8 TL
Details