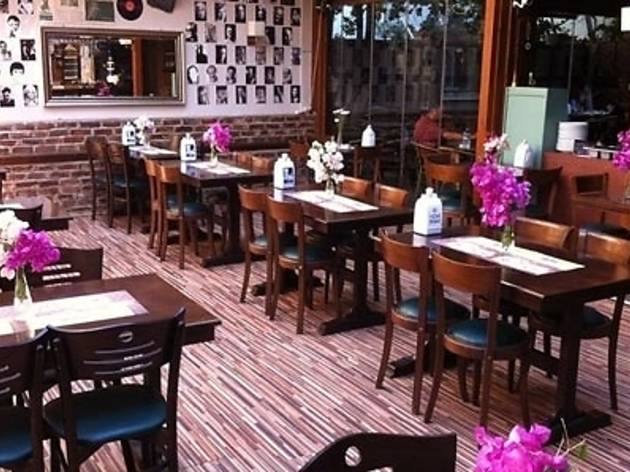 Time Out says
This one-year-old eatery on a side street in Kadıköy is hands down one of the best-kept secrets of great breakfast places in the area – and it's not even a breakfast-only locale. Piraye (which gets its name from the wife of celebrated Turkish poet Nazım Hikmet) does double duty as a restaurant by day and meyhane by night.
The owners are some of the friendliest people we've met to date: the husband oversees the venue in the evenings while his wife and her sister are in charge of breakfast. Natives of Izmir, these two ladies know how to do an Aegean breakfast right. Served in a well-shaded garden, the 20-TL Piraye Authentic Breakfast plate is a great deal for two to share, with an exhaustingly long list of flavours: a gratifying variety of cheeses (Izmir tulum, Van herbed, Erzincan tulum, Ezine white, kaşar, stringed), jaji (thick strained yogurt with green peppers and cucumbers), black and green olives brought from Izmir, sliced tomatoes and cucumbers, clotted cream with honey brought from Van, butter, a rich blend of tahini and molasses, muhammara (a meze made with red pepper paste, toasted bread and crushed walnuts) featuring white cheese instead of bread crumbs, homemade jams (like red grape and the spectacular apricot) and the unique, woodsy gypsy salad, which features tulum cheese nestled under lots of Aegean herbs, cherry tomatoes and olive oil. An order of the breakfast plate and either an egg-based dish or gözleme (tortilla-like fried bread filled with potato, cheese or meat) – like the spinach and curd cheese one or the eggplant and walnut variety – plus a couple of glasses of tea are more than enough to keep you in Piraye's garden for hours.
In the evening, you'll find your regular rakı table fare on offer, from fresh meze and salads to flavourful warm starters, grills and, of course, seafood. By all means stuff your face with whatever fish is in season, but be sure to leave some room for the buttery shrimp (14 TL) and the warm helva (8 TL). If you're lucky, you'll get to hear old-time Turkish music from the venue's own gramophone.
Details