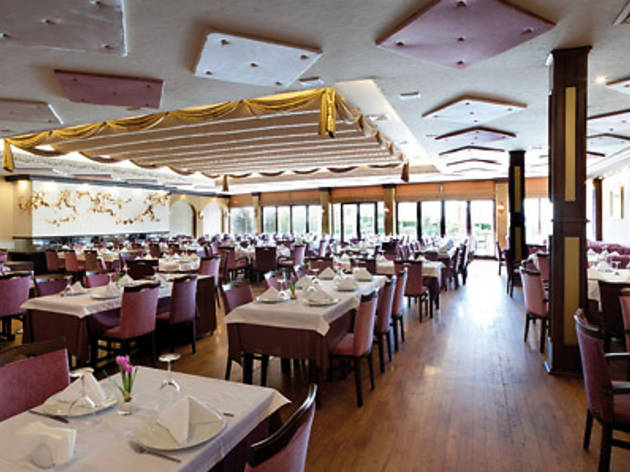 Another new kebap location welcomes us to the Asian side to experience full (yet light) flavour at a reasonable price. When you first arrive, you might be tempted to jump over the wall barricading its garden – just remember the entrance is from the back street, right by Ziyade Fasıl (run by the same team as Rihan, which gets its name from the Farsi name for 'sweet basil').
Inside, you're greeted by a spacious dining hall and lavender seating groups. Whole-wheat pide and lavaş (flatbread) are the first to arrive at the table, accompanied by white cheese from Ezine, tulum cheese from Erzincan, butter from Bolu and pickles from Antep. The classic meze, muhammara (made with red pepper paste, toasted bread and crushed walnuts), gets a makeover with olive oil and sour pomegranate sauce to break the intense flavour of the red pepper paste. Deciding that we like muhammara better this way, we move on to the gavurdağı salad made with marinated spices, chunky walnuts and tasty tomatoes. Another light starter is the Panço, made with yogurt, cubed potatoes and eggplants and served with a tomato sauce. The meze are impressive across the board, though our favourite is undoubtedly the spicy baron, which you must eat by dipping bread in melted butter and then the meze itself.
Of course, you'll also find classic kebap side dishes like içli köfte (fried or boiled cracked wheat patties stuffed with minced meat) and crispy lahmacun here. From the main courses, we give the Adana kebap and skewered chicken a try. The chicken is soft enough to put to shame those who'll protest 'Who eats chicken in a kebap place?' We recommend asking the waiter to bring mountain thyme (which comes from the Taurus Mountains) to lend the chicken even more flavour. The Adana kebap, on the other hand, features four different kinds of meat, each one cleaved separately, then re-cleaved once they're combined – a process that takes a full hour and a half. It's seasoned using only salt and red pepper flakes, and the tail fat is kept at a minimum to make the dish as light as it can be. The wine menu consists of Doluca and Kavaklıdere bottles, all reasonably priced. We pair a glass with semolina helva and ice cream, then order a glass of freshly brewed tea to let it all seep in.
From the Menu
Efendi 26 TL
Skewered chicken 18 TL
Adana kebap 19 TL
Semolina helva with ice cream 8 TL
Kavaklıdere Selection Narince Emir 2010 (bottle) 75 TL
Venue name:
Rihan Kebap
Contact:
Address:
Yazmacı Tahir Sokak 22, Sahilyolu
İstanbul


Opening hours:
Daily 11.00-02.00.