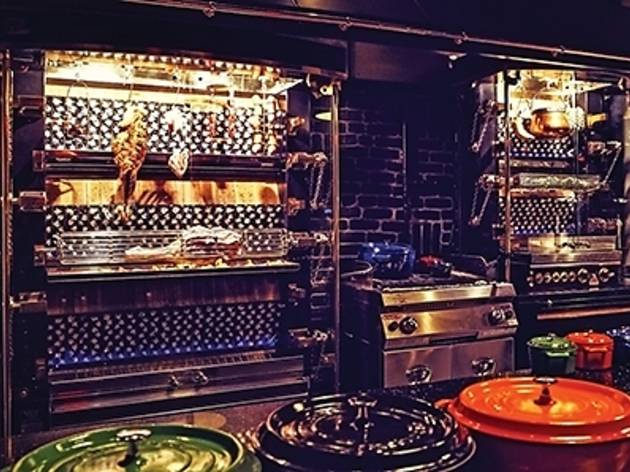 Meat cooked a la française
Rotisserie Noir is a new restaurant on Bağdat Caddesi that offers a different dining experience for Istanbulites. The hint is hidden in the name: "Rotisserie," the French meat cooking technique, is used to cook lokum, şaşlık and other local cuts of meat, as well as beef and lamb chops, entrecote, chicken and specialty sausage. At Rotisserie Noir, you can watch how your meat is cooked while mulled wine is prepared in a large copper kettle hanging on the rotisserie machine. The most characteristic feature of this cooking method is that the volcanic rocks in the machine disperse heat equally to the meat, helping it remain juicy on the inside and crispy on the outside. Rotisserie is also a healthy cooking method, since there is no direct contact with fire. Here, the meat isn't the only item on the menu to be cooked using the rotisserie method – the desserts such as banana and pineapple are also prepared on the machine.
The side dishes of mostly vegetables offer a healthy touch without a single fry in sight. We recommend the sweet potatoes, potatoes with semolina, creamy spinach, oven-roasted veggies and pasta, and salads with Mediterranean greens, while the celery with dipping sauce is a worthy warm appetizer to start your meal. If you happen to visit on a weekend, you also have a chance to try French onion soup. The name behind all of these dishes is Cordon Blue-graduated French chef Richard Madzar and his team. While you're there, celebrate the summer months drawing near with any of Rotisserie Noir's martinis.
Venue name:
Rotisserie Noir
Contact:
Address:
Bagdat Caddesi 460
İstanbul