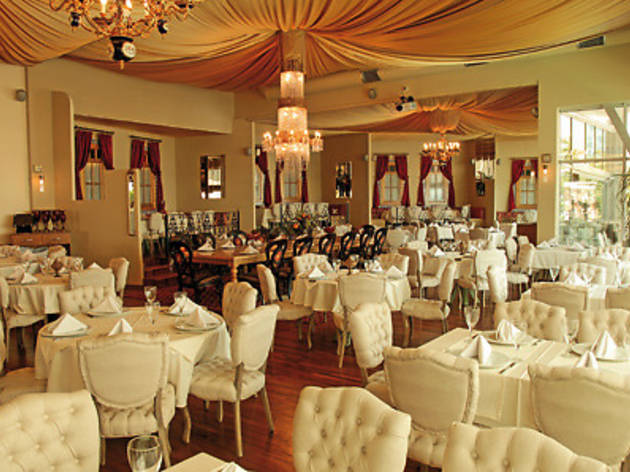 Şehzade is welcoming all those looking for quality service and delicious food in its new address in Taksim Talimhane. This 400-person space is divided into two sections, with the elegant Şehzade Salon used for more upscale dining events and the unadorned Şehzade Teras appealing to people of all ages. Another feature of Şehzade that could be called a record for Istanbul is its 400-vehicle parking lot and valet service. There is a separate section on the terrace, called Türk Konağı (Turkish mansion), where visitors can enjoy nargile (water pipes).
The menu was overseen by experts and focuses on palatial cuisine, with all of the breads, cookies and other pastries on the menu baked in a separate wood fire oven on the terrace. Other options at Şehzade include tandır çorbası (lamb's meat soup), hünkar beğendi (creamy pureed eggplant), vealstuffed vine leaves with pistachios, angler fish roast, salted fish, salted chicken, fried güllaç (rice wafers stuffed with nuts, cooked in milk and served with rose water) and kaymaklı katmer (crispy, flaky pastry served with clotted cream). You can also try the tamarind, rose, black mulberry and rosehip-flavoured Ottoman sherbets to cool your stomach. A last word of advice: to try the salted fish or chicken, you must call and place your order a day in advance.
FROM THE MENU
Tandır soup 9 TL
Stuffed cabbage in olive oil 10 TL
Sautéed mushrooms with a tahini sauce 11.5 TL
Veal-stuffed vine leaves with pistachios and palatial sauce 35 TL
Kaymaklı katmer 6 TL
Venue name:
Şehzade
Contact:
Address:
Kocatepe Mahallesi Abdülhak Hamit Caddesi No: 17/1-2
İstanbul


Opening hours:
Daily 08.00-01.00.