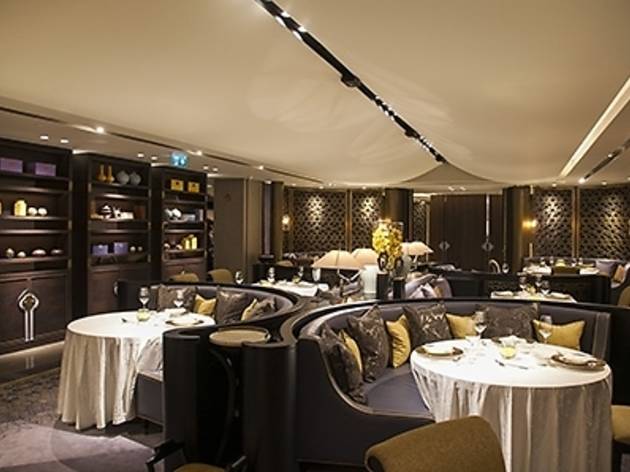 Time Out says
The Istanbul branch of Shangri-La Hotels and Resorts – the second European outpost of the hotel chain established in Singapore in 1971 – opened its doors in spectacular fashion back in May. Now that the hoopla has died down somewhat, it's the perfect time to visit its Cantonese-themed Chinese restaurant, Shang Palace.
This hotel restaurant has become a brand in its own right with ambitious recipes, countless dim sum options and an elegant ambience – all of which challenge the erroneous notion that Chinese cuisine is only simple, greasy food on-the-go.
Shang Palace's Chinese executive chef, Tony Sum, pays close attention to each detail, his high standards echoed by the crew's impeccable service. Once your hot towels are served, the knowledgeable attendants, who've studied Chinese culture for months, proffer information on why you won't find salt and pepper on the table, which sauce goes with which food and why it's acceptable to eat with your hands.
Although the hotel boasts 331 different types of wine picked by a Mimolett-trained sommelier, Shang Palace imports its own wine from China. If you order the Peking duck, the restaurant manager arrives at your table to wrap the duck in the pancakes himself. As is traditional with Cantonese cuisine, tea is served throughout the meal by a Chinese tea master who trained at his craft from the age of six.
Don't miss the chance to try the only kadayıf (fried shredded wheat)-wrapped jumbo-shrimp spring roll you'll find in Europe, the rich variety of dim sum (especially the rice dim sum) and the duck roasted in an speciality oven brought over from China. If you're a fan of barbecue, we also recommend the chicken marinated in honey sauce, Hainan-style poached chicken tenders, lamb shank marinated in Chinese wine and the wok-seared duck wrapped in lettuce leaf. All the meats are succulent and well portioned, each with its own sauce.
If you still haven't filled up on meat, the oven-roasted chicken wrapped in rock salt, the lamb-chop stew with spicy sauce and the whole chicken roasted in clay with a lotus leaf are all worth a try (for the latter, you'll have to order 24 hours in advance).
Other stellar selections include the seafood with ginger and green onions, slow-cooked in terra cotta and flavoured with a little Chinese wine right before it's served; the rice noodles with slow-cooked duck and vegetables; and the fried rice with sea scallops and egg whites.
Details