Simple Lounge Bar & Restaurant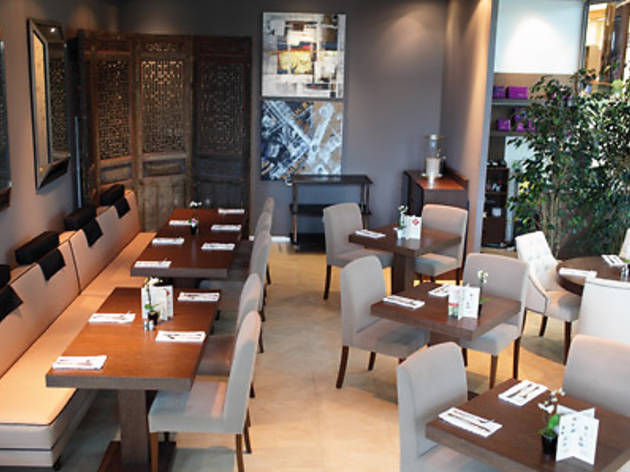 Located on the first door to your left as you go into the Sapphire Shopping Mall from the main entrance, Simple Lounge Bar & Restaurant is a sophisticated eatery, despite what the name might suggest. Here you'll find a glass area that looks outdoors and even a small patisserie where you can purchase macaroons, petit-fours or bread. Its garden will soon be covered over, and fireplaces will be installed. This room is planned to be turned into a 'cigar room'. Simple also has an upstairs area with large, comfortable couches.
The menu interprets and adapts international dishes to the Turkish palate, and no wonder: Chef Abdullah Taylan previously worked for Nobu and Armani Café. Looking through the menu, we are surprised by some of their selections, such as the famous French dish, frog legs. From the starters, the octopus carpaccio is a good choice for summer months. We follow this with marinated chicken served with an orange sauce, vegetables and delicious tomatoes. Very tasty and appetizing. The Swiss chard dolma stuffed with minced meat and sour cherries are also a delight. We first mistake the white sauce on top as yogurt before realising that it is yayla sauce made from dill, stock, yogurt, sea salt and pepper. From the dessert menu, we recommend the pumpkin dessert with coffee.
The bar chef Aslan Bozdağ has also prepared a variety of cocktails for Simple. The list even includes green beer, the ingredients of which are kept secret. You'll just have to try it to see what you think... The rest of the bar menu is quite extensive and the ambiance, perfect. Simple is sure to be an afterwork- drinks hub for those who live and work nearby.
Hands-down, our favourite aspect of Simple, though, is that no food goes to waste here. Based on their agreement with the Kağıthane Municipality, all excess food is collected and taken to animal shelters. The desserts, on the other hand, go to nursing homes. It seems 'simple' enough, but we can only hope that other restaurants start to implement such policies.
From the menu
Frog legs Provençal 27 TL
Octopus carpaccio 26 TL
Marinated chicken 24 TL
Swiss chard stuffed with sour cherries and meat 18 TL
Traditional pumpkin dessert with coffee 15 TL
Venue name:
Simple Lounge Bar & Restaurant
Contact:
Address:
Sapphire AVM, Eski Büyükdere Caddesi, 4. Levent
İstanbul


Opening hours:
Daily 10.00-02.00.