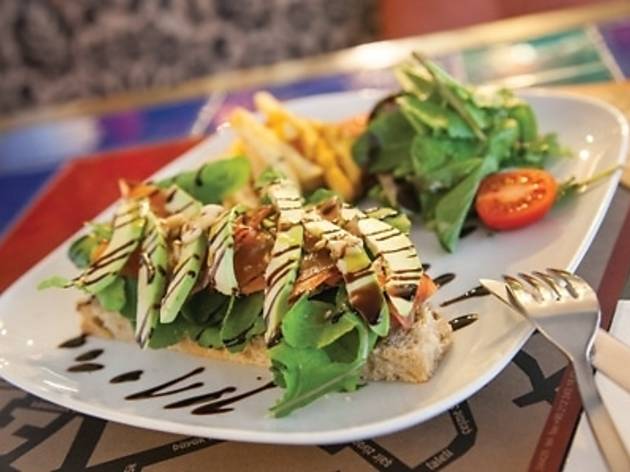 If you've been to santralistanbul, you're likely familiar with Sntrl Dükkan and wondering what it's doing here in the Food & Drink section. Allow us to explain: this brand new space in Galata is just as focused on offering a nice meal as it is on being a base for design products. Naturally, the emphasis on design makes for an inviting, library-like space: dim lighting with minor details, jazz music on Thursday nights...

This multi-purpose space owes its menu to Defni Hanım, one of the partners who wanted nothing more than to ensure that her guests have a good time. Sntrl's club sandwich has already shot to popularity among customers, though if you're planning to visit for breakfast, you simply must try the English breakfast options, specifically the Eggs Benedict, which comes with a Hollandaise sauce prepared in-house (they also offer a beef bacon version for patrons who don't eat pork). If you ask us, Sntrl Dükkan's true pièce de résistance is the Spanish hamburger. Defni Hanım carefully selects the bread from a bakery on the Asian side; then go in the sautéed mushrooms, caramelised onion, olive mayonnaise and a juicy patty to create the perfect hamburger (21 TL). While the fries served alongside the burger aren't quite as tasty as those we make at home, the combination of herbs and spices sprinkled on them makes for a satisfying seasoning. If a burger isn't quite what you're after, your other options include barbecue chicken, grilled steak and salmon. Be sure to finish off your meal with a cup of tea or Swedish coffee and a slice of their daily-baked cake.

One of Sntrl Dükkan's other distinguishing qualities is that they welcome pet owners who often find themselves turned away when they arrive with their dog in tow. They even send leftover food to animal shelters, as is evidenced by the HAYTAP (Animal Rights Federation) emblem on the door.
Venue name:
Sntrl Dükkan
Contact:
Address:
Sntrl Dükkan Serdar-ı Ekrem Sokak 28, Galata
İstanbul