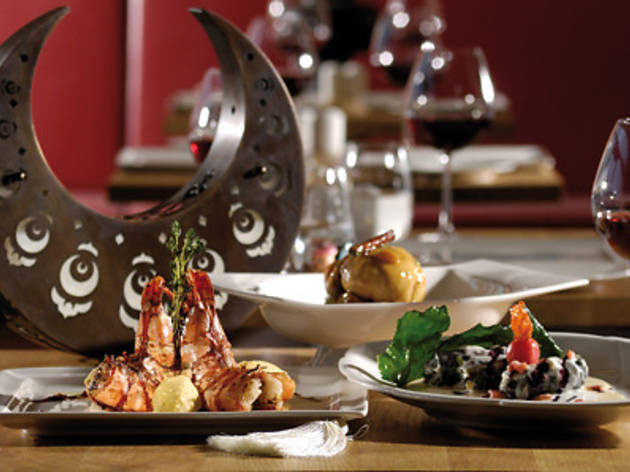 The only way to preserve a culture is to keep it alive and pass it on to the next generation. And the magnificent palatial cuisine of the Ottomans, expanded and developed through hundreds of years, nourished by different cultures and geographies, definitely deserves to be preserved.
Sumach is a restaurant established with this intent, and it certainly does Ottoman cuisine justice. Chef İsmail Tomurcukgül is passionate about cooking, a profession that's been passed down to him by his grandfather. Tomurcukgül began cooking at a very young age, developing a particular interest in Ottoman cuisine throughout the years. When you look at Sumach's menu of modernised Ottoman recipes, it's as if you took a trip through time. All cooking and presentation techniques are based on centuryold recipes, so it pays to read the menu line by line just to see the incredible wealth of expertise, effort and know-how that went into it.
The moment you sit down at the table, you're greeted by herbal sherbets to soothe your stomach. I learn that many details, from the tablecloths to the ornamented chandeliers hanging from the ceiling, are designs exclusive to Sumach. I try the cranberry tarhana soup (with flour, yogurt and dried, fermented vegetables) and okra soup with lamb's meat; they're both delicious, as are the complementing flavours served alongside. The breads are also baked on premises, with tarhana, corn, olive, sugar and potato varieties. I experience my share of mankind's inability to be satisfied; my mind wanders to the other soups as the chef brings me cold starters like fresh celery flavoured with honey vinegar sauce and foie gras fried in sesame oil, served with sour apple puree. I almost don't have the heart to eat it; the appearance, flavour and presentation are incredible.
Afterwards, I'm served a selection of warm starters: meat wrapped in fig leaves, doused with sour pomegranate and a fresh rosemary yogurt sauce, and deer meat haluçka (a larger version of mantı native to the Kastamonu region) served with caramelised apple puree and fried green bean patties. I don't even want to lose time recording the names of those dishes in my notebook. From the main dishes, I try the steamed grouper with cinnamon and the mahmudiye (rustic chicken with sweet basil, orzo rice and honey), both of which are filling and delicious. By the time I move on to the desserts, I'm delighted at the sight of the tahini spread, served with rose-flavoured ice cream in a cezve (small coffeepot), and the quince dessert, topped with clotted cream from water buffalo milk and muhallebi (milk pudding). Life sure is sweet.
Venue name:
Sumach Turkish Cuisine
Contact:
Address:
Sheraton İstanbul Ataköy Hotel / Sahilyolu 34158
İstanbul


Opening hours:
Mon-Sat 19.00-23.00.