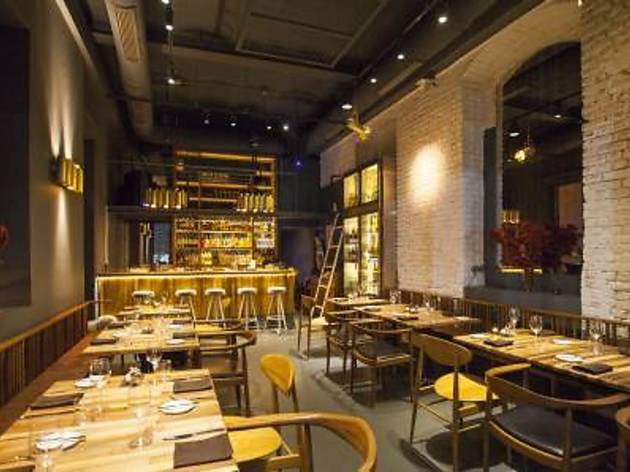 Tabla Istanbul is the result of a cook used to work in Michelin-starred restaurants who decided to combine his valuable experience with his love of Turkish street food. Whether it's the classic Adana kebab or a simple soup that the chef puts his skilled hands to, you're sure to be delighted by the interesting take he puts on his dishes.
Comfort food' is a word that doesn't really have a direct Turkish equivalent. This should not come as a surprise considering its nuance – a food with an emotional connection that has the ability to make you feel good when you're down. Tabla I·stanbul, without making any such bold claims, does exactly this, serving traditional and familiar Turkish guilty pleasures while adding a special extra flavor that makes the palate revel in pleasant surprise.
This is exactly the kind of modern twist we've come to expect from chef Cihan Kıpçak, since his time at the Gile and Akali restaurants. To design the menu, Kıpçak took inspiration from the quick snacks and lunchtime treats that line any Turkish street as his intention is to serve simple meals to enjoy at leisure.
The kitchens are run by Melih Demirel, a chef who has worked in renowned restaurants in the US such as Gramercy, Daniel, French Laundry and Istanbul's much loved Gile (which we gave four stars back in 2013). Demirel has personalized every dish – and given them original names that hint at a personal story. For example, the establishment's only soup is the Antep Balıkçılar C¸ars¸ısı (9 TL), a nod to the lentil soup he enjoyed on off-days during his military service in the South Eastern town of Antep, and which he customized with some smoked isot red pepper sauce and Brussel sprouts.
Tabla's starter menu is a rather rich display of recipes from all over the country. Izmir's signature kelle paça sögüsü (the boiled cuttings of sheep's head meat – it's nicer than it sounds) is served in the shape of croquettes (24 TL). The mussel platter is inspired by Istanbul's Balık Pazarı (23 TL) and is one of the best starters on the menu, decorated with Japanese horseradish, pickled carrots, spicy cabbage and yogurt.
As for main meals, red meat-lovers should choose the Istanbul-Eminönu (44 TL), a beef rib dish slow-cooked for over 72 hours and served with Afyon-style dry beans.
As for dessert, try Antakya's famous tas kadayıfı green tea crepe with buffalo cream.
On Fridays and Saturday evenings after 23.30, nostalgic '90s music starts playing and the chairs and tables slowly make way for an impromptu dance floor.

By Elif Eren Altınarık
Venue name:
Tabla Istanbul
Contact:
Address:
Mes¸rutiyet Caddesi 67, Tepebas¸ı. (0212) 245 60 70/www. tablaistanbul.com. Monday- Thursday 12.00-15.00 and 18.00-23.00, Friday-Saturday 12.00-15.00 and 18.00-04.00.
İstanbul