Tarihi Kısıklı Fasulyecisi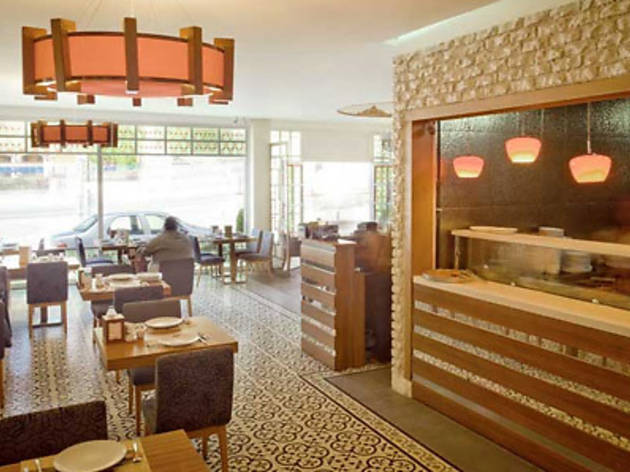 Time Out says
Located in Üsküdar's Kısıklı neighbourhood, this restaurant's actually been in business since 1938, when it first opened as a dessert shop. It later grew famous for its kurufasulye (cannellini beans stewed in a tomato sauce). About three months ago, the building, as well as the garden, underwent an extensive renovation process, after which the latter got transformed into a space that's ideal for families. This is the clientele the owners must have had in mind, judging by the swing set located in the corner of the garden.
While we wait for the restaurant's namesake dish to arrive, meanwhile enjoying a tall glass of frothy ayran (2 TL), we learn that the cannellini beans used in the kurufasulye come from İspir and are rested in milk for 14 hours before undergoing a two-hour process to make them less gas-inducing. The beans are then stewed to perfection in an earthenware pot in a stone oven. As a big fan of kurufasulye, I can easily say that Kısıklı's offering is one of the best in Istanbul. Period.
Afterwards we sample the veggie stew with beef, which frankly feels a bit greasy, although the meat is as tender as could be. Kısıklı also offers homemade mantı (Turkish ravioli stuffed with minced meat, 10 TL), but our favourite non-kurufasulye dish had to be the pide (flatbread with toppings, 8-10 TL). It is crispy on the outside with plenty of juicy toppings – instead of butter or cheese, you can taste the peppers, the tomatoes and the meat separately on this Black Sea-style dish. We find ourselves unable to decide, so we opt for both the Laz böreği (flaky pastry with sherbet) and the burma dessert (also with plenty of sherbet). A rather unusual flavour, the Laz böreği is done quite well, but the burma dessert is the clear winner here: it's soft, with layers of flaky dough and plenty of sherbet. We've got our minds set on trying the sütlaç (rice pudding) on our next visit.
Details