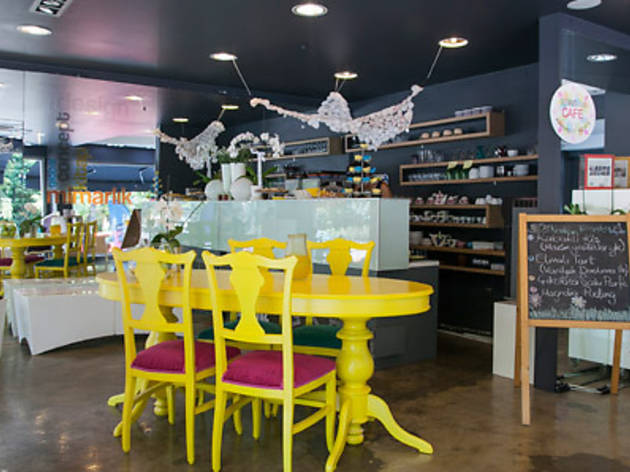 With 20 years of experience under her belt, designer Nursema Öztürk founded Tasarım Parkı right across from Yoğurtçu Park in Moda two years ago. Spread over 300m2, the shop aims to support both established and up-and-coming designers by giving them a space to display and sell their products. 'The focus is on offering simple, modern and one-of-a-kind pieces that are all 100-percent design works,' says Nursema Hanım. As a result, Tasarım Parkı has evolved into more than just a shop; it is also a place to hold workshops and an institution that supports Turkish artists in international design projects.
It was during one of this year's international design events that Tasarım Parkı's new cafe was launched. The idea first came from Nursema Hanım's close friend Zerrin Hanım, who for many years received compliments on the delicious food (particularly the cakes and sweets) she made for friends before thinking to turn her passion into a business. The two women joined their forces, and the cafe opened to great applause on June 29, World Industrial Design Day.
Although desserts are the main attraction in this small cafe, you'll also find fresh pastries right out of the oven in the mornings and olive oil dishes during lunchtime.
The first thing that catches our eye is Zerrin Hanım's pride and joy – the authentic German cake, laden with caramel and shredded coconut. As we try a rather large slice of the cake, accompanied with a cup of tea, Zerrin Hanım brings her parfait with chocolate chips. We have a nice chat with Zerrin Hanım and Nursema Hanım, all the while loading up on the carbs. Right as we're about to leave, the Magnolia Pudding (8 TL) catches our eye – so we stay and try that too... Here in Istanbul, COOKSHOP.'s known as the definitive place to try the Magnolia Pudding, but in all honesty, Zerrin Hanım's version made with peaches and muesli is thicker and closer to what's offered in New York's Magnolia Bakery, the origin of the dessert. In other words, it quickly becomes our favourite dessert at Tasarım Parkı Cafe – and one that we strongly recommend you try.
You can order cakes as a whole from Zerrin Hanım, who's more than happy to provide catering services for private events, though the cafe-design shop also hosts business meetings and other get-togethers. This art-filled space is also set to host workshops soon, so stay tuned.
Venue name:
Tasarım Parkı Cafe
Contact:
Address:
Yoğurtçupark Caddesi 14A-19A, Kadıköy
İstanbul


Opening hours:
Monday-Friday 09.30-18.30; Saturday 13.00-19.00.