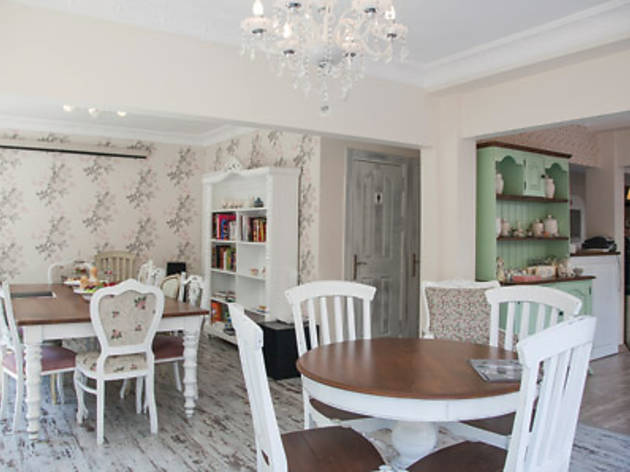 The ground-floor resident of a building in Kalamış since June, Tatlı Huzur is the stuff of just about every six-year-old girl's dreams, with pinks, floral patterns and cupcake designs everywhere. The brainchild behind these accents isn't a child at all but actress and co-owner Esra Akkaya, whose bubbly personality shows through in the specially-designed pieces, every one of which – from the tables and chairs down to the statuettes – is also offered for sale.
On the incredibly hot summer day that we visit Tatlı Huzur, we seat ourselves in the breezy garden to try Chef Müjde's flavourful creations one by one. Having heard our friends sing praises about the open-buffet breakfast offered on Saturday and Sundays, we start our feast with the breakfast plate (17 TL), which comes with smoked beef, smoked turkey, white cheese, fresh kaşarcheese, black and green olives, tomatoes, cucumbers and two glasses of tea – and, perhaps best of all, the warm, fresh breads and pastries baked right on premises. Owner Harun Bey tells us that he struggles to find the right cheeses to serve for breakfast, so he sticks to using Moova-brand dairy products for now.
The menu offers omelettes, sandwiches on homemade bread (12-15 TL), salads in both regular and 'light' sizes (15-19 TL), cold coffee, tea, milkshake and smoothies as well as enticing desserts. Since the owners' friends provided the dessert recipes (with credit given to them next to each item in the desserts section), it's very unlikely that you'll find the same tartlets, strawberry cakes and lemon cupcakes you eat here anywhere else. One of this month's specialties is the honey and date tart Esra Hanım made for Ramadan. Let's also note that no chicken, mayonnaise or margarine enters Tatlı Huzur's kitchen, the lattermost of which gets substituted with cream cheese.
We move on to the smoked turkey salad with mustard dressing (18 TL), a dish that could please even the most picky salad eater. The smoked turkey pairs well with the yellow, orange and red peppers, sundried tomatoes and thinly-chopped lettuce for a healthy, filling dish.
All the desserts wink at us one by one from the menu, but we make the right decision and opt for the tartlet: a slice of strawberry, drizzled with chocolate sauce, sitting on a dollop of cream cheese that rests delicately on a crisp bed of dough. This bite-sized dessert is so delicious that you'll need an iron will not to eat the whole plate in one sitting. The tropézienne with strawberries and cream cheese, dusted with powdered sugar on top, is also surprisingly light. You'll even find the rarest of treats here: Dukan bread, cheesecakes and tiramisu, Chef Müjde's pride and joy.
Venue name:
Tatlı Huzur
Contact:
Address:
Yelken Sokak, Onur Apartmanı 1
İstanbul


Opening hours:
Daily 10.00-19.30.