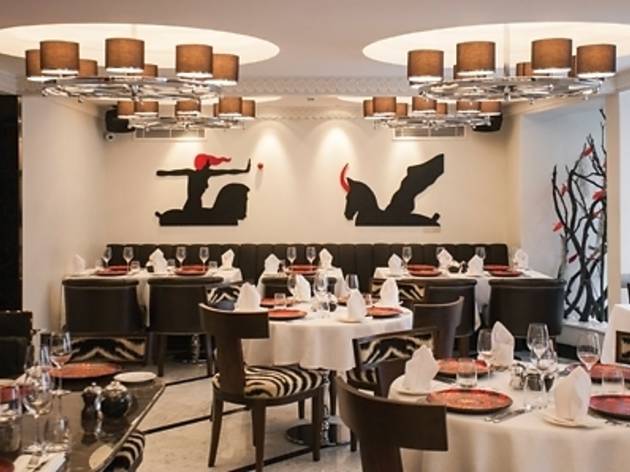 This newcomer to the dynamic eating and drinking scene in Etiler is a fine dining venue in every sense.
Unlike many locales on Nispetiye Caddesi that broadcast their presence with a valet and a host out front, The Galliard's entrance is rather indistinct. As soon as you make your way inside, however, you might be startled by the black, white and red decor and the bright lights (don't worry, your eyes will get used to it in time). The works of art on the wall – by leading local artists like Kezban Arca Batıbeki, Kemal Seyhan and Nermin Er – played a big role in our fondness for the venue.
The interior décor was also designed by a famous architect and designer, Murat Atabarut. This is a venue the likes of which you'll encounter in Paris or Rome, and even its name comes from a form of Renaissance-era dance and music. Popular in Spain, France and Italy, the galliard held an important place in the entertainment culture of the high aristocracy.
Owner Ahmet Uras spent considerable time working in the finance sector in New York before deciding to take on Istanbul's eating and drinking scene by opening up The Galliard. After completing his semi-professional training to become a chef at MSA, he rolled up his sleeves – together with his chefs – to create a top- level culinary experience.
It should come as no surprise that the menu at The Galliard bears traces from western Mediterranean countries like Spain, France and Italy. The pasta and breads are prepared right on premises, our favorite being the walnut-, raisin- and wine- infused bread. You'll find three separate menus here for lunch, dinner and bar. We took the advice of our waiter – whose handlebar mustache had us convinced he was French in a previous life – and tried the beef cheek tortellini for lunch. We were instantly glad we did; it's that delicious.
As we left, we promised to come back and try the beef marrow, risotto with goose from Kars and the assorted pot of mussels for dinner one night. Another dish in which The Galliard rivals other restaurants in Istanbul is the paella. Last but not least, the bar menu features 52 different cocktails as well as snacks like mini hamburgers, mozzarella balls, paninis and croque-madame. You'll also get the chance to hear Power FM DJs perform at the venue every night of the week except Sunday and Monday. A final word of warning: we must note that The Galliard isn't all that cheap, and lunch or dinner will cost you anywhere from 26 TL to 80 TL.
Venue name:
The Galliard
Contact:
Address:
Nispetiye Caddesi, Etiler Apartmanı 104, Etiler
İstanbul