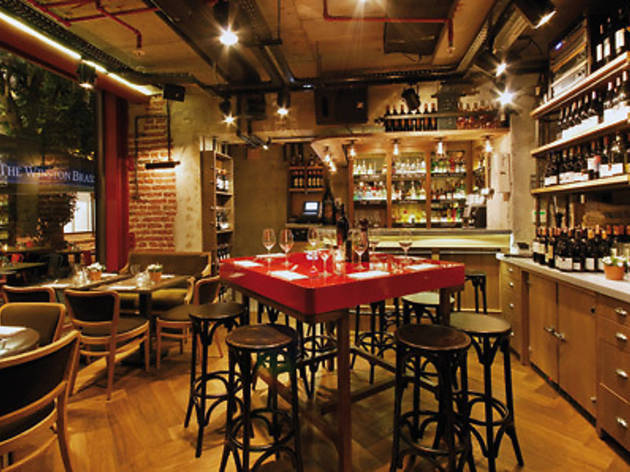 The décor blends modern and classic lines for a simple feel; the more you look around, the more details you see. The menu offers all the regular Italian fare like pizzas, pastas and risottos... Additionally, you'll find countless salads, starters, crepes and alternatives like grilled meat patties. The wine menu includes wines by Urla Şarapçılık. The Winston Brasserie also has ambitious cocktails like 'Beyazıt', made with vodka, cardinal melon, lemon juice and Sprite, that are cool and delicious on warm evenings – just be careful, as it's bound to hit you quickly! As for food, The Winston Brasserie salad is our favourite flavour here. Once you break the crispy shell of breaded fried goat cheese, it beautifully oozes onto Mediterranean greens. The mild garlic sauce and avocado slices make this an enticing dish any time of the day. Another light and filling salad is pollo carciofi, prepared with shredded chicken breast marinated in virgin olive oil and lemon juice as well as the sour flavours of artichoke and sundried tomatoes. Italian cuisine would certainly not be complete without pasta, risotto and pizza. The salmon farfalle prepared with vodka, cream and dill is terrific, but the Porcini risotto is perhaps the best. The pizzas are as Italian as you can get and come at very reasonable prices ranging from 12 TL to 23 TL. The grilled meat patties are another delicious option for all the carnivores out there. The secret is in the ingredients; it contains 90% veal and 10% lamb's meat. Sure, we could be judgmental about a restaurant that offers such a large variety of choices, but nothing we tasted disappointed us. Take the panna cotta, for example, a notoriously hard-to-perfect dish that should be lighter than crème brûlée but more flavourful than pudding. Head here for breakfast and sample their wide range of teas, or visit for lunch and stay till early afternoon – no matter what time of the day you choose to visit, we're sure it won't be your last.
From the menu
Sir Winston salad 19 TL
Salmon farfalle 18 TL
Grilled meatballs 16.50 TL
Risotto with Porcini mushrooms 21 TL
Urla Cabarnet Sauvignon (75 cl) 75 TL
Venue name:
The Winston Brasserie
Contact:
Address:
Şair Nedim Caddesi 3
İstanbul


Opening hours:
Daily 08.00-12.00.