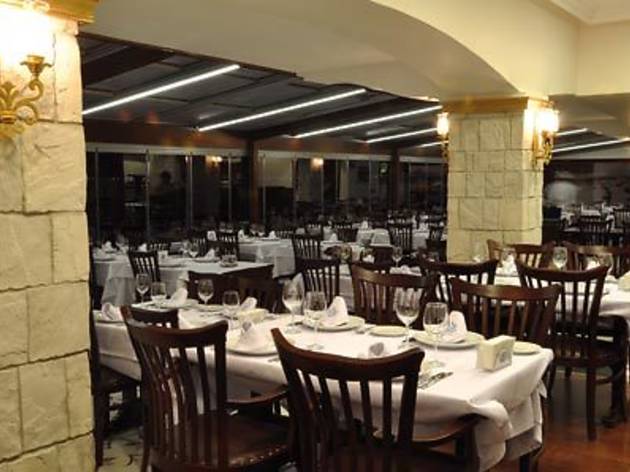 Because Therapia is located in an open area on the Bosphorus in Tarabya, winds from the Black Sea would bring in fresh and clean air. The restaurant is made up of stone, wood and floor tiles. All of the decorations were done by hand. Black and white old Istanbul fisherman photographs cover the restaurant's walls.
Therapia's menu consists of typical Turkish seafood dishes as well as his own specialties such as fish fajitas, kalkan (bothus) on salt, Therapia sea bass (with sautéed octopus, shrimp, squid and fried sea bass), as well as the chef's specialty (waker covered by a special bread and garnish). We suggest you try the grilled s aquid and octopus served with the Therapia special sauce. Another specialty of the restaurant is the Therapia salad consisting of 35 different ingredients. Warm appetizers include seafood paella. You will always be able to find seasonal fish and other seafood. Desserts are plentiful for a seafood restaurant: Quince, pumpkin, fig and semolina desserts, şekerpare (small cakes with syrup), ovened helva, baklava, Tiramisu and sesame paste-orange soufflé.
If you want, you can also take a look in the kitchen. One of the greatest features of the restaurant is its view of the Bosphorus. If you're going to be seated on one of the tables further away from the sea, don't worry because these tables have mechanisms that allow them to rise. In fact, these tables have better views. The restaurant can accommodate up to 200 people, and it is designed so that its ceiling can be opened during the summer months. In addition to the a la carte menu, you can choose from fixed menus for larger groups. Traditional Turkish and Greek music fill the background.
From the menu
Grilled squid 5 TL
Therapia sea bass 30 TL
Paella 15 TL
Sesame paste-orange volcano 10 TL
Venue name:
Therapia
Contact:
Address:
Haydar Aliyev Caddesi 96/ B
İstanbul


Opening hours:
Daily 10.00-02.00.