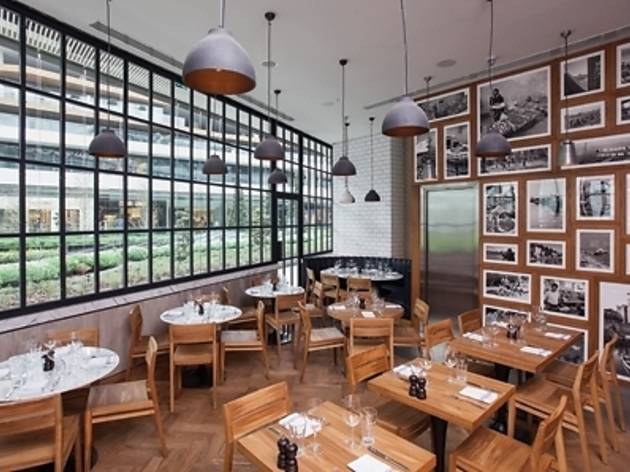 It's been eight years since the famous Michelin-starred English chef Tom Aikens opened the first branch of his restaurant, Tom's Kitchen, in Chelsea. In that time, the number of locations in London has tripled, but what excites us is the newest opening in Zorlu Center, the first branch of Tom's Kitchen outside of London. The opening of the fourth restaurant in Istanbul could be interpreted as a sign that our beloved city now holds a reputable position gastronomically.
Tom's Kitchen defines itself as a "modern English brasserie", which means you'll be able to find something to eat at any time of the day. In addition to English classics, the eatery also offers modernized French fare in a warm, cozy environment that you'd expect from a brasserie.
Tom's Kitchen has already amassed some regulars, so if you happen to visit during lunchtime, you'll most likely find shoppers chatting away as they dine as well as suited up business people having a heated discussion about work.
When designing the menu, some of the items had to be forgone due to the difficulty of finding some ingredients in Turkey, but overall this branch remains as faithful as possible to the menu of the restaurants in London. In addition to starters like chicken and goose liver parfait, steak tartar and spicy crab cakes, Tom's Kitchen specialties also include a beef burger, oven-roasted lamb thighs, cheesy macaroni and Shepherd's Pie.
From the starters, the beet-cured salmon, the spicy crab cakes served with a tangy tomato salsa, and the burrata served with oranges, roasted walnuts and arugula salad are must-try dishes. As for the mains, Tom's Kitchen serves the most English fish & chips you'll come across in Istanbul.
Tom's Kitchen rivals many a self-proclaimed steakhouse when it comes to its cuts. The meats are very flavorful and arrive precisely at your requested level of doneness, with no room for unpleasant surprises. The culinary philosophy that Aikens enacts in all of his restaurants is evident here, as well. As you browse the menu, you'll find little notes that indicate all ingredients were chosen with a focus on seasonality and obtained from local producers in a way that supports sustainable farming and agriculture. All of the meats are procured from the Afyon, Balıkesir and Thracian regions and rested for 21 days.
When it comes to the fish – which are also obtained from local sources to the extent possible – we applaud the fact that the menu at Tom's Kitchen is devoid of any species facing extinction such as swordfish and tuna.
Venue name:
Tom's Kitchen
Contact:
Address:
Zorlu Center Zincirlikuyu
İstanbul