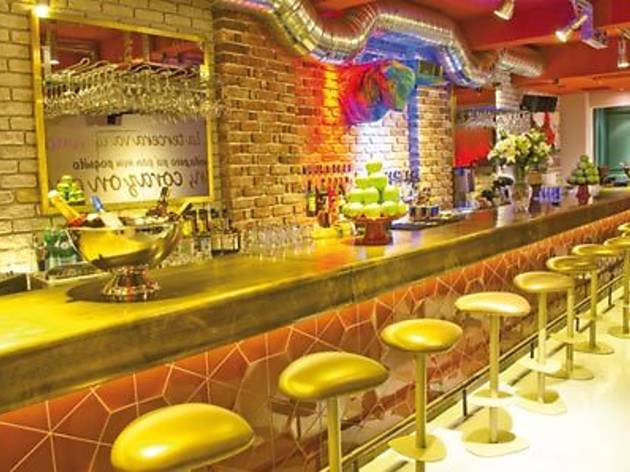 Tor-ro's concept brings together tapas, cocktails and lounge, creating a warm atmosphere with its kırmızısı varaklı mirrors and wooden fixturesA long 15 metre bar that you may also choose to eat at. The absolute best location, for which a reservation is necessary, is, however, the table right in front of the open kitchen at the back. For the smokers there are also three tables placed on the cozy verandah.
Tor-ro's menu is accompanied by tapas, sangria, cocktails and wines. The tapas variety includes mücver (pieces of zucchini and parsley dipped in egg yolk and flour and fried), meat on skewers,mussels rockefeller, patatasbravas, mini burgers, hash browns, smoked salmon crepes, Turkish mezze platter, fried anchovies, nachos and tacos with meat or chicken, savoury pastry plate, and more.
The portions are samplers only, something Turkish culture isn't quite accustomed to as yet. If you want to have a great night, go with a group of friends andorder everything you're curious about—by splitting the cost this way you can also leave with a reasonable bill. Aside from tapas, menu items include lamb cutlets, chicken drumsticks with porcini mushrooms and spinach, desserts and salads. Desserts include chocolate suffle, apple financier, and panna cotta. If you choose, you can also order a cheese plate with your wine. Of what we've sampled, the pesto prawns, roasted capsicum with tuna, andthe mixed paella which is available only on Wednesdays in four-person servings, all receive full marks; especially the seafood paella is perfect. Unfortunately we were disappointed by the nachos served with beetroot dipping sauce as instead of nachos, they used standard corn chips available at every corner shop.
The bar isn't just for show, the drinks menu is impressive—with a variety of wines, cocktails and sangrias. Aside from the classic sangria, you can also order rose sangria prepared with rose wine; najare sangria, prepared brandy, fruit wine and bayleaf; or monviso sangria made of fruit wine, archers, safari, schweppes mandarin and sour cherry juice. All areserved with cinnamon sticks, fresh fruit and ice.
Venue name:
Tor-ro
Contact:
Address:
Jurnal Sokak 10
İstanbul


Opening hours:
Mon-Sat 17.00-03.00.