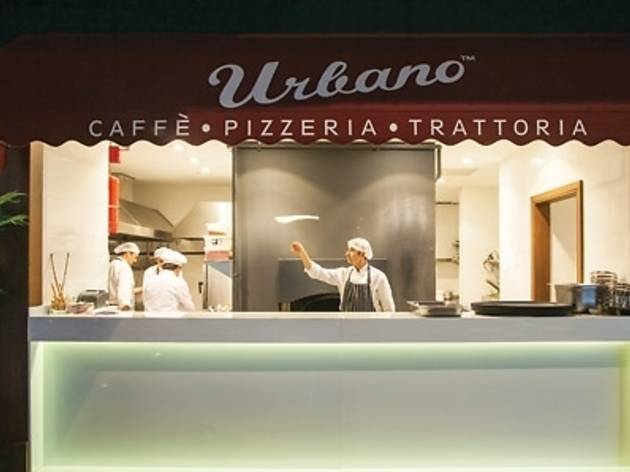 With over 150 restaurants of nine different brands around the world, Jumeirah Group has brought its most popular Italian restaurant, Urbano, to join the slew of venues opening up in Aqua Florya Shopping Mall. The dynamism of Urbano's bar and open kitchen might draw in the crowds now, but the view on the terrace is so enticing that it just might have you braving the cold.
Prior to the restaurant's opening, the chefs from the Dubai Urbano spent quite a bit of time in Istanbul perfecting their recipes and familiarising the local team with them. The effort to achieve Dubai standards hasn't ended there. The 13-tonne pizza oven in the centre of the kitchen was also brought over from there, though how, we'll never know.
It's imperative that you begin your meal with antipasti, served in groups of four (22 TL) or six (26 TL). Our plate included Bodrum cracked olive, marinated artichoke heart, a brilliant Parmesan from Italy, beef bresaola, round of beef with pepper and roast beef, all of which went well with our order of wine.
Be sure to leave room for the Four Season Pizza (32 TL), which may as well have been created for the indecisive among us. Each of the four quarters is covered in sucuk(spicy Turkish sausage), artichoke hearts, fresh shrimp and a blend of scramoza, mozzarella, Gorgonzola and Parmesan, respectively. While we're at it we should mention that all the cheese is imported from Italy. Meanwhile, the seafood is purchased fresh in Istanbul. Although we're in a season where frozen shrimp is almost to be expected, we were pleased to discover that it was fresh on our pizza. For those who'd rather not mix too many flavours, the bresaola pizza (36 TL) is a good alternative.
One of the highlights on the menu is the mixed seafood linguine, a great choice to satisfy your craving for fresh seafood while sampling Urbano's expertise when it comes to pasta. It contains sea bass, fresh shrimp, calamari, fresh herbs and tomato sauce. The sauce is particularly tasty, and the asparagus helps balance out the flavour.
Among the offerings suited to the Turkish palate, the chef's special beef ribs (49 TL) is truly a masterpiece, slow cooked on low heat so the soft meat separates from the bone the moment your knife touches it. We have little doubt that it'll remain a fixture on the bi-monthly changing menu.
Venue name:
Urbano
Contact:
Address:
Aqua Florya Shopping Mall, ground floor
İstanbul


Opening hours:
Daily 10.00-00.00