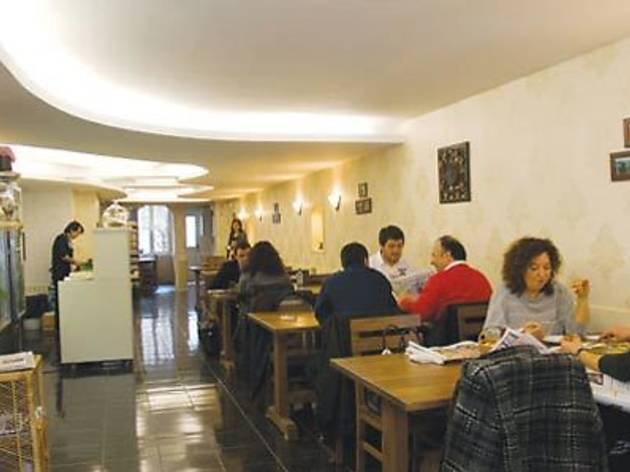 The same Van Kahvaltı Evi that's been serving up consistently satisfactory breakfast fare for seven years just opened its third branch in Kuruçeşme. The breakfast spread includes 20 different items to beat morning hunger, among them Van-specific flavours like kavut, murtuğaand jaji. Murtuğais made by breaking an egg over roasted flour, while in kavutthe roasted flour gets mixed with walnut and honey. Jaji, on the other hand, is made by adding fresh herbs like parsley and fresh onions to strained yogurt for a refreshing pick-me-up.
What we like perhaps the most is that Van Kahvaltı Evi doesn't serve overdried eggs; here, the texture and consistency of fried eggs and menemen(scrambled eggs with green peppers and tomatoes) are just as they should be, with plenty of help from the fragrant tomatoes. The gözleme(tortilla-like bread filled with potato, cheese or meat) doesn't disappoint either; in addition to the crispy, thin original, you'll find versions that take fried meat, eggplants and mushrooms, and plenty of them. We save the honey with Van Kahvaltı Evi's own light, milk-scented clotted cream
for the end, and it is as grand a finale to breakfast as we hoped it would be.
You can order breakfast any time of the day at Van Kahvaltı Evi, but if you want to visit on a weekend, be sure to make some reservations – there are plenty of people vying for seats on the breezy terrace that gets a slither of Bosphorus view.
Venue name:
Van Kahvaltı Evi
Contact:
Address:
Öksüz Çocuk Sokak 1, Kuruçeşme
İstanbul


Opening hours:
Daily 07.00-00.00.