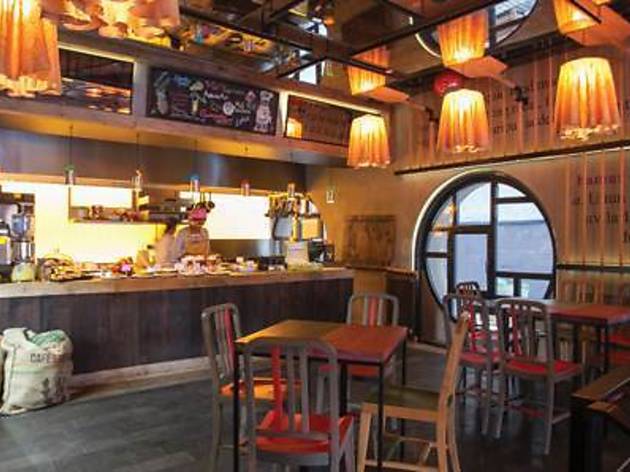 Y's location in a hotel-abundant area must certainly play a part in its discovery by tourists before the locals – but if people visiting the city for just a couple of days end up having breakfast here each morning, chalking it all up to the location would be a disservice. The presentation, both practical and authentic, is a deciding factor in itself – not to mention the reasonable price range.
As soon as you walk in, you're greeted by a display case for the food, right in the middle. The second floor features an open-buffet style dining area; the menu is still a set one, but it's self-service, which means you get to test the freshness of the food for yourself and create your own combination.
The main attraction here is the börek (savoury filo pastry), with traditional recipes from all over Anatolia reinterpreted in an innovative way – certainly a more European take on the börek-shop or patisserie culture seen here. Their prices range from 7 to 14 TL, with fillings like tenderloin, mozzarella, Roquefort, bresaola, celery, spinach and eggplant. Homemade jams, various cheeses and olives are served with the börek and other pastries in the open-buffet breakfast that lasts till lunchtime. There are a myriad of egg options as well, with the egg-and-Gruyere and menemen tart being our favourites (both priced at 10 TL). The plate of pişi (large pieces of fried dough) is also a popular option for breakfast. Visit in the early afternoon and you'll find a light lunch menu of roasted tomato, broccoli and celery soups, eggplant and avocado salad, salad with chicken and almonds, wheat salad with Ezine cheese and mung bean salad.
Venue name:
Y
Contact:
Address:
Meşrutiyet Caddesi, Oteller Sokak 1/A
İstanbul


Opening hours:
Weekdays 07.30-19.00; weekends 09.00-19.00.