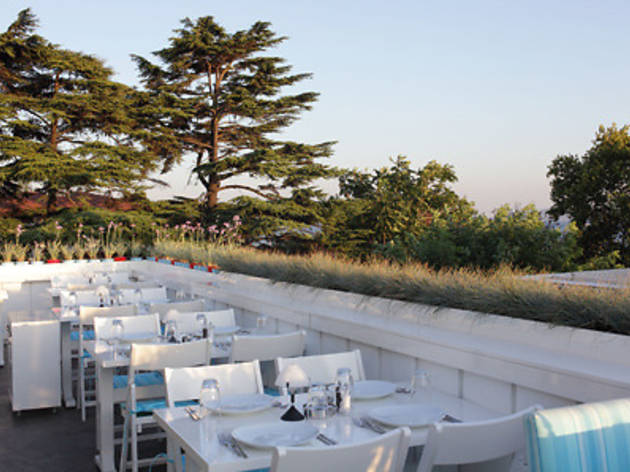 Time Out says
Yegane has the feel of a classic meyhane (Turkish tavern), especially around sunset, when the interplay of the day's last rays of light and the white and turquoise colours of the terrace is spectacular. When you look out to the left, you'll see a view of the Princes' Islands and Caddebostan that extends all the way to Kumkapı – perfect to enjoy a glass of drink on the tall tables and chairs either before or after your meal.
The eatery offers two different menus, standard and VIP, for group and company dinners that take place there. Yet the regular menu at Yegane is impressive enough, with a wide variety of seafood, red and white meat main courses and 15 kinds of meze (small Turkish starters), which arrive in a large tray as is customary. Try unique meze like seasonal Aegean herbs, manca (eggplant paste), dry sour dolma, sazaki (a solid form of cacık, made with diluted yogurt, cucumbers and mint), stuffed red peppers and salmon pastrami, which is marinated in its special sauce for 10 days before being dipped in cumin and then dried. As for warm starters, some dishes exclusive to Yegane include fish köfte, uykuluk (sweetbread) and octopus head stuffed with two kinds of cheese. The main courses vary from fish options to ones with meat, like the trio of classic skewered calf served on beğendi (eggplant puree), fish kebap and lamb chops. Yet the best option Yegane offers is the Yegane foursome of grilled lamb marinated in its own sauce, şaşlık kebap (tenderloin marinated in a special sauce and grilled with red onions) served with yarma (coarsely ground barley) pilaf, kasap (meat served with oven-baked tomatoes, kaşar cheese and grilled peppers) and Turkish sausage köfte with kaşar cheese.
The quality of ingredients shines through in taste, as nothing frozen or premade is used on anything in the menu. The herbs come from the Aegean, while the veggies are bought daily. All the sauces used on red meat and seafood dishes are made fresh in Yegane's kitchen. Even the onions served with şaşlık kebap are brought in from Bursa.
The dessert menu at Yegane offers a short and sweet list as a finale to your meal. Sugared eggplant, zucchini, walnuts and tomatoes are paired with vanilla ice cream for an unusual taste, while the orange, pineapple and lemon sorbet are served in the fruits' own skin. We also hear zucchini soufflé is a likely addition to the menu.
The headliner of the alcoholic drinks menu, sangria is served by the glass or pitcher at Yegane. Pair it with seasonal shelled seafood served in a special sauce and you've got yourself the perfect date.
From the menu
Stuffed red peppers 8 TL
Octopus salad 15 TL
Sazaki 8 TL
Grilled octopus 15 TL
Şaşlık kebap 30 TL
Fish kebap 18 TL
Details