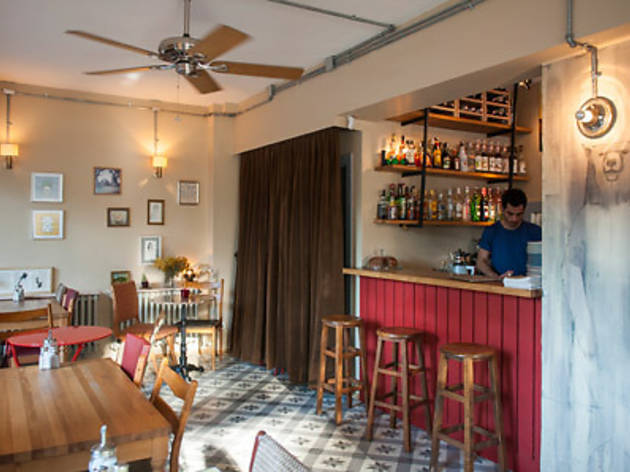 Yer is a new venue that the owners of two of Kadıköy's favourite locales, Arkaoda and İsis, opened several months ago. It's on your right as you curve away from Dondurmacı Ali Usta towards the Moda Pier. The harmony of disharmony reigns in the décor, and even though you'd be tempted to call it a warm café, the owners emphasise that they try to stay away from a standard café menu, preferring instead to serve a few of their favourite dishes done well.
A thick menu arrives, and before we can start browsing through the list, we first notice the blank pages on the menu, some of them featuring cute drawings done by guests. We place our order and try the mojito as we wait; it's got a satisfactory blend of alcohol and freshness. We find out that the cocktails are quite popular here, particularly the ginger, apple and satsuma cocktails available by the glass or pitcher (50-70 TL).
Our first dish is the bruschetta on crispy toast with plenty of toppings and fresh basil. We then try the chicken flavoured with lemon and thyme, whose light, well-balanced sauce we rate favourably. The dry basmati rice served with it, however, doesn't fare so well. The hünkar beğendi(creamy eggplant puree topped with beef cut in small chunks) with meat patties is both a hit and a miss: the meat patties are delightful and remind us of our mother's cooking, but the taste of béchamel sauce overpowers the roasted eggplant. The su böreği(layered filo dough pastry with cheese) is also flavourful and well baked, but if Güllüoğlu is your litmus test for what a good su böreğishould be like, you're likely to be disappointed.
Yer's tour de force is the pasta, made, cut and cooked fresh, right in their own kitchen. The minute we taste their pasta with tomato sauce, we give them props on their fresh tomato sauce and perfectly al dente pasta. We can't get enough, so we try the potato-filled pasta the chef recommends; this is a sort of ravioli made by placing slightly spicy potato slices inside flat pieces of dough, then boiling them and giving them a quick toss in the pan with butter before topping them with an eggplant, sage and roasted pistachio sauce. The result is a dish in which all the flavours complement each other very well.
The kitchen at Yer closes at 22.00, though the music and entertainment go on till 01.00. The cocktails and pleasant atmosphere make it a Moda locale you simply must visit before summer's end.
Venue name:
Yer
Contact:
Address:
Ferit Tek Sokak 25A, Moda
İstanbul


Opening hours:
Daily 09.00-01.00