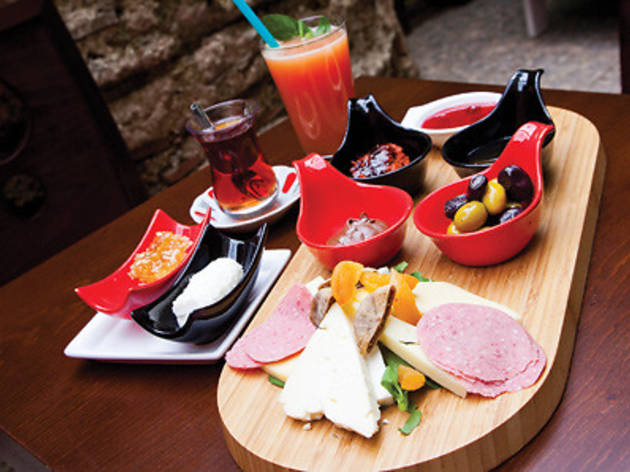 The tag line for Yımırta might be 'this is a Mehmet Ali Erbil and Özgür Aras endeavour' (the former a well-known media figure in Turkey and the latter a high-profile PR manager), but that's not really fair to the eatery. Our tag line is this: Yımırta is a place to sit comfortably on a Sunday morning, when hungry people tend to wait upwards of forty minutes for a table in other popular restaurants so they can enjoy what has become the most special moment of the day, perhaps the week. Even if you're notoriously grumpy on an empty stomach or annoyingly detail-oriented when it comes to breakfast, Yımırta promises to not only satisfy you but also to prevent you from losing that Sunday peace before you find it.
The menu includes two breakfast plates: Yımırta breakfast and Turkish breakfast. Both are brought to your table on a wooden platform peppered with cheeses, clotted cream, butter, honey, jams and olives. With a name like 'Yımırta' (a misspelled versionof 'yumurta', meaning 'egg'), it's no wonder that the establishment serves fresh eggs from a farm in Tuzla. You can get them poached or fried. If that doesn't cut it for you, you can also order the 'extra's ranging from 3 to 8 TL and really deck out your table.
Yımırta offers options for people who take a more practical approach to breakfast as well, like fried eggs, omelettes and menemen (an egg-based dish featuring green peppers and tomatoes). The Izmir-style pişi plate is the most highly recommended among them, featuring freshly fried yeasty bread dough served with Izmir tulum cheese, muhammara (a meze madewith red pepper paste, toasted bread and crushed walnuts) and raspberry jam.
You can try breakfast any time of the day at Yımırta, though the menu also boasts café favourites such as pasta and salads. If you're in the mood to stock up on some carbs, try the Rigatone Fileto, whose moist tenderloin slices, eggplant sauce and tomatoes leave you in a satisfied daze for a couple of hours.
If there's room outside when you visit Yımırta, try grabbing a seat in the garden that surrounds a Byzantine cistern.
From the menu
Yımırta breakfast 19 TL
Turkish breakfast 22 TL
Grain salad 12 TL
Rigatone fileto 7 TL
Venue name:
Yımırta
Contact:
Address:
Kılıç Ali Paşa Mahallesi, Defterdar Yokuşu 52/A
İstanbul


Opening hours:
Daily 08.00- 00.30.