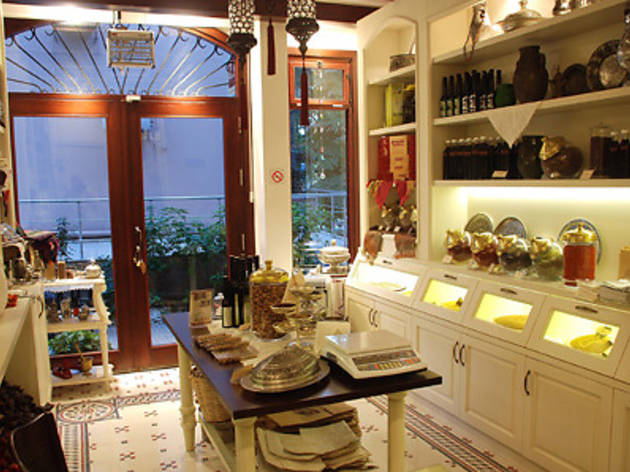 Time Out says
Gaziantep boasts one of the richest cuisines in Anatolia; even though kebap and lahmacun are the first dishes that come to mind, the area's also known for other flavours and the importance that ingredients carry in rendering them so special. Zahre brings these ingredients to İstanbul and makes it possible for everyone to have a taste of what Atep Cuisine is like.
The eatery has two things working in its favour: quality ingredients and impeccable presentation. The shop offers bulgur, lentils, firik (smoked wheat), high-protein wheat, loğlaz (black-eyed peas from Antep), red peppers, tomatoes,sweet and spicy pepper paste, dried eggplant, squash and tarhana (cereal-like dish of flour, yogurt and fermented, dried veggies), sour pomegranate, sour sumac, lemon thyme, menengiç coffee, mint, wild saffron, salty pistachios, sucuk (Turkish sausage) with walnuts, lokum (Turkish delight) with double-roasted pistachios, sweet and salty kahke (a local Antep pastry), pickles, green olives and Antep cheese. Dried baklava -also a favorite from Antep- comes daily from Antep's famous Koçak Baklava, while fresh baklava is brought by order.
Besides the ingredients, you can also find cookbooks on Gaziantep cuisine, olive-oil soaps, sundried mulberry molasses, kutnun (a type of cloth from Antep) and yemeni (woven cotton headscarves) displayed on the shelves. Antep locals who live in the region have already become regulars at Zahre. It would be wrong to classify this joint simply as a place to buy groceries; for true foodies or for anyone who places importance in quality when it comes to food, just about everything here is the perfect gift – served in the best gift packaging of all, a copper plate from Gaziantep.
Details