Fashion Week dos & don'ts
Our guide to surviving Mercedes-Benz Fashion Week Istanbul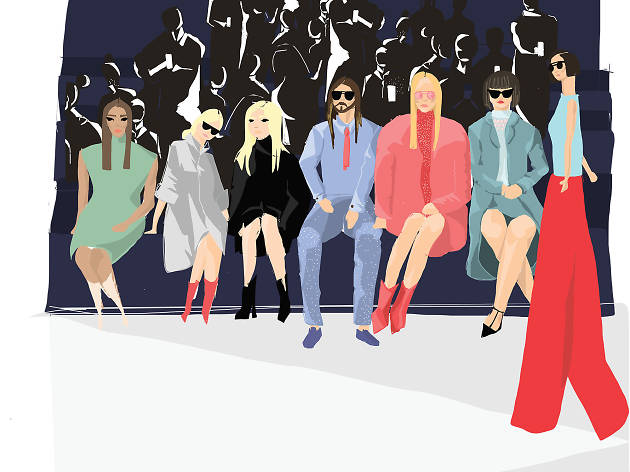 DON'T BEELINE FOR THE FRONT ROW
You've got your ticket, you've made it in the door, and you've been guided to your seat on the third row. But lo and behold, there's an empty seat on the front row! Sure, it might seem like a great idea to seat your tush there without anyone being the wiser – after all, everybody knows front row is the place to be. Each fashion week, we hear about celebrities and editors in chief who refuse to watch shows because they weren't seated on the front row. Maybe the seat you're coveting was reserved for the buying manager of a world-renowned brand who is on the verge of deciding whether to buy the collection – and maybe he'll storm out when he sees you're in his seat. Is it really worth the risk?
DO RSVP
It's not only common courtesy to let people know whether you'll attend a particular runway show, presentation and workshop – during fashion week, it's also a necessity. Since the number of seats reserved for a particular event is based on the number of people who have confirmed attendance, you might end up not finding your name on the list despite having an invitation in your hand. The secret to avoiding unwelcome surprises lies in four these four letters: R-S-V-P.
DON'T GET NASTY
"Fashion week" might have a glamorous sound to it, but behind the scenes, it's an event that sees hundreds of people working diligently from sun up till sundown and making do with vitamins in lieu of sleep. Don't forget that the security personnel checking your ticket, the hostess showing you your seat or the PR teams turning your invitations into tickets do not have it out for you. Putting on your friendliest and most understanding face will make life easier for everyone involved. So they might have found your name on the list in 45 seconds instead of 15, or you might not have enjoyed being made to stand and wait – but is that really a good enough reason to yell at them?
DO PROVIDE CONSTRUCTIVE CRITICISM
As you're exiting a runway show or a presentation, editors, bloggers or reporters might ask you what you thought about the collection you just saw or what your thoughts are on a particular designer. Don't be afraid to give a candid response, and never doubt the importance of constructive criticism for designers. After all, isn't the fact that you were invited a sign that people value your opinion? Whether you talk, write, draw or tweet about it, be sure to applaud what you liked and don't hesitate to use sentences that begin with "but" for those you didn't like.
DON'T FORSAKE COMFORT
The creator of the coveted red-soled shoes, Christian Louboutin once admitted that when it came to designing footwear, he was more concerned with helping women feel sexy than their level of comfort. When it comes to high-heeled shoes, anything exceeding 10 cm without a platform will do you no favors, especially when you'll be running (or standing) around for most of the day. Unless you're entirely confident in your acrobatic skills, we recommend wearing an elegant pair of sneakers under that fabulous dress for a very comfortable and very in-the-moment look.
DO WEAR THE RIGHT CLOTHES IN ADVANCE
We know you've been vetoing outfits left and right for sometime, and you're really excited to have found that one-of-a-kind backless bustier that shows just the right amount of stomach. Once you complete your look with black lipstick and ski goggles (sorry, sunglasses), there's almost no way you're being left out of the style pages. But if that's the look you're going for, we ask that you please don't arrive incognito and turn every bathroom into a changing booth à la Superman. You can rest assured that spending what seems like hours in the stall as the line grows ever longer behind you is the complete opposite of cool.
DON'T CALORIE BOMB
Whether it's fashion week or a film festival, sponsors never miss an opportunity to offer their own drinks and snacks at big events… Yet starting the day with mini pancakes and smoked salmon tartlets, then grabbing treats each hour that are tiny in size but huge in calories might not be such a great idea. We recommend sticking to the carrots and cucumbers, and if you happen to see someone going around with a tray of cold-pressed juice, don't be ashamed to grab extras to stash in your bag.
DO EAT SENSIBLY
In order to keep your energy levels up all day, make sure to keep an apple, snacks and water in your bag. Don't have the space for it in your tiny clutch? You can always run out to Bomonti65 Pizzeria for a small bite, Kozmos Coffee for a cup of java or the back streets of Bomonti for more local discoveries.
DON'T PHOTOBOMB
Those few minutes when celebrities enter or exit shows are moments that both street style photographers and photojournalists live for, and the last thing they need when trying to do their job is for you to attempt to get in the shot. And while we're at it, don't even dare to suggest that you and your newfound celebrity pal should pose together.
DO POSE WITH THE RIGHT PEOPLE
In an age when there are nearly 50,000 images on Instagram with the #mbfwi hashtag and world-renowned street style photographers like Timur Emek and Yvan Rodic (Facehunter) are fashion week regulars, it's increasingly more important to be photogenic. If you'd like to see your photo on Instagram accounts with hundreds of thousands of followers, we recommend hanging out with tall models or men who have majestic beards.