Interview: Meriç Küçük
They might look plain and simple, but it's still a challenge to find the right t-shirt. The founder of the blog maritsa.co, Meriç Küçük comes to our rescue with the IAMNOTBASIC brand she created with partner Orkan Orgun.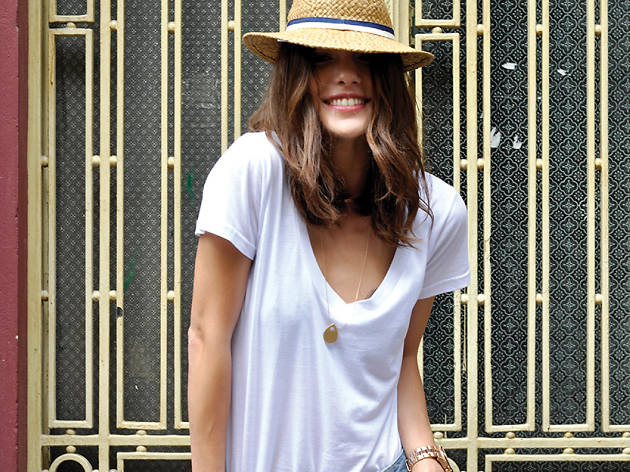 By

Time Out Istanbul editors
|
How was IAMNOTBASIC born? Did you always dream of starting your own brand?
It was born out of our desire to wear those great t-shirts that we always looked for but couldn't find, or found but didn't want to pay a fortune for. My partner Orkan's enthusiasm for e-commerce and my enthusiasm for fashion came together, and the result was our online fashion brand, IAMNOTBASIC. I didn't dream of starting my own brand, nor did I ever wish to become a designer. This is one of the main reasons why we position IAMNOTBASIC as a fashion brand, not a designer brand.
Do you personally design the IAMNOTBASIC t-shirts? How involved are you in the process?
Actually, we design them as a team. I am in charge of managing and monitoring the design process, but seasonal trends, our daily needs or our favorites from the next season greatly influence our collections, so it's teamwork in its truest sense. We are not a brand that's greatly attached to trends; instead, we try to create t-shirts that we all search for but can't find. Of course it's hard to cater to everyone's needs, but it's nice to at least meet their priorities.
Besides your own brand, where do you shop in Istanbul?
Actually, I'm not one of those people who purposefully go shopping. It's very rare that I go out to buy a specific item, and when I do it's generally for special events. But I do enjoy quick after-work shopping tours, which is why shopping malls are where I make most of my purchases. Going out to buy groceries and leaving with a new pair of shoes is the best. Other than that, I frequent the design boutiques in Nişantaşı the most, as I love to wear pieces by Turkish designers. I wish they were sold in more spots… I also love the experience of concept stores that bring together different brands. There are quite a few shops like this in Karaköy, and they're perfect places to shop for both clothes and decorative items. They're the places I frequent if I especially want to shop on the weekend.
Could you list three people you wish would wear IAMNOTBASIC t-shirts? And why?
That's a tough question. I would want Johnny Depp to wear them because no matter what he wears, even if it's just a t-shirt, he gives it a whole new vibe. I wonder how our t-shirts would look on him. It would also be really interesting to see Cate Blanchett walk down the red carpet in our t-shirts – I love her attitude and style. I would also want Kim Kardashian to wear them, since she would definitely do justice to our deep-V t-shirts. We would also break sales records, so that would be nice.
What are your top three pieces for the Fall/Winter 2015 season?
The red dress I saw on the Gucci runway is my favorite piece this season. It might seem like I'm overpromoting the brand, but another item I'd buy immediately would be Gucci's leather slippers. The third item of the season is definitely going to be something suede. I love jackets with fringe, and I'll grab one of the many different versions of the Burberry model that I'm sure will be available soon.