Black Sea guide
Top-notch destinations for an eco-friendly trip to the highlands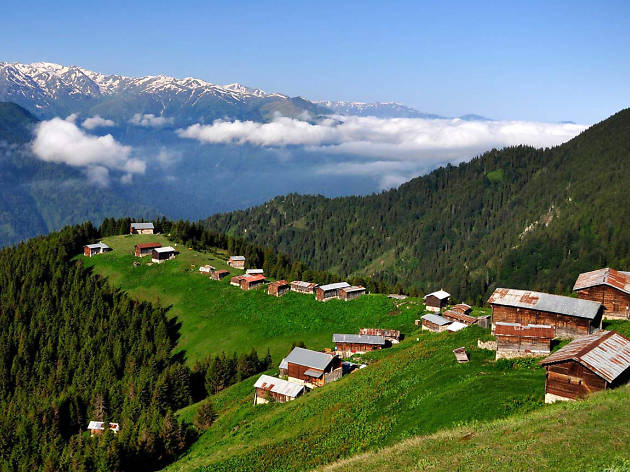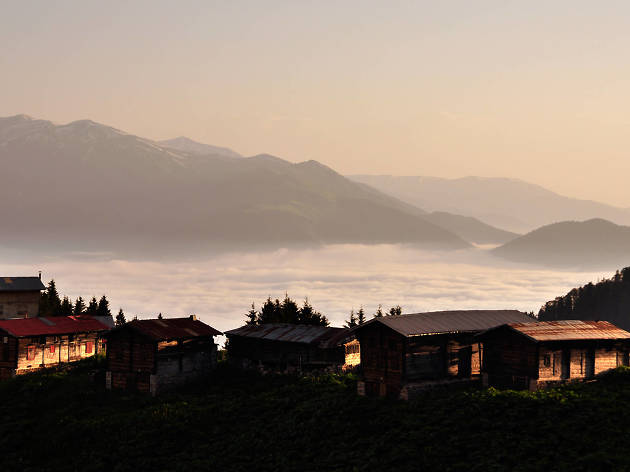 Plato'da Mola
For those who wish to explore the geography of the Black Sea Region and experience every aspect of the local lifestyle from cuisine to music, it doesn't get any cozier than staying in the bungalows, cabins and centuries-old wooden mansions nestled in the lush valleys and highlands. If you're not the type to require a TV in the room, our tips are guaranteed to fit the bill.

TRABZON
Sürmene Memiş Ağa Konağı
Facing the Black Sea, with its back to the forest, this mansion resembling a small chateau is one of the finest examples of local architecture. The impeccable woodwork on the mansion's doors and ceilings shouldn't be missed, and it's also worth visiting for a taste of local cuisine. While you're there, be sure to grab one of Sürmene's famous handmade pocketknives from the shop by the entrance.
Trabzon-Rize Sahil Yolu, Sürmene. (0462) 746 37 37.
RİZE
Ekodanitap Natural Life
One of the pioneers of highland tourism in Turkey, Mehmet Demirci runs Ekodanitap Natural Life, a series of wooden bungalows and tree houses in the Çamlıhemşin district of Rize. There's a terrace restaurant that serves organic, farm-fresh ingredients across from panoramic views of the Fırtına Creek. Ekodanitap is also conveniently located only five minutes from the town's center.
Aşağı Çamlıca Mahallesi, Çamlıhemşin. (0464) 651 77 87, ekodanitap.com
Goboca Dağ Evi
Situated in a wooden chalet with 10 rooms, Goboca is a cozy, family-run hotel that occasionally hosts yoga retreats. They also offer vegetarian and vegan menus for those who notify them in advance.
Fırtına Vadisi, Meydan Köyü, Çamlıhemşin. (0464) 654 40 37, gobocadagevi.com
Moyy Mini Otel
Upon returning to her hometown, fashion designer Özlem Erol rescued the only wooden building left standing in the district center from demolition and turned it into a boutique hotel with six rooms. The café on the ground floor serves regional dishes and sells specialty honeys and jams.
Merkez Mahallesi, İnönü Caddesi 35B, Çamlıhemşin. (0464) 651 74 97.
Plato'da Mola
Guests can stay at one of Plato'da Mola's two locations: a mansion in Çamlıhemşin's Ortan village or a historic wooden home in the Pokut Highland that's been passed down through generations. Both buildings feature terraces with highland views where you can enjoy sumptuous "garden to table" meals. Homemade pastries with herbs, oven-baked potatoes with clotted cream, blueberry and raspberry jams and mouthwatering desserts like cevizli çullama, kete and sütlü şehriye are only a few of the all-natural flavors you'll find here.
Pokut Yaylası, Çamlıhemşin. (0532) 777 93 96, platodamola.com
Sisi Pansiyon
Opened by Savaş Güney in the 1970s, this campsite where the Kaçkar Mountains meet Çamlıhemşin is now run by his son Evrim Güney. Here Güney hosts guests in cozy bungalows by a creek and makes the most of what the earth has to offer in terms of nourishment: in addition to making his own milk, cheese and bread, he's been known to bake a whole pumpkin stuffed with rice in a Dutch oven and create pastes, omelets and pizzas out of the shiitake and oyster mushrooms grown on the trunks of alder trees. It's truly one of those places you have to see to believe.
Şenyuva Köyü, Dere Mahallesi 51, Çamlıhemşin. (0537) 243 38 07, sisipansiyon.com
ARTVİN
Bumbulay Pansiyon
This family-run guesthouse nestled amidst trees in the Maçahel region features five wooden homes and a series of seven granary-style rooms raised on poles (known hereabouts as serender). Bumbulay's kitchen serves Georgian dishes and incredible breakfasts prepared with ingredients from their own farm. You can also enjoy highland safari tours in 4x4 vehicles or, depending on the season, you can watch honey being collected from Caucasian honeybees in the area.
Efeler Köyü, Camili, Borçka. (0532) 652 41 96, bumbulay.com
Ezmoce Köy Evi
Musician and tulum (bagpipe) virtuoso Birol Topaloğlu's rustic house reflects the traditional architecture of the Hemşin region, as it was built out of the remnants of İbalişi Oxori (İbrahim's House) transported from Hemşin to Arhavi. Ezmoce is a great option for those who wish to experience what it's like to stay in a traditional village home.
Cumhuriyet Mahallesi, across from the drawbridge on Eski Kavak Yolu, Arhavi. (0466) 312 86 86.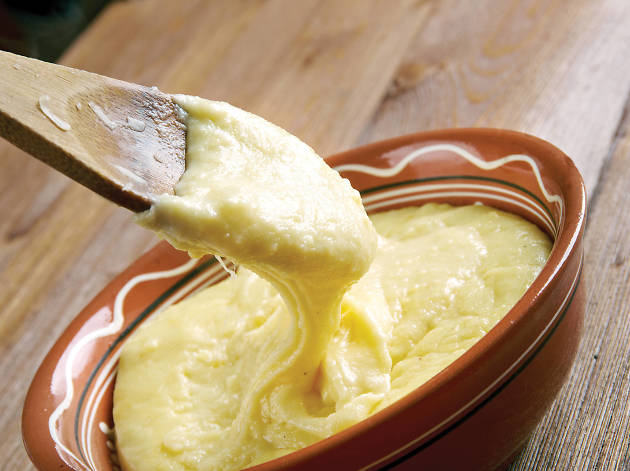 Mıhlama
The cuisine of the Black Sea Region is famous for creating an incredible variety of flavors out of few ingredients, with most of the dishes including kale, beans, corn and dairy products. We've gathered the best restaurants and esnaf lokantaları (tradesmen's restaurants) for those who wish to sample traditional Black Sea-style home-cooked meals as well as pide and kuru fasulye that resemble works of art.
TRABZON
Köfteci Nihat Usta
Established on the Trabzon shore in 1974, Nihat Usta has grown into a restaurant chain that's become synonymous with Akçaabat köfte (Akçaabat-style meatballs). In addition to köfte and piyaz (white bean salad), you'll also find grilled meat and fish as well as local desserts like Laz böreği (baked custard pie with phyllo).
Liman Mevkii, Akçaabat. (0462) 228 00 50, nihatusta.com
Rüştü'nün Fırını
This bakery on a historic street in central Trabzon has been in business since 1920 and is understandably famous for its breads. There are also a few tables for those who can't wait to sample delicious Trabzon pide with cheese or ground beef.
Pazarkapı Mahallesi, Kalkanoğlu Sokak 4, Moloz Mevkii. (0462) 321 10 51.
Tarihi Kalkanoğlu Pilavı
Kalkanoğlu is currently run by the fifth generation of a family whose ancestry goes back to Süleyman Ağa, who served as a pilav (rice) chef at the Ottoman Palace. To get the full experience, try this buttery rice cooked in beef broth alongside homemade kavurma (fried beef) and kuru fasulye (stewed white kidney beans), then conclude your feast with apricot compote.
Pazarkapı Mahallesi, Tophane Camii Sokak, Trabzon. (0462) 321 30 86.
Yayla Lokantası
This casual family-style restaurant is located in Hamsiköy, a village in the foothills around 50 km outside of Trabzon. Yayla Lokantası is known as the birthplace of Hamsiköy sütlacı (Hamsiköy-style rice pudding), a dish found on the menu of just about every restaurant in the country serving Black Sea cuisine.
Hamsiköy. (0462) 542 62 78.
RİZE
Kahve Çinçiva
Çamlıhemşin's Çinçiva village (known nowadays as Şenyuva) is a popular rest stop for those heading up to the Pokut and Sal Highlands, thanks in part to this traditional coffee house-meets-restaurant serving local flavors.
Şenyuva Köyü, Rize. (0464) 653 30 55.
Hüsrev Lokantası
This restaurant's been servingstewed beans since 1958: the secret to their long-lasting success is that they use the highest quality beans brought from the highland villages of Karasu and Hortik in the İspir district of Erzurum Province. To top it all off, try Hüsrev's walnut-rich kadayıf (a dessert of baked shredded wheat in syrup) or Hamsiköy sütlaç with plenty of hazelnuts.
On the highway leading towards Hopa after the Çayeli exit, Rize. (0464) 532 70 37, husrev.com.tr
ARTVİN
Mençuna Restaurant
This exhilarating mountainside restaurant is situated right beside the Mençuna Waterfalls. The restaurant is run by the family of İlyas Can, one of the key figures responsible for bringing traditional beekeeping back to the Eastern Black Sea Region following the Chernobyl disaster. Here you can enjoy dishes like herbed mıhlama (a traditional egg dish with melted cheese and corn starch), fried cheese and hamsili ekmek (cornbread with European anchovy). Don't forget to purchase chestnut or natural comb honey from the wondrous Kamilet Valley before you leave. You can also spend the night at Mençuna Konakları, located right next to the restaurant.
Mençuna Şelalesi, Kamilet Vadisi, Kavak Yolu, Arhavi. (0535) 440 46 62.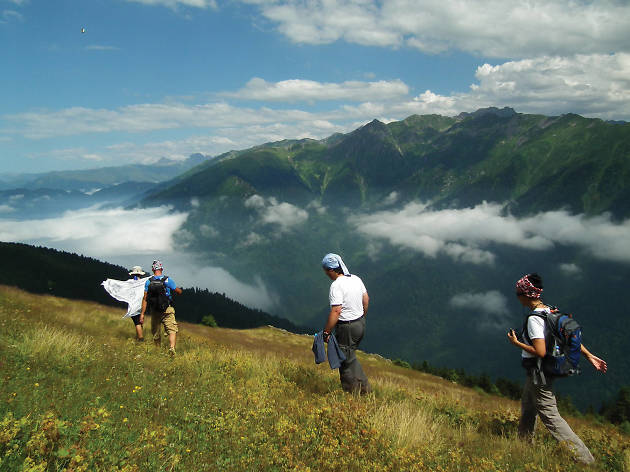 Gito Valley - Buklamania
With the increase in tourism to the Black Sea Region over the last few years, major travel agencies have started catering to crowds making their way to the highlands via newly opened roads. As a result, fans of ecotourism seeking pristine nature are now gravitating towards higher ground or the depths of valleys. If you'd like to take in the beauty of the Black Sea Region, you now have to travel to more remote destinations – otherwise you might feel disheartened to see the hillsides dredged to make room for hydroelectric power plant projects along the road to Rize's İkizdere and Ovit valleys. We recommend starting out in Fırtına Valley in Çamlıhemşin and exploring valleys like Avusor and Gito at the foothills of the Kaçkar Mountains, then heading towards the Kamilet Valley and Mençuna Waterfalls beneath the Altıparmak Mountains, which overlook Ardeşen and Fındıklı. You can then conclude your trip in the Şavşat district and Maçahel region in Artvin, which resemble the Black Forest mountain range in Germany. To find out which tours are best suited to your preferred Black Sea trip, see below.
Buklamania
Founded in 2000 by Black Sea natives Bülent Saraloğlu and Okan Yenigün, Buklamania is one of top companies offering tours of the region. Their Trans-Kaçkar and Eastern Black Sea tours (the latter of which also includes a trip to the Georgian city of Batumi) are quite popular. The company also offers private tours for groups, while the Oberj Hotel in the Ayder Highlands operates as Buklamania's headquarters for those seeking accommodation.
(0212) 245 06 35, bukla.com
Türkü Tour
Çamlıhemşin native Mehmet Demirci leads one of the first trekking groups in the Kaçkar Mountains. In addition to daily highland tours departing from the Ayder Highlands, Türkü Tour also offers intriguing excursions like 4x4 safari tours, mountain bike tours, a Trans-Kaçkar trekking tour and a Hemşin gourmet tour. Those seeking accommodation are placed in Ekodanitap Natural Life in Çamlıhemşin as well as Fora Pansiyon or Kotençur Dağ Evi in Ayder. The Kaçkar Nature, Human and Art Camp organized by Türkü Tour is held in the Kotençur Plateau from Aug 15-19.
(0464) 651 72 30, turkutour.com
Tamzara Tur
Tamzara's guides are local experts who have been helping their guests discover the Black Sea Region for the last 25 years. Their "Karadeniz Yaşam Turu" ("Life in the Black Sea Tour") is a can't-miss opportunity for those who wish to experience life like a local by collecting tea and hazelnuts, going fishing on small boats called taka and even learning how to make mıhlama.
(0212) 251 98 64, tamzaratur.com