Joshua Tree
Welcome to Time Out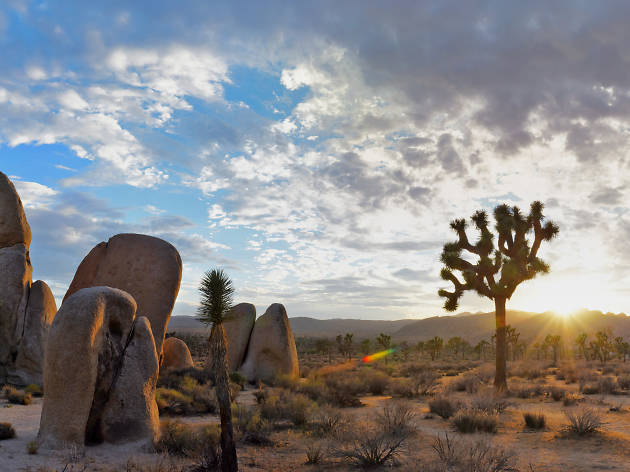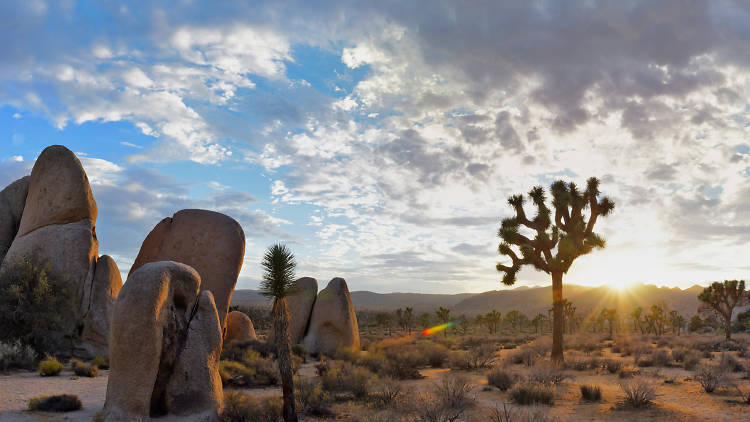 The ultimate guide to Joshua Tree
The best of Joshua Tree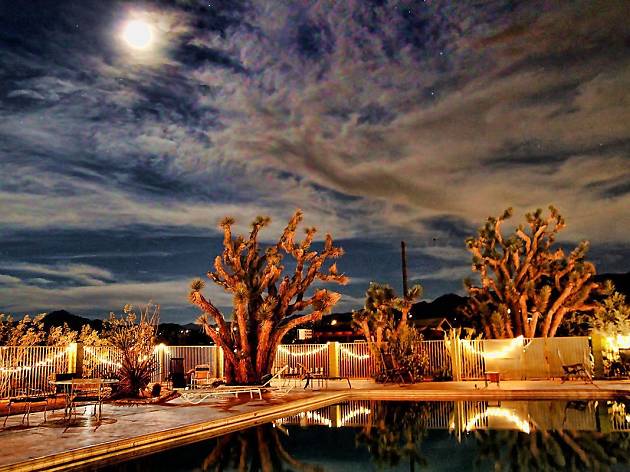 There are a few things to know right off the bat about Joshua Tree hotels—there aren't many luxury options. If you're looking for a swanky stay, you may have to make the schlep from Palm Springs or Desert Hot Springs. Most folks staying in Joshua Tree are either camping in Joshua Tree National Park or spending most of their time there—proximity to the area's hikes and other outdoor activities is priority No. 1. But that doesn't mean you need to stay at a sub-par chain motel (of which there are plenty). Joshua Tree has a handful of eclectic lodging options with way more charm than your average Best Western. We've rounded up these unique spots that are affordable, fun and close to the Park. Bonus: some have pools (and one boasts outdoor showers), which is a real treat in the desert heat. Note: we're working hard to be accurate but please check the latest travel guidance before booking your trip and check availability with the venue. This article includes affiliate links. These links have no influence on our editorial content. For more information, click here.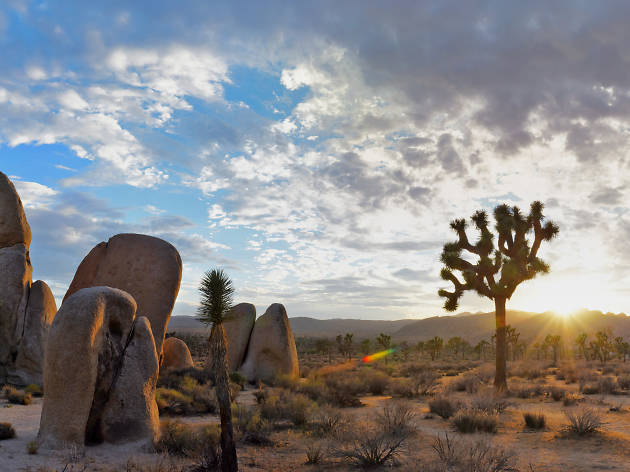 Aside from the desert climate and sweeping natural beauty, there's something you'll notice pretty quickly upon arriving in Joshua Tree: things to do abound here, whether it's hiking and climbing or wildflower sightseeing. You can visit the park on a day trip or plan a Joshua Tree camping trip and stay awhile. Either way, you'll discover that for what at first glance seems like a monochromatic swath of rock, there's more going on here than meets the eye—enough to keep you busy for days, and coming back again and again. Joshua Tree is one of the most magical places in California (and the country, we think). The National Park's varied and alien landscapes—due mostly to gnarled, ancient Joshua Trees and giant boulders strewn willy nilly—make for impressive scenery during hikes, bike tours or leisurely drives. If you visit in spring, head south to Pinto Basin to see colorful wildflowers in bloom. The stargazing is choice here, and wild coyotes may howl you to sleep if you plan an overnight camping trip. Notable stops along the way to the Park include Pappy & Harriet's for lunch, live music and a ghost-town stroll; the Integratron for a new-age sound bath, and the town of Joshua Tree itself, which offers unique hotels, a few tasty restaurants, some good thrifting and the kind of quirky public art that only exists in tiny, warm-weather communities. Enjoy your desert trip!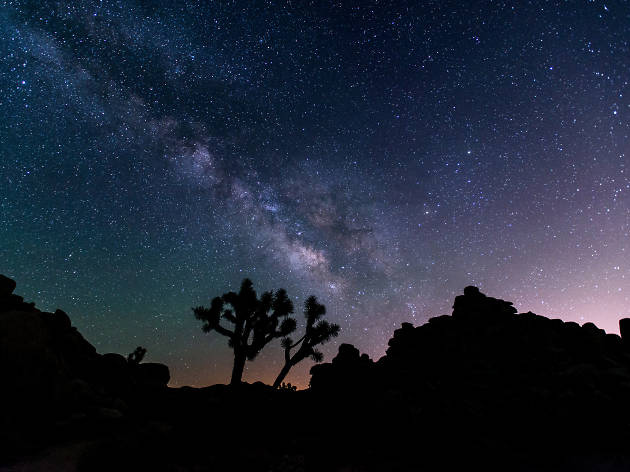 There's no question about it: Joshua Tree camping is some of the best camping in Southern California. And all of California... and the entire country, frankly. From its iconic, otherworldly flora and fauna and epic stargazing to its gigantic boulders and world-class climbing, this is one of the best places to pitch a tent, build a fire and feel at one with nature—and we're here to tell you how. RECOMMENDED: Full guide to the best things to do in Joshua Tree Where is Joshua Tree National Park? Just two and a half hours east of Los Angeles on the 10, the park is close enough for a weekend getaway while still feeling worlds away from the city. It's just east of Idyllwild and Palm Springs, and just north of the Salton Sea, so if you have time, you can hop from one desert destination to the next. What's the best time of year to visit? Anytime! The park is open year-round, and if you don't mind extremely hot days in the summer and extra chilly nights in the winter, you'll be fine no matter the month—just be sure to bring the right gear for the season. Springtime—between March and early June—is the most popular time in the park, due to warm days, cool nights and an abundance of Southern California wildflowers. What if I don't want to camp, or all the campsites are full? You have a few options. If you don't mind coughing up some extra cash, you can check out the charming, eclectic Joshua Tree hotels in the area. Or if you're okay with a more, er, rustic camping experience, you can find a map of BLM land (that's Bureau of Land Management), where it's technically legal to camp anytime. Or, if you have the gear and time (and the appropriate permits), you can choose to backpack instead and camp in the back country region of the park (just remember, no toilets, fire rings or picnic tables out in the wild). How much will camping cost me? The per-vehicle entrance fee to the park is $20, which is good for a seven-day stay. If you happen to be arriving on foot, motorcycle or bike, the fee is $10. On top of that, you'll pay $15 per site per night, or $20 per night per site at the three campgrounds with potable water. Can I reserve a campsite in advance? Most campgrounds in Joshua Tree are first-come, first-served—the park can get extemely busy on weekends from October through May, so if you can camp during the week, or try to arrive Thursday night or early Friday morning, you'll improve your chances of finding an open site. Black Rock and Indian Cove campgrounds do offer reservations (available for booking up to six months in advance online or at 877-444-6777) from October through May; in the summer, all sites are first-come, first-served. What should I bring? Aside from the essentials like a tent, sleeping bag, sleeping pad, etc., you'll definitely want to bring firewood—the nights get cold and wood is not provided. And only three campsites in the park offer running water, so it's very important to bring as much as you'll need for cooking and cleaning, as well as staying hydrated during long, sunny days. (There's a coin-operated spigot just inside the entrance to the park, if you'd prefer to bring empty jugs and fill up on site.) Most campsites are equipped with fire grates for cooking, though you're welcome to bring a camp stove. And while each site has a picnic table, camp chairs for sitting around the fire are always nice. Aside from that, it's the necessities (sunscreen, sturdy shoes, etc.) and the fun stuff (card games, a guitar, s'more fixins), which is up to you. What are the best places to camp in the park? We've outlined each of the park's nine campsites below with everything you need to know to choose the best one for you and your group.
Other places you might like