Heads up! We're working hard to be accurate – but these are unusual times, so please always check before heading out.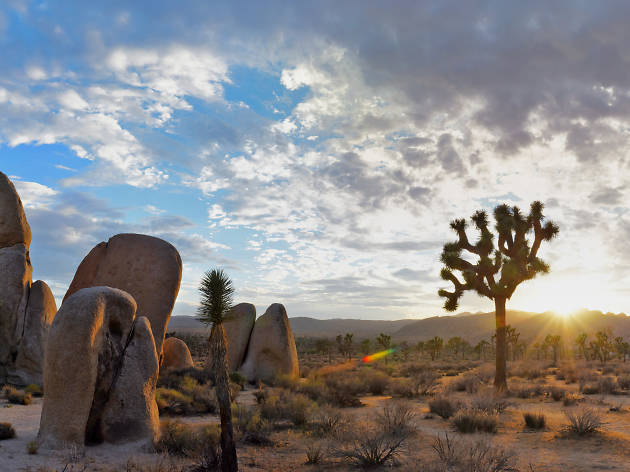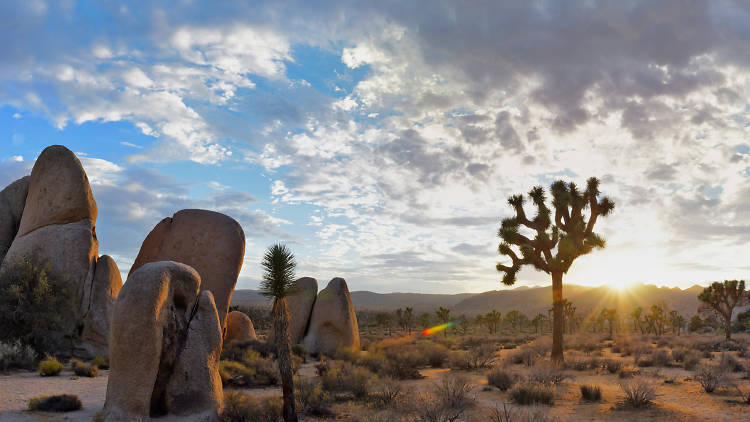 The best things to do in Joshua Tree
A list of the best Joshua Tree things to do while visiting the National Park, from hikes to historical site visits
Aside from the desert climate and sweeping natural beauty, there's something you'll notice pretty quickly upon arriving in Joshua Tree: things to do abound here, whether it's hiking and climbing or wildflower sightseeing. You can visit the park on a day trip or plan a Joshua Tree camping trip and stay awhile. Either way, you'll discover that for what at first glance seems like a monochromatic swath of rock, there's more going on here than meets the eye—enough to keep you busy for days, and coming back again and again.
Joshua Tree is one of the most magical places in California (and the country, we think). The National Park's varied and alien landscapes—due mostly to gnarled, ancient Joshua Trees and giant boulders strewn willy nilly—make for impressive scenery during hikes, bike tours or leisurely drives. If you visit in spring, head south to Pinto Basin to see colorful wildflowers in bloom. The stargazing is choice here, and wild coyotes may howl you to sleep if you plan an overnight camping trip.
Notable stops along the way to the Park include Pappy & Harriet's for lunch, live music and a ghost-town stroll; the Integratron for a new-age sound bath, and the town of Joshua Tree itself, which offers unique hotels, a few tasty restaurants, some good thrifting and the kind of quirky public art that only exists in tiny, warm-weather communities. Enjoy your desert trip!
Joshua Tree things to do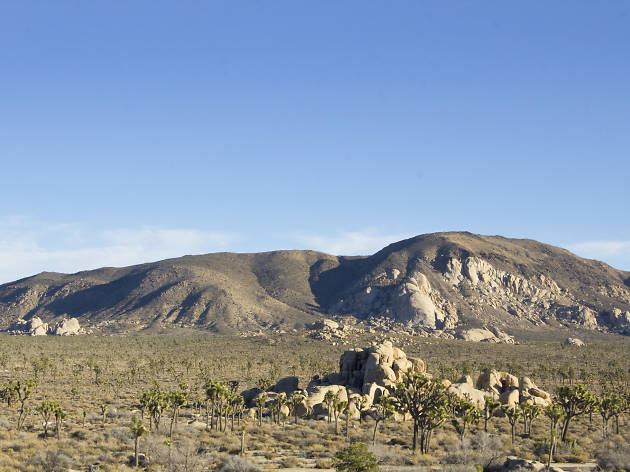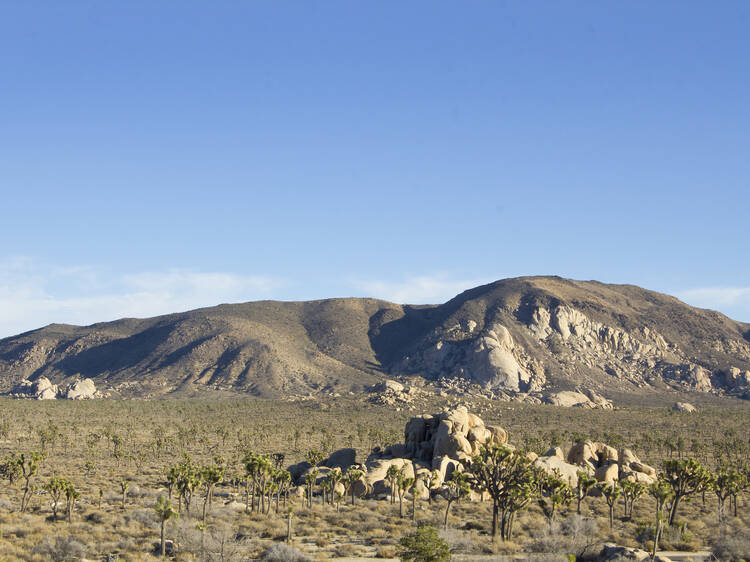 Photograph: Courtesy Joshua Tree National Park
This 3-mile hike, with an elevation gain of more than 1,000 feet, is totally worth the trek. Once at the top (at an elevation of 5,450 feet), you'll have spectacular views in every direction: Lost Horse, Queen and Pleasant valleys; the Pinto Basin; Mount San Jacinto; endless rock formations. It's one of the best views in the park, and a great way to spend a cool morning or winter afternoon.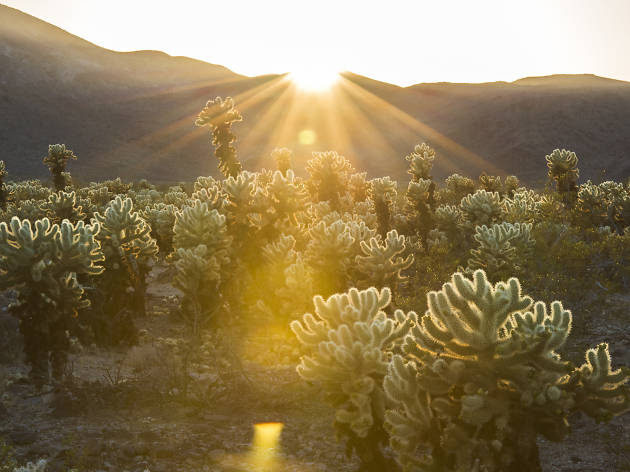 Photograph: Courtesy Joshua Tree National Park
Cholla Cactus Garden and Ocotillo Patch
The two main attractions on the Pinto Basin Road are plant species just as Dr. Seuss-like as the Joshua Tree. First, the Cholla Cactus Garden, a prickly oasis of menacing-looking, silver-tinged chollas. Be sure to stay on the path, these suckers are sharp! Next, the Ocotillo Patch, where towering bunches of stalks make for great photo opportunities, especially post-rainfall, when tiny crimson flowers bloom on each from top to bottom.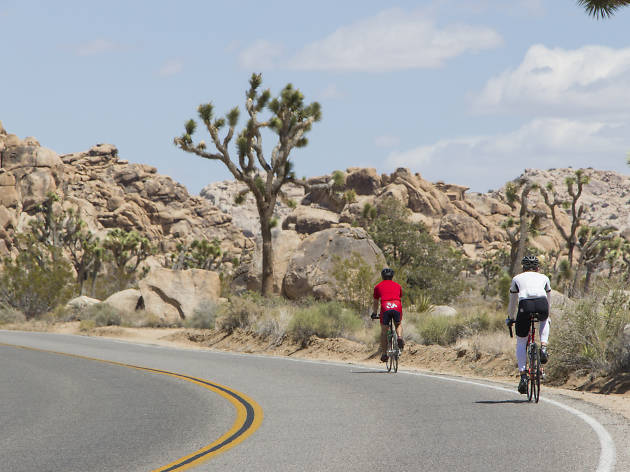 Photograph: Courtesy Joshua Tree National Park
Currently, bicycling in Joshua Tree is restricted to roads that are open to all vehicles. However, the Backcountry and Wilderness Management Plan has designated 29 miles of trails for non-motorized bike use—the Park just needs Congress' approval before opening them. But you can still enjoy great views and serious exercise on the Park's back country roads, just remember to wear a helmet and bring plenty of water.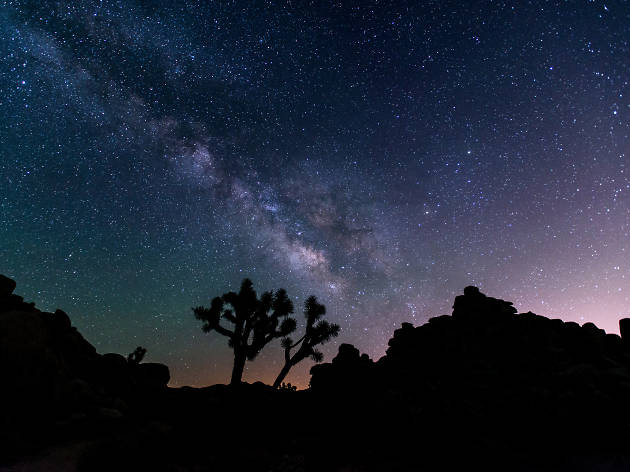 Photograph: Courtesy Joshua Tree National Park
You may need to camp overnight for this one, unless you don't mind hanging around until well after dark. It's absolutely worth it either way—these are some of the clearest and starriest skies for miles. Shooting stars streak by every few minutes, and each season has its greatest hits, like Orion's Belt showing off in the winter or the Perseid Meteor Shower in mid-August. If you're looking to see the Milky Way smeared across the sky, plan for a moonless summer night.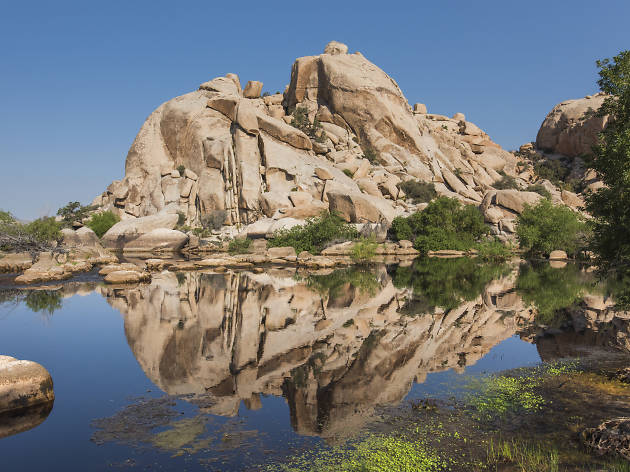 Photograph: Courtesy Joshua Tree National Park
The basin behind Barker Dam fills up with water after a particularly rainy season, creating an unlikely (and welcome) desert sight: a lake. The one-mile looped hike is great for bird watching and a general change of scenery.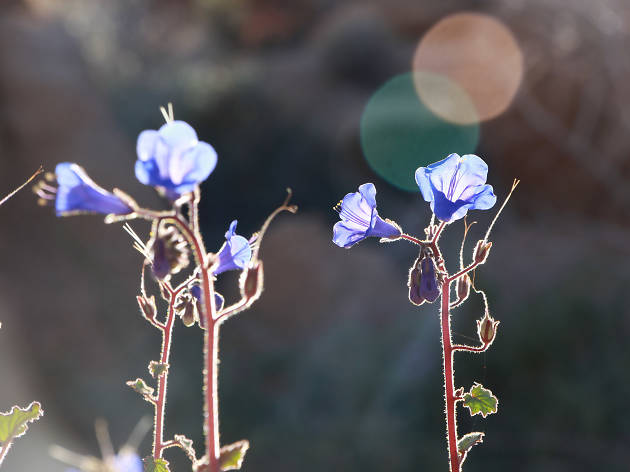 Photograph: Courtesy Joshua Tree National Park
Seeing tiny flowers spring to life in colorful bursts covering swaths of desert is one of the most magical experiences in the park. You'll have to plan your trip wisely, however, and keep an eye on the reports—weather can change things quickly. For the most part, though, wildflowers begin blooming in the lower elevations of the Pinto Basin and along the park's southern boundary as early as February, and at higher elevations in March and April. Desert regions above 5,000 feet may have plants blooming as late as June.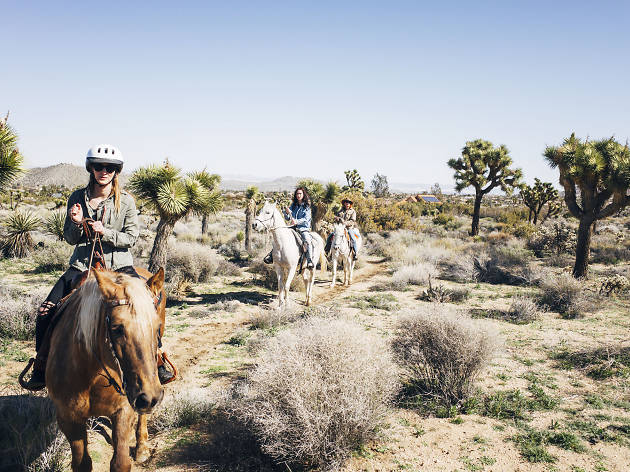 Photograph: Courtesy CC/Flickr/chillbay
Both Ryan and Black Rock campgrounds have accomodations for equestrian guests, and the Backcountry and Wilderness Management Plan provides 253 miles of equestrian trails and trail corridors that traverse open lands, canyon bottoms and dry washes. Most riding trails are open year-round and are clearly marked. There's just one catch—you'll need to bring your own horse.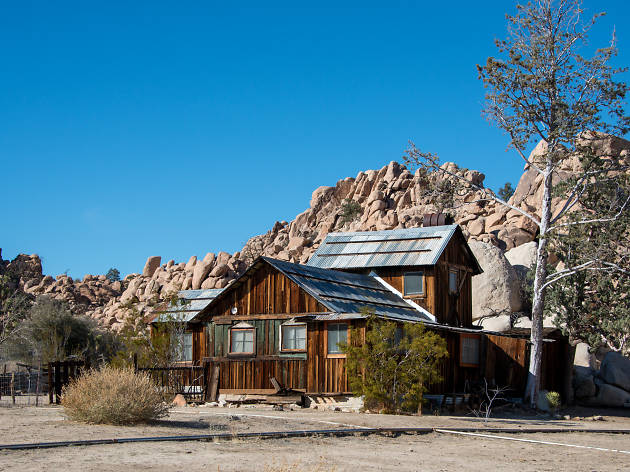 Photograph: Courtesy Joshua Tree National Park
The ruins of the Keys' family ranch, complete with rusted car frames in the yard and a ranch house with its well intact, is a National Historic Register Site only open to the public for guided tours. Each tour lasts 90 minutes and includes a half-mile walk around the site. Tours are $10 per person and totally worth it if you're into wild west history.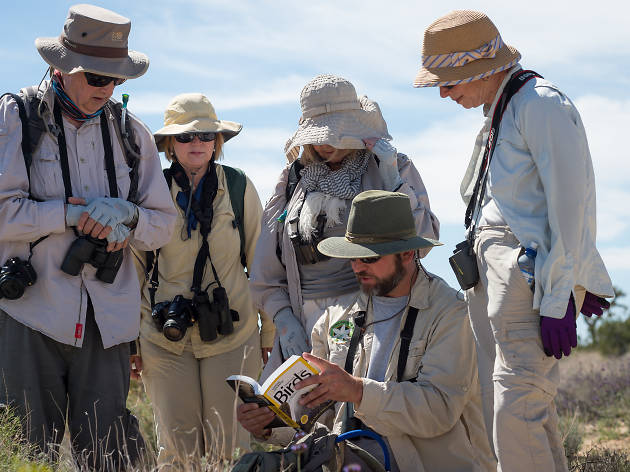 Photograph: Courtesy Joshua Tree National Park
This may sound like a grandma's game, but birding is a great way to see serene, little-traveled parts of the park—in addition to some beautiful birds. And there are plenty to be seen: the roadrunner, phainopepla, mockingbird, verdin, cactus wren, rock wren, mourning dove, Le Conte's thrasher and Gambel's quail can be seen in the park throughout the year. The migratory white-crowned sparrow, dark-eyed junco, sage sparrow, cedar waxwing, American robin and hermit thrush are winter birds that remain in the park into March, when they switch places with summer nesting species such as Bendire's thrasher, ash-throated flycatcher, western kingbird, Scott's oriole, northern oriole and western bluebird. If you're lucky, you might spot hawks, falcons or even groups of 200 or more turkey vultures during spring migration.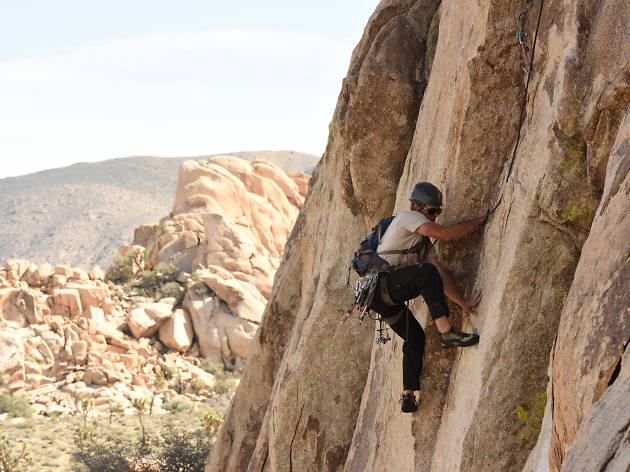 Photograph: Courtesy Joshua Tree National Park
Joshua Tree is a world-class destination for bouldering and rock climbing. It's famous for its traditional-style crack, slab and steep-face monzogranite climbing. With more than 400 climbing formations and 8,000 climbing routes, there are challenging climbs here for all levels of climbing ability. If you're new to the sport, guides and gear are easily found through a quick internet search or a stop at Nomad Ventures, an adventure store just outside the park with a friendly, helpful staff.