The 13 best events in Kansas City
From Oktoberfest to a BBQ festival and family-friendly happenings, these are the best events in Kansas City this year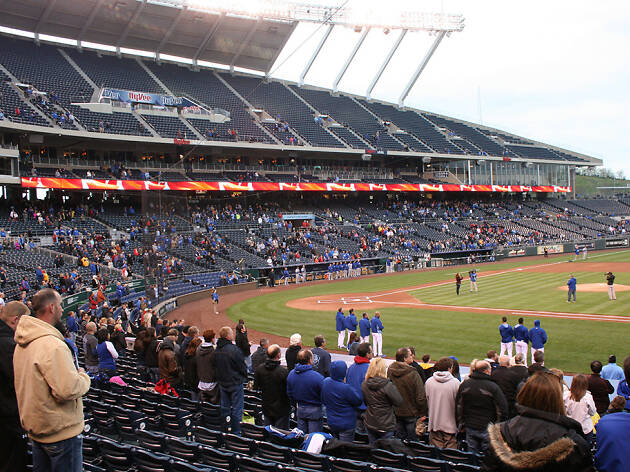 Although the most recognized happening in the city involves St. Patrick's Day (there are multiple celebrations, after all), the best events in Kansas City have recently exploded to include a variety of cultural offerings and unique only-in-KC things to do.
Take First Fridays, for example, a relatively new local tradition that calls for performers, local businesses and food trucks (pro tip: eat all the BBQ you can get your hands on while there) to meet at the Crossroads Arts District for a celebration of what makes the city what it is today. Beer lovers, on the other hand, will have KC Oktoberfest bookmarked on their calendars for months: the city's largest celebration of all things Bavarian-style has helped revitalize downtown's cultural offerings, among other things.
But the best events in Kansas City also happen to be family-friendly affairs to be enjoyed with little ones in tow after a fancy lunch at some of the best restaurants in town or before a walk through the city's most enticing attractions. The best part? A lot of these are completely free!
RECOMMENDED: Full guide to the best things to do in Kansas City
Best events in Kansas City
1
Photograph: Courtesy Yelp/Time S.
Head to the Crossroads Arts District on the First Friday of every month for food trucks, street music, aerial performances, live theater, traditional and avant-garde art exhibits, sidewalk vendors and more. The happenings are hosted by community arts organizations, galleries, studios and local businesses looking to celebrate the region and its people. Thousands of patrons head down early to secure better parking spots or take the free streetcar over. Don't forget to check the official website for a complete list of performers and vendors each month.
Snake Saturday Parade and Festival
What began as a promotional parade for the Rodeway Inn in the '80s has grown into the "largest family fun Irish celebration in the area." The Snake Saturday Parade and Festival features a carnival, a free children's area with a barrel train, airbrush tattoos, pony rides, a petting zoo and more. There's even a "lads and lassies" contest during which children are judged based on their "Irish spirit and charm."
3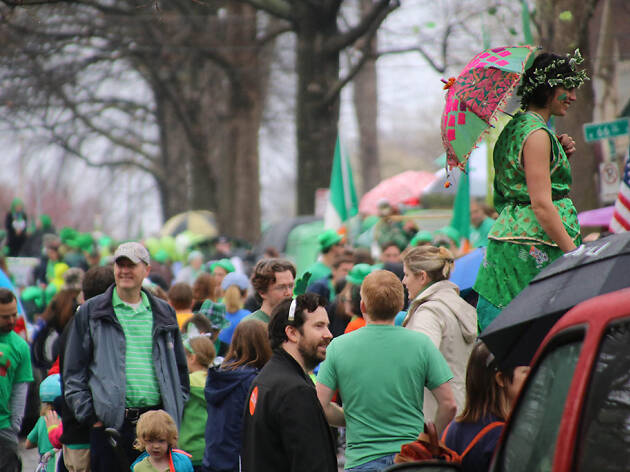 Photograph: Courtesy Flickr/CC/Paul Sableman
Eric Stonestreet from Modern Family is serving as the Grand Marshal for this year's St. Patrick's Day Parade. The events kicks off with elaborate floats, leprechauns and marching bands at Linwood and Broadway and proceed south along Broadway to 43rd Street, at which point everyone is dismissed to drown themselves in green beer at O'Wherevers. Cheers!
4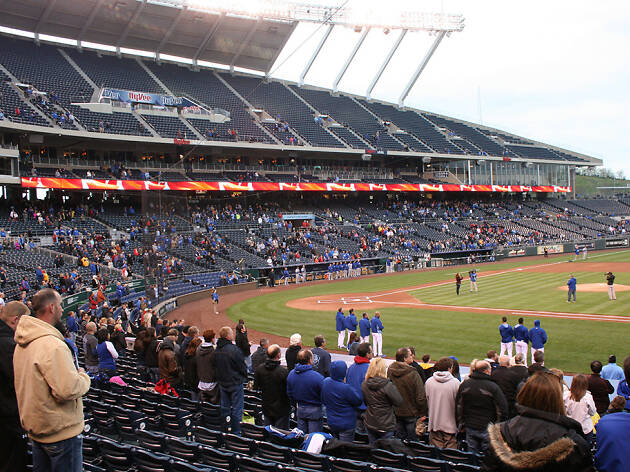 Photograph: Courtesy Flickr/CC/Jeramey Jannene
Royals fans wait patiently for opening day but, in 2019, they won't have to wait that long: the Royals start this baseball season at home against the Chicago White Sox in the earliest opening day ever in MLB history (March 28). The much-anticipated game brings a buzz to the city, officially kicking off the baseball season in one of the oldest ballparks in the American league, Kauffman Stadium. Get here early to tailgate, see the Water Spectacular fountain display and walk all the way around the stadium.
Irish roots run deep in Kansas City. Every Labor Day weekend, the Kansas City Irish Fest celebrates Cow City's celtic heritage with live music, comedy, tastings, displays, genealogy events and children's activities. The likes of Gaelic Storm, Red Hot Chili Peppers and We Banjo 3 have previously performed at the event, during which you'll want to grab a Guinness, fill up on corned beef and embrace the Irishness around you at the Crown Center.
Celebration at the Station
On Memorial Day weekend, pack up a picnic and head to the North Lawn of the National WWI Memorial for a spectacular patriotic concert by the Kansas City Symphony followed by the city's biggest fireworks display. Now in its 17th year, Celebration at the Station is the largest free Memorial Day weekend event in the Midwest.
7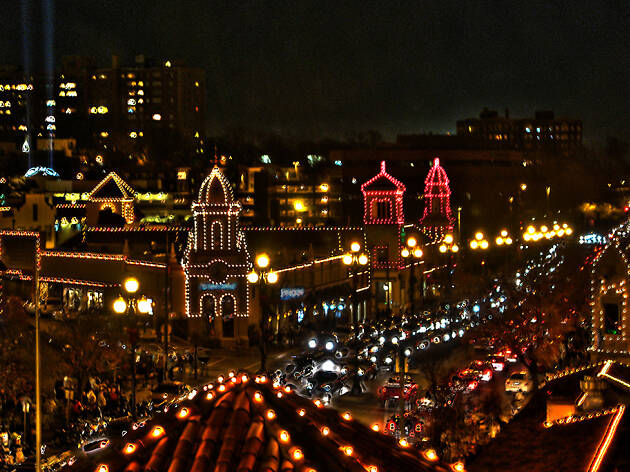 Photograph: Courtesy Flickr/CC/David DeHetre
A visit to Plaza Lights is on every Kansas Citian's list of holiday traditions and for good reason. The Christmastime tradition started nearly a century ago, in 1930, in the 15-block shopping and dining district Country Club Plaza, known as the plaza. Starting on Thanksgiving Day, head to the plaza for window shopping, carolers and horse-drawn carriage rides while you take in thousands of lights and all the Christmas cheer you can imagine. A child is picked at random to flip the big switch on stage and turn all the lights on, how fun does that sound?
KC celebrates diversity and its thriving LGBTQIA community at Berkley Riverfront Park with live entertainment, carnival rides and games, a Kids Zone (children 12 and under get in for free), a market place, a local cuisine food fair, a volleyball tournament and more. This will be the fifth year the event will take place at the easily accessible Riverfront Park, a location that makes for a great weekend activity with the whole family.
9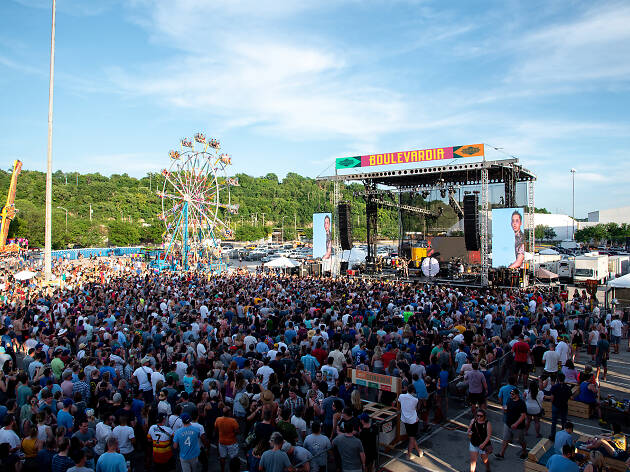 Celebrate Father's Day weekend with all of dad's favorite things: beer, food, music... and more beer. Dubbed "the world's finest pop-up party nation," this is a carnival, a silent disco, a dinner destination and a live music experience all in one. With or without dad, it's one heck of a good time.
10
Dancefestopia Camping Music Festival
An EDM festival in the middle of Kansas? Yes, please. Head just south of KC for four days and four nights of non-stop music by a hundred different DJs. Once you're done partying, there's no need to find a ride home: just camp in the forest of the field (or go VIP and get a cabin). Worry not, there are showers! And it's not over: attendees will be treated to fireworks, an aerial/fire/dance show, Insta-worthy art installations and helicopter, canoe and hot air balloon rides.
American Royal World Series of Barbecue
No list about Kansas City in general is complete without a BBQ mention. This two-day festival and BBQ competition features live local music, all the barbecue you can eat, beer and cocktails, a car show and activities for the kids.
12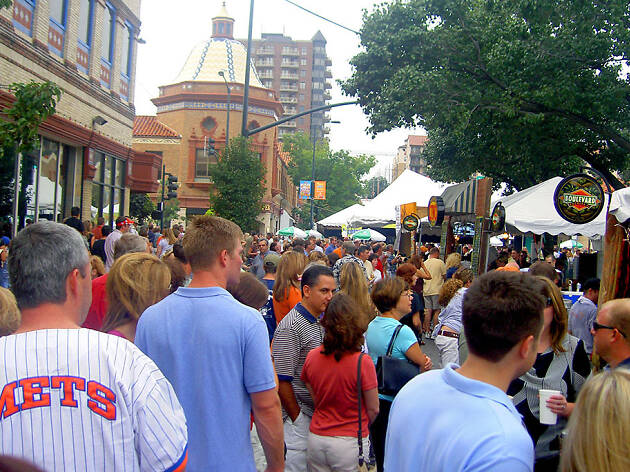 Photograph: Courtesy Flickr/CC/Tim Samoff
Kansas City's unofficial kickoff to the fall season is a weekend full of food, live music and art. Featuring 240 artists, three live music stages and over 20 restaurant booths, the Plaza Art Fair is a top-ranked, national art event that takes over nine city blocks and draws crowds of 250,000 people each year.
13
Kansas City's largest celebration of Bavarian-style bier, food and music takes place in the heart of downtown. Modeled after Munich Oktoberfest, the KC version features authentic German-style bier from KC Bier Co., local food vendors, games and competitions, arts, carnival rides and live entertainment.
Craving a taste of the local food scene?
The best Kansas City BBQ isn't just the town's most recognizable culinary offering, it's an institution that has shaped the entire country's gastronomical landscape since the 1920s. That's when Henry Perry fired up a smoker in an old streetcar barn and sold grilled meat in newspapers for customers to carry out. Today, that tradition has expanded to over 100 (!) restaurants serving BBQ in the area.