Eat the best Kansas City BBQ at these 10 local spots
Devour the crown jewel of Kansas City BBQ, burnt ends, at these outstanding local restaurants and eateries
The best Kansas City BBQ isn't just the town's most recognizable culinary offering, it's an institution that has shaped the entire country's gastronomical landscape since the 1920s. That's when Henry Perry fired up a smoker in an old streetcar barn and sold grilled meat in newspapers for customers to carry out.
Today, that tradition has expanded to over 100 (!) restaurants serving BBQ in the area. Of course, a multitude of options comes with a wide array of opinions, so don't expect a consensus among locals when asking about the top ribs in town. Just arrive hungry and ready to devour prize-winning plates of brisket and pulled pork.
Whereas Texas is known for its brisket, Carolina for its pulled pork and St. Louis for their take on ribs, the crown jewel of KC's BBQ scene is a plate of burnt ends. These are wonderful bites of brisket that are caramelized and smokey on the outside and tender on the inside. Basically, they're meat gold. Although plenty of butchers used to discard the meat because thought to be too chewy for sandwiches, the dish actually sells out on a daily basis today all around town.
The other hallmark of the local culinary stage is the world-famous sauce, generally thick and sweet with a hint of spice. In fact, BBQ sauce is as big of a deal here as the meat that it gets poured on is.
In case you need us to spell it out: the best thing to do in Kansas City is eating all the barbecue – there are even entire events dedicated to the cuisine. What are you still waiting for? Put on that bib and get eating
RECOMMENDED: Full guide to the best restaurants in Kansas City
Best Kansas City BBQ
1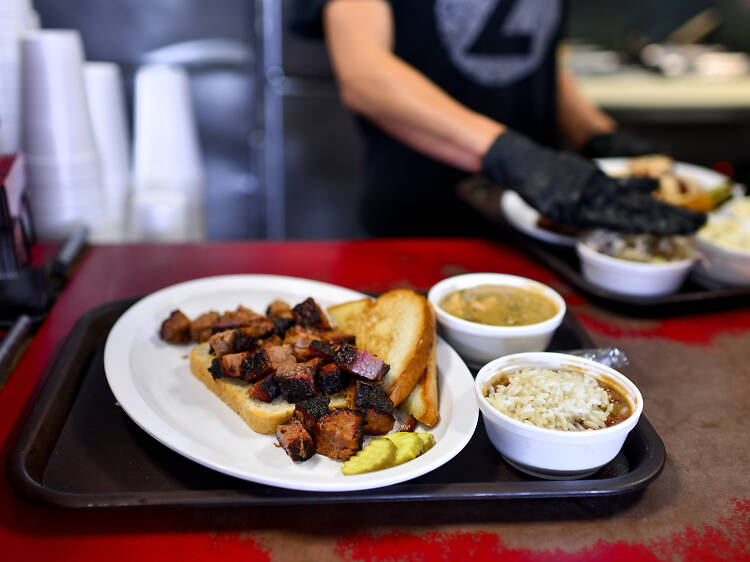 Photograph: Courtesy Joe's Kansas City Bar-B-Que
Joe's Kansas City Bar-B-Que
If you've got time for a single meal in KC, this is where you're going to have it. Joe's isn't just the best in Kansas City, it's some of the best in the entire country. The local fixture's popularity has spawned two other area restaurants, but the original gas station location is the place to go. The line might be long, but it will still be worth it. Don't take our word for it: the late Anthony Bourdain named Joe's Kansas City Bar-B-Que one of the 13 places to eat at before you die. You can't go wrong with a pulled pork sandwich or opt to go big with a combo plate filled with ribs, plus your choice of pulled pork, brisket, turkey, ham, sausage or a quarter of a chicken. Just make sure the onion rings are at least one of your side dishes. Joe's cult following is also obsessed with the sauce on offer, so don't go conservative when dressing your meat.
2
Photograph: Courtesy TripAdvisor.com
Slap's is an acronym for "squeal like a pig" and the staff here has been delighting the city with delicious sauces, rubs and meats since 2014. Using the highest quality of locally sourced meats, the restaurant regularly sells out of their offerings. You'll find it hard to choose between the ribs and the brisket – both are perfectly cooked and seasoned – but do make sure to always order the baked potato casserole and homemade hushpuppies as your side. Owners and brothers Mike and Joe Pearce also lead regular cooking classes, revealing all their 'que smokin' secrets for those trying to replicate the outstanding recipes at home.
3
Photograph: Courtesy TripAdvisor.com
Your order at Arthur Bryant's should begin and end with ribs. Known as "The King of Ribs," the late Arthur Bryant was one of the city's most famous pitmasters. His descendants still run the business today, which has recently added a second location at the Legends Outlets Kansas City (we are, though, partial to the flagship destination on Brooklyn Avenue). In addition to the burnt ends sandwich piled high on delicious Wonder Bread, indulge in the rich and spicy sauces that have been recognized nationally by the likes of former Presidents Jimmy Carter and Barack Obama.
4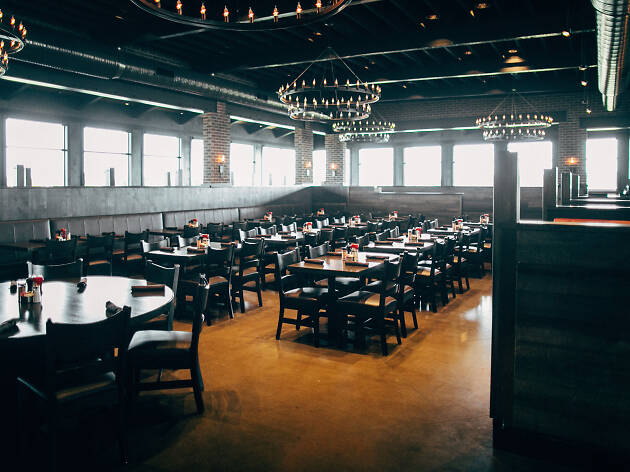 Photograph: Courtesy Fiorella's Jack Stack Barbecue
Fiorella's Jack Stack Barbecue
Jack Stack boasts over five locations, making it easier for you to stop by from just anywhere. While most of the KC BBQ joints on this list are counter-style, Jack Stack is great for a sit-down dinner in a nice atmosphere. Expect a blend of traditional and inventive cuisine that pushes the envelope just enough not to alienate the traditionalist. Order the sampler for the full Jack Stack experience: barbecue chicken, pork spare ribs and burnt ends.
5
On the more modern and trendy spectrum of barbeque joints is Q39. This chef-driven spot has been around since 2014, with a made-from-scratch menu and wood-fired grilled plates to boot. Deciding what to order is no easy feat, so let us help: start with the smoked and grilled pork belly or the mac and cheese. If going the traditional route, order the judges plate or the burnt end burger. Branch out and delight your inner foodie with the pulled pork tacos or the no jackin around sandwich.
6
Photograph: Courtesy Yelp/Jones BBQ
Jones is a grab-and-go window in a parking lot with great 'que and even greater service from the only all-female pitmaster team in town. The Jones sisters, Deborah and Mary, grew up learning all the secrets to making great BBQ from their father and have taken their secret family sausage recipe to unparalleled levels of fame. The to-go-only spot has taken up residence in a former taco stand where customers step up to a window to place their orders off a simple and straightforward menu. First-timers, get the combo plate, which includes the famous sausage, rib tips and a delicious side dish.
7
Todd Johns and his brother in law Randy Hinck have been making competition-worthy barbeque since 2001. After a decade of winning almost every award imaginable, they opened their flagship restaurant Plowboys BBQ in Blue Springs, followed by a second location in downtown KC. Today, no visit to Kansas City is complete without a taste of their BBQ nachos: a heavenly platter of tortilla chips, sour cream, jalapeños, homemade cheese sauce and slow-smoked pulled pork or brisket.
8
Photograph: Courtesy TripAdvisor.com
Alongside Arthur's, Gates is one of the two oldest BBQ joints in town. Despite the differences in atmosphere, all six locations boast a signature red roof, making them instantly recognizable. The burnt ends are a contender for the city's best, as are the baked beans and ribs. Just order everything, trust us.
9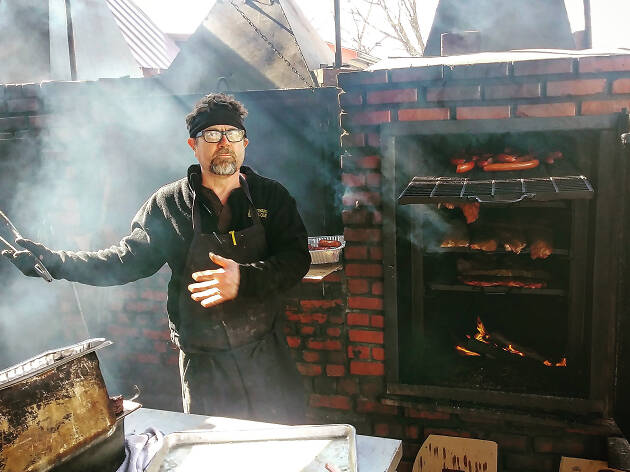 Photograph: Courtesy Woodyard Bar-B-Que
Three words: Burnt. End. Chili. For over 50 years, Woodyard Bar-B-Que has been the only place in all of America that makes it acceptable to order chili even when it's burning hot outside. Start your experience with a cup of the world-famous chili and follow that with one of the amazing sandwich combinations, we suggest the Triple P (ham, pulled pork, smoked bacon and provolone) and the Burnt End Buster topped with yummy slaw. Go when the weather is nice and hang out on the lively patio: it gets pretty packed during the lunch and dinner rush, but the wait is never too bad.
10
Photograph: Courtesy TripAdvisor.com
This roadside dive is as authentic as it gets, offering counter service, disposable tableware and no-frills decor. Why come here? The burnt ends, of course, and the enormous sandwiches packed with enough meat to feed two people each. Pro tip: order them dry, with the sauce on the side, as they tend to land in front of you a bit too heavily sauced. This is a great spot to hit up before or after a Royals baseball game, as it's a quick five-minute drive away from Kauffman Stadium.
Still hungry?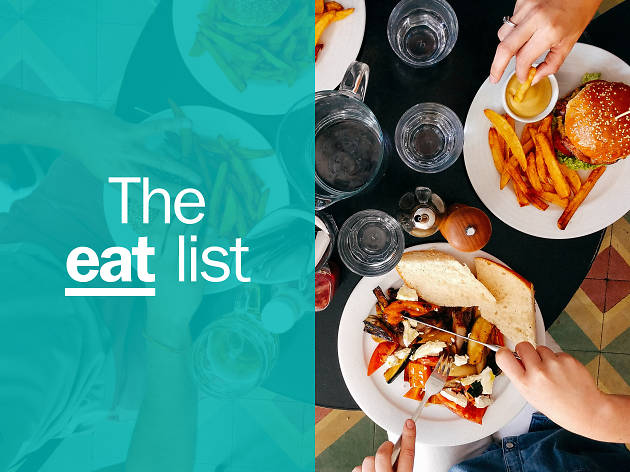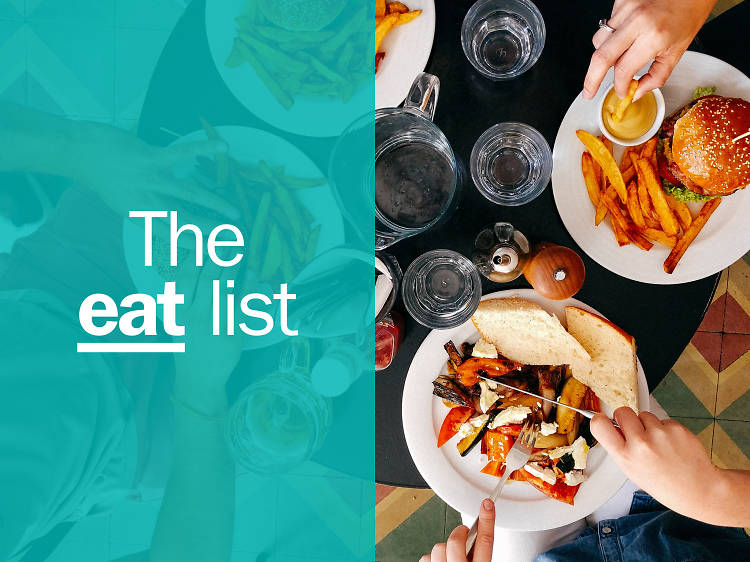 If this past year's openings, a flurry of buzz-worthy new eateries and a food hall, are any indication, KC is just getting started. Of course, traditional staples of the local gastronomical scene have long been BBQ dishes, steak and potatoes. While those are readily available (and devouring them amounts to one of the best things to do in town), a new class of chefs has updated the beloved classics while staying true to their roots.