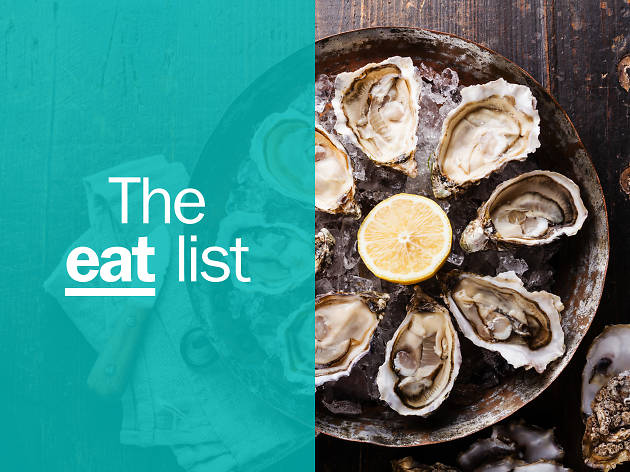 The 10 best restaurants in Laguna Beach
Get a taste of the best restaurants in Laguna Beach, including seaside dives and upscale locales
Few places inspire California dreaming like Laguna Beach. Its sunny shores are awash with swaying palms, golden beach coves, and clear azure waters; squint and it could be the tropics. Yet, culturally, this slice of paradise is pure Golden State, from its surfers to its elaborate sushi rolls. It's arguably Orange County's most rewarding foodie destination with a global culinary mix that feels right at home amidst the sunshine and ocean breezes. Whether you're wolfing down tacos at the beach, slurping ramen and beers in a modern izakaya, or sampling fine Jamaican rums amidst Caribbean decor, the following spots exemplify Laguna's vibrant food scene.
Best restaurants in Laguna Beach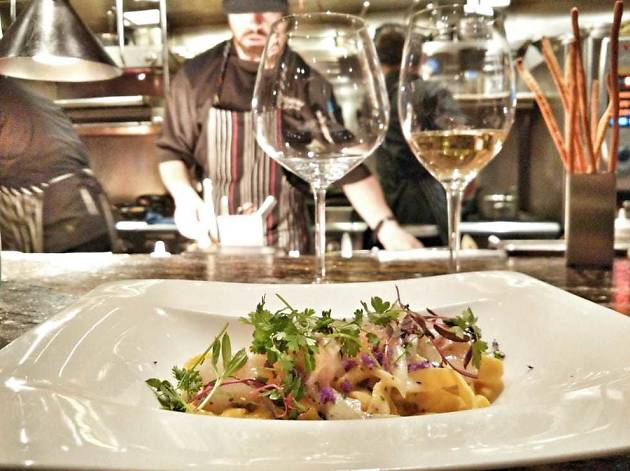 Photograph: Courtesy Yelp/Annie L.
1. Broadway by Amar Santana
What is it? Comfy, upscale dining room features composed plates from a Top Chef contender alongside the best cocktails in town.
Why go? Chef Amar Santana takes popular, globe-hopping dishes such as hamachi sashimi, Spanish octopus, and Mediterranean branzino, and makes them his own with vivid swaths of deeply flavorful sauces. Serious talent behind the bar compliments Santana's cooking with seasonal, culinary inspired drinks including a watermelon sipper with Manzanilla sherry, Cocchi Americano, Thai basil, and sea salt mist.
Price range? Pricey
Photograph: Courtesy Yelp/Sandy K.
What is it? This neighborhood favorite makes it look easy with spot-on renditions of American staples served in a handsome, lively space.
Why go? Nick's is the local gold standard for breakfast and lunch faves such as bloody marys, jumbo market salads, and towering fish sandwiches. Their beloved bacon deviled eggs and asparagus fries could run for office. Nab a seat on the front patio overlooking main drag Pacific Coast Highway, and watch the bustling scene parade by.
Price range? Average
Photograph: Courtesy Yelp/Francis M.
What is it? The drinks and good vibes flow at this buzzy, al fresco restaurant and bar plunked directly on the sand.
Why go? This is the type of FOMO-inspiring place that occasionally peppers your feed with envy. With chilled out beats and sweet ocean air, the ambience is more akin to a spirited beach party than sit-down eatery. In between waterfront selfies, enjoy mahi mahi sandwiches, lobster quesadillas, and cilantro-spiked margaritas.
Price range? Average
Photograph: Courtesy Yelp/Hasty H.
What is it? Stylish reboot of classic tiki haunt swaps kitsch for class with Insta-worthy interiors and gorgeous, orchid-adorned libations.
Why go? The tiki gods were appeased when this 1947 restaurant received a fashionable makeover with palm print-shrouded interiors, rejiggered cocktails, and a contemporary take on faux-exotic pupus including ahi poke, coconut fried shrimp, and hoisin glazed spareribs. Order a Lapu Lapu, the restaurant's potent, signature drink which comes served in a swizzle stick-embellished glass or giant, shareable clamshell. Vegetarians are in luck too, because there's an entire veggie menu serving up tasty treats from quinoa salads to risotto and "Pineapple Island" kebabs.
Price range? Average
Photograph: Courtesy Yelp/Kev O.
5. Eva's-A Caribbean Kitchen
What is it? This rum lover's paradise features soulful Caribbean food and over 200 bottles of distilled sugarcane.
Why go? British Guyana native Eva Madray transports guests to the Caribbean with traditional dishes—cajun prawns, jerk pork loin, sweet-savory plantains—served in a brightly colored dining room hung with vibrant coconut shell masks. Choose a themed flight from the encyclopedic rum collection, and toast your dining companions who are likely Madray's biggest fans: fellow Orange County chefs.
Price range? Average
Photograph: Courtesy Yelp/Maila H.
What is it? Prominent Mexican restaurant offers legendary brunch, sunset margaritas, and ocean vistas from a dazzling waterfront patio.
Why go? Set on palm tree-lined bluffs overlooking the Pacific, this Laguna Beach mainstay always had the dreamy setting, and now, thanks to a recent revamp, it has the kitchen talent to match. Sunday brunch is a champagne-fueled, four-course affair with entree choices such as a lobster benedict, chilaquiles, and brioche french toast. Come sunset, it's a toss-up for what's more intoxicating: the views or a $60 Top of the World margarita.
Price range? Pricey
Photograph: Courtesy Yelp/Kris K.
What is it? Denim and tat-sporting waitstaff serve of-the-moment California fare in a modern setting.
Why go? The far-reaching menu reflects current foods trends—burrata, octopus, lots of sriracha —and yields popular dishes such as hot chicken sandwiches, short rib tacos, and crispy citrus-glazed duck drumsticks. Whiskey cocktails and craft beers keep the sleek, second-floor dining room humming, while ocean views delight those basking on the wrap-around deck.
Price range? Average
Photograph: Courtesy Yelp/Eunice K.
What is it? Firing up their grill since 1999, the Laguna Beach outpost of La Sirena is based within a cosy beach cottage. Don't be surprised if you see a big old crowd lining up outside of this joint - at a minimal distance from the surf (two blocks) and serving up made-from-scratch, fresh, Mexican food, La Sirena Grill is in high demand.
Why go? After locals (and tourists) have enjoyed a swim, surf or sunbathe, they head to La Sirena. Why? Because it's the go-to spot to pick up vibrant and succulent salmon burritos, avocado lime salads and watermelon-strawberry agua frescas. A second locale in south Laguna offers roomier digs, bright margaritas and twenty beers on tap. Both venues make a point to try and be eco-conscious too, adopting reclaimed wood as part of the dining room interior and sourcing ingredients sustainably.
Price range? Bargain
Photograph: Courtesy Yelp/Jared J.
What is it? Laid-back izakaya pairs food truck-style Japanese fare with craft brews and sake.
Why go? Cap a day at Thalia Street Beach with a frosty cold one and fantasy drinking foods including pork belly sliders, fried rice, and crispy lollipop chicken. The namesake ramen comes in a creamy pork broth with choice of protein, heat level, and seemingly limitless toppings (get the black garlic oil).
Price range? Bargain
Photograph: Courtesy Yelp/Alma C.
What is it? Tiny and upbeat, this fusion sushi spot quickly fills up for singular sashimi plates, creative rolls, and sweeping views of teeming Main Beach.
Why go? With chops from her years alongside sushi guru Nobu Matsuhisa, Chef Miki Izumisawa and her all-female crew fashion artful, untraditional sashimi dishes—tuna with tomatoes and avocado, yellowtail with mango and plum paste—served on skimboard tables. Just keep your hands off the Kikkoman. Izumisawa admonishes soy sauce for her perfectly seasoned dishes.
Price range? Average
Discover Time Out Market: the best of the city under one roof