Heads up! We're working hard to be accurate – but these are unusual times, so please always check before heading out.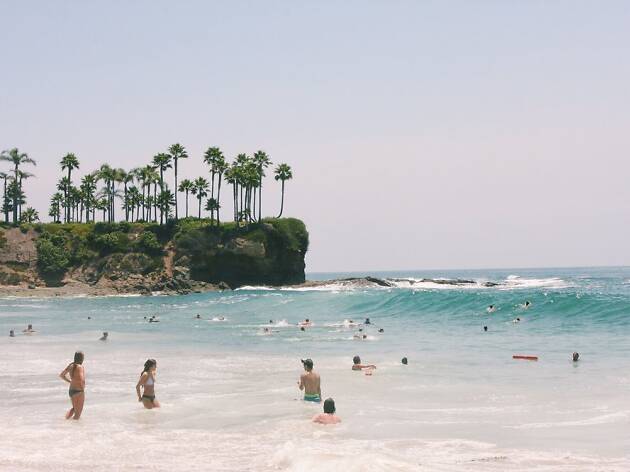 The best beaches in California for surf, sand and sun
Whether you're a surfer, a swimmer or just looking for a shoreline to stroll, the best beaches in California have it all
Boasting nearly 900 miles of shoreline, the beaches in California are among the best in the world. The Golden State is synonymous with its golden-sand shores, stretching from the palm-tree–lined beaches in Los Angeles to the rugged, picturesque coastline of the north. Along the way, you'll find a beach for every occasion, from bustling spots with fab people-watching to quiet, contemplative coves. California is also the birthplace of surfing in the mainland U.S., and teems with thrilling surf breaks, whether you're looking to shred the gnar, book a surf lesson, or just marvel at world-class surfers. Plus, Cali beaches don't just shape the landscape, but the surrounding culture as well, meaning the best fish tacos and margaritas are never too far away. Pack a tote and slather on the sunscreen, the following beaches offer fifteen compelling reasons to flock to California's sunny shores.
RECOMMENDED: Full guide to the best things to do in California
Best beaches in California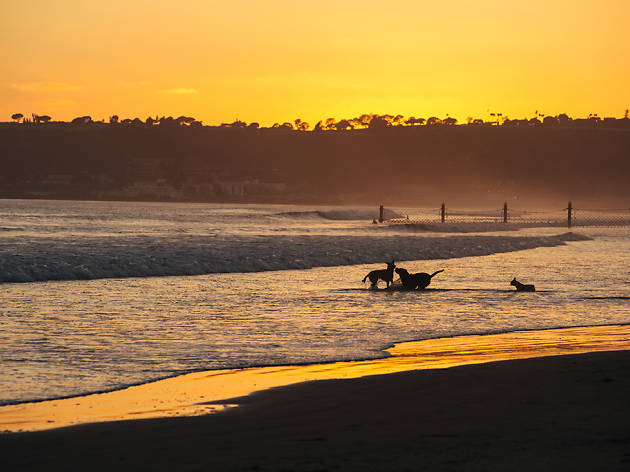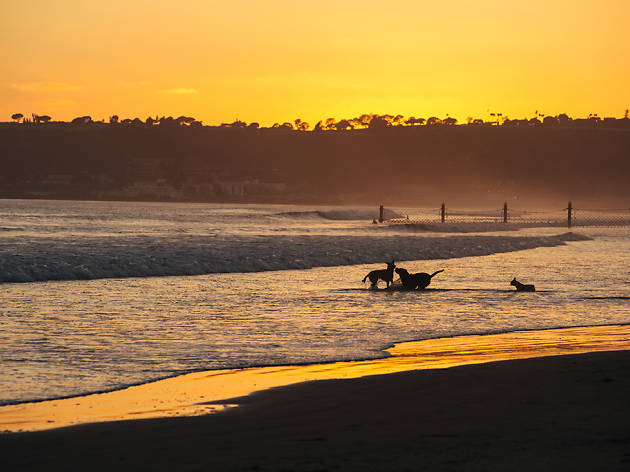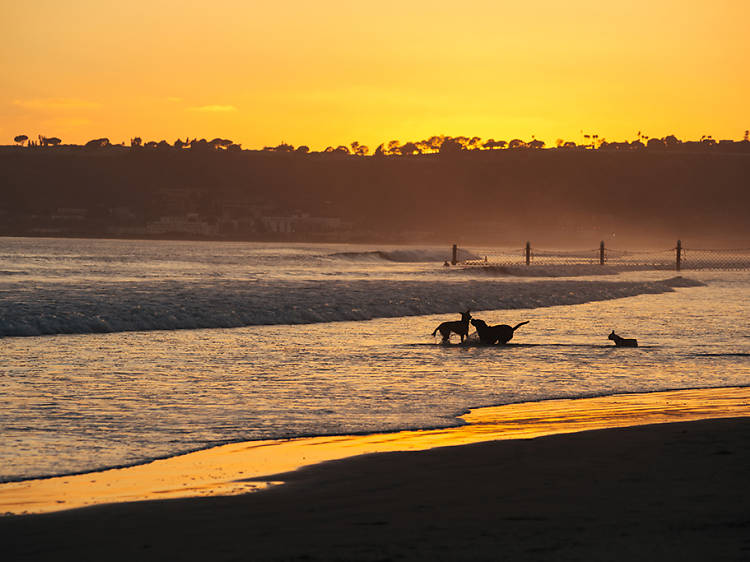 Photograph: Flickr/Tristan Loper
Where is it? San Diego
What is it? Fans of classic cinema and Marilyn Monroe films will recognize the half-mile strip of silvery sand—literally sparkling thanks to the mineral mica—from its cameo in the 1959 romantic comedy Some Like It Hot.
Why go? Running parallel to lengthy Ocean Boulevard, the beach is lined with oceanfront mansions including the iconic Victorian landmark Hotel del Coronado. This strip of shoreline is not just beautiful, it's also one of California's best spots for frolicking in the ocean: lifeguards are famously watchful, water is slightly warmer than it is farther north and the gentle waves are ideal for swimming, boogie boarding or learning to surf.
Discover the best things to do in San Diego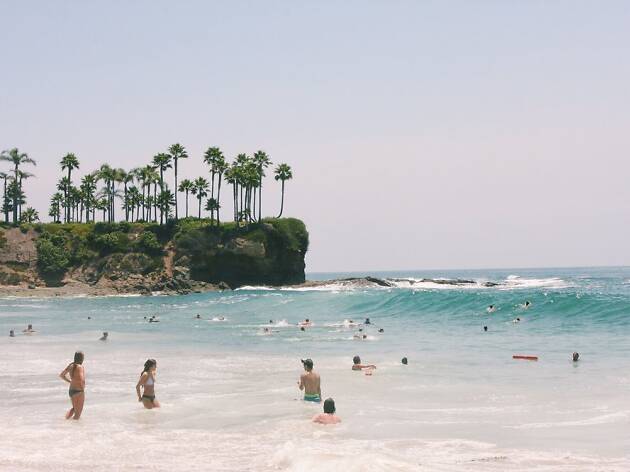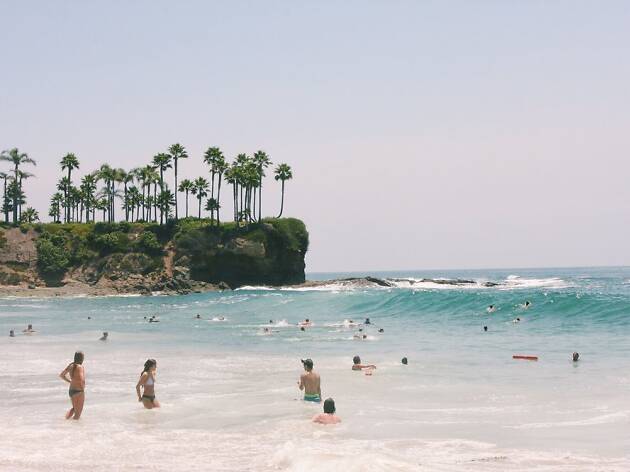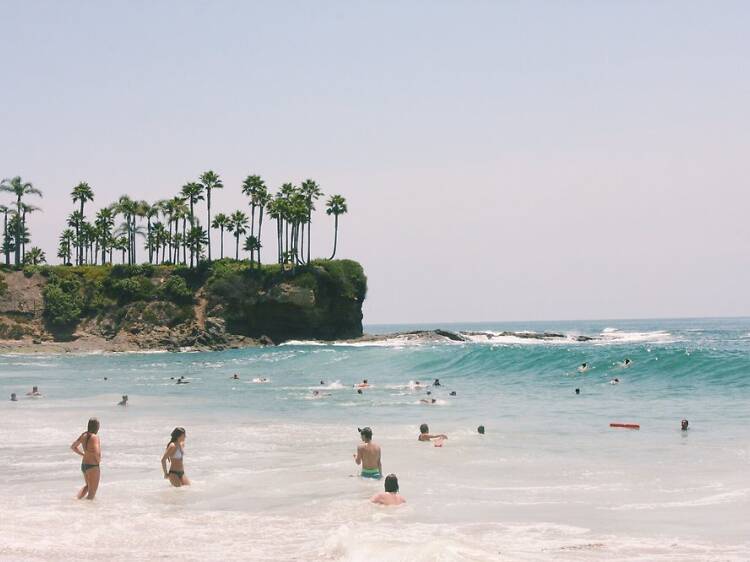 Photograph: Yelp/Sydney H
Where is it? Laguna Beach
What is it? True to its name, this broad, crescent-shaped beach sports tropical vibes and isn't as popular as other local beaches.
Why go? Given its turquoise waters and palm-tree-lined backdrop, this sandy stunner could easily be mistaken for the Caribbean. During summer months, warm, mellow waters teem with swimmers and snorkelers, the latter exploring the craggy shoreline to the north. Its neighborhood setting off Pacific Coast Highway can make parking a challenge, but also limits the crowds. Laguna's coastline is crammed full of gorgeous beaches—it's hard to go wrong—but Crescent Bay is a good place to start.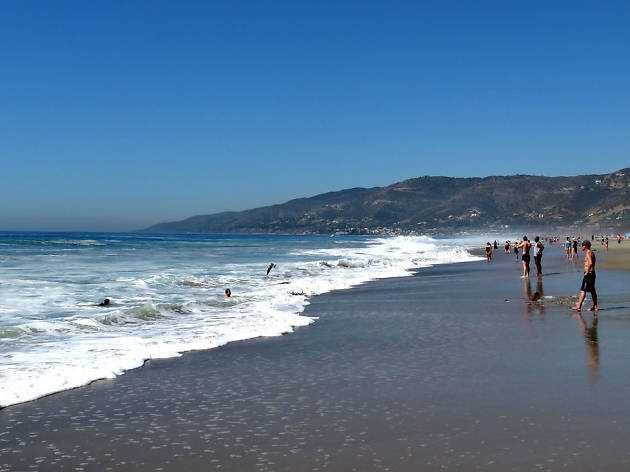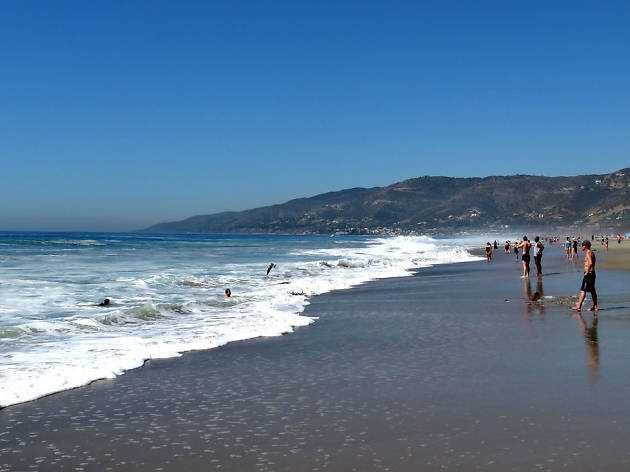 Photograph: Flickr/Vahe Martirosyan
Where is it? Malibu
What is it? This four-mile expanse of sand is one of the most popular in Los Angeles County. Unlike other beaches in Malibu, there are no private homes sitting between the Pacific Coast Highway and the ocean, so the vibe is more laid-back and less exclusive than neighboring sands.
Why go? Warm-weather weekends here are the best, as the area is swarmed by sunbathers, body surfers and volleyball players. While that sounds like it could make for parking hell—the bane of many an Angeleno's existence—the beach is bounded by eight lots with nearly 2,000 spaces that make reaching the shore a heck of a lot easier than dodging traffic to cross PCH.
Discover the best things to do in Malibu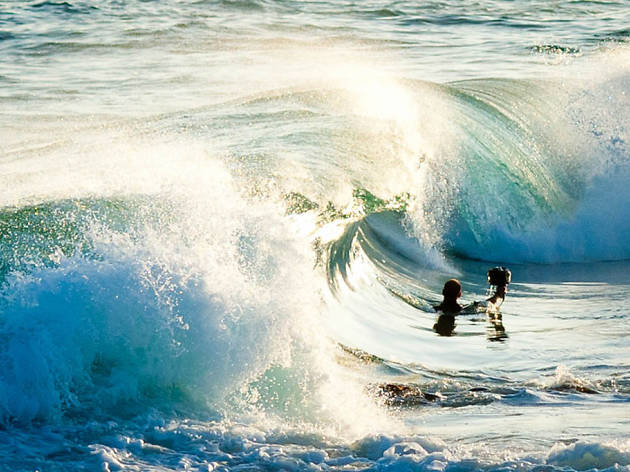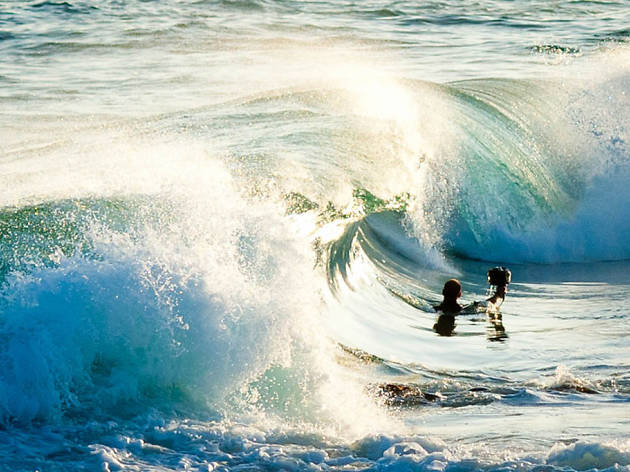 Photograph: Flickr/Minh Phan
4. The Wedge at Newport Beach
Where is it? Newport Beach
What is it? While Huntington Beach (a.k.a. Surf City) may be the most storied surf beach in the state, its shoreline is often blanketed with tourists. The Wedge, home to the biggest swell in SoCal, is where the OG O.C. surfers turn up to play.
Why go? While the three-mile stretch of Balboa Beach offers plenty of fun diversions—laid-back eateries, an old-timey Fun Zone with midway games and rides—the Wedge is a premier spot to surf, boogie board, or simply marvel at epic waves. Situated at the tip of Balboa Peninsula, the powerful break can reach 30-feet tall, offering beachgoers a chance to watch Orange County's best drop-in while avoiding hordes of sightseers.
Discover the best things to do in Newport Beach
Photograph: Yelp/Bill R
Where is it? Carmel
What is it? A stunning, white sand beach that's a perfect introduction to the natural splendor of the Monterey Peninsula.
Why go? While the quaint village of Carmel might feel like the setting for the Hansel & Gretel tale, Carmel Beach is 100 percent California. Situated at the edge of town and ringed by sculpted cypress trees, the exceptionally scenic beach lures locals and visitors who stroll down from Carmel's many shops and eateries. The beach slopes down from the small parking lot, forming a de facto seaside amphitheater to admire translucent aqua waves, a handful of brave surfers, and a multitude of giddy dogs frolicking along the shore. Pack a blanket as a handful of fire pits offers a reason to linger after sunset.
Photograph: Yelp/Sharon K
Where is it? Davenport, Santa Cruz County
What is it? A hidden beach off Highway 1 that packs a ton of atmosphere into a snug, scenic cove.
Why go? The beach's namesake, shark-fin–shaped outcrop looms large over this cozy patch of sand bounded by towering sandstone cliffs. A short but steep rocky path down to the beach limits the crowds, lending ample space to spread out or explore the beach's natural wonders including a tunnel-like sea cave carved by waves. Just note that there are no facilities, so remember to pack your trash!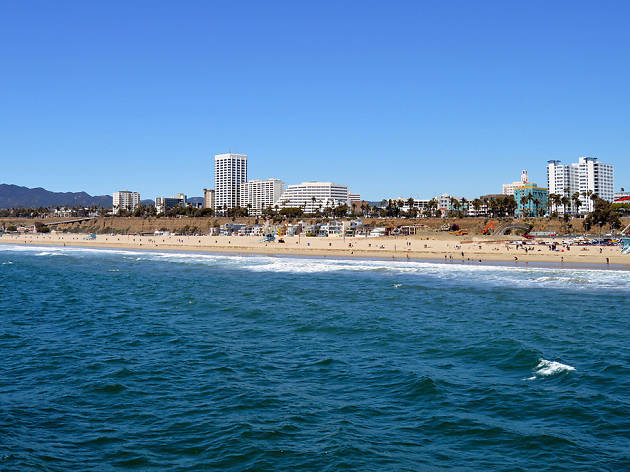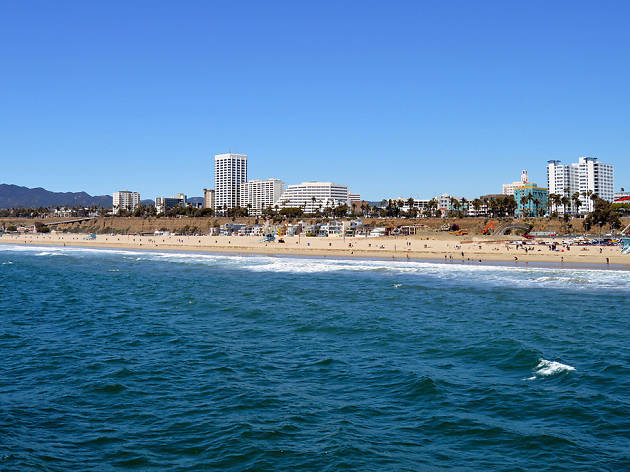 Photograph: Flickr/Allan Watt
Where is it? Santa Monica
What is it? Arguably one of the most iconic shorelines on the West Coast, this three-mile stretch of powder-soft sand is basically Santa Monica's seaside version of Central Park: hard-bodied locals and curious tourists convene to cycle the bike path, run and play volleyball in the sand.
Why go? It's a prime hangout for L.A.'s most beautiful, athleisure set. Plus, Santa Monica Beach is home to a famous amusement park on the pier including a recognizable, historic carousel that you'll want to capture for the 'gram.
Discover the best things to do in Santa Monica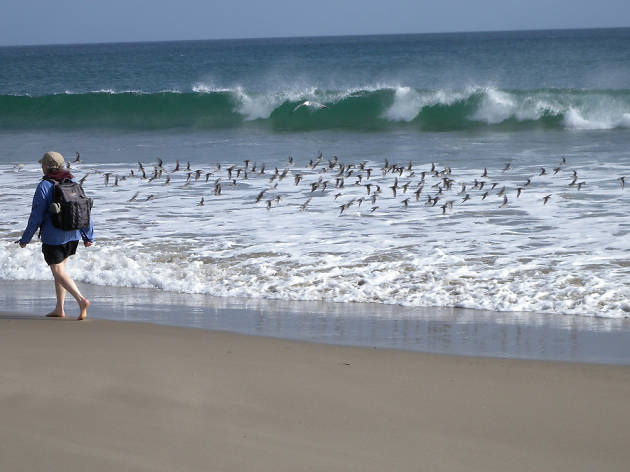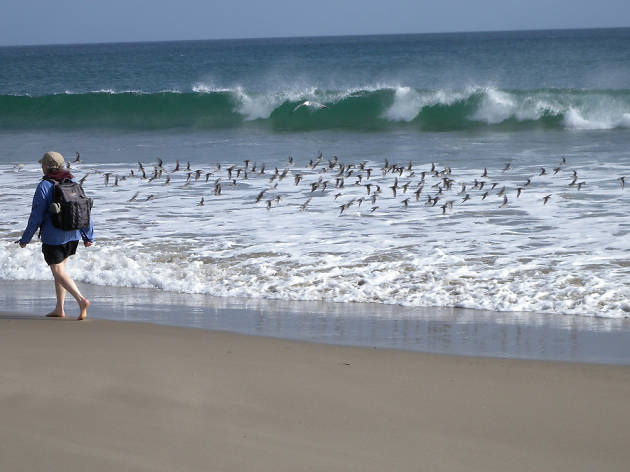 Photograph: Flickr/David Abercrombie
Where is it? Point Reyes Station
What is it? This remote expanse of sand that lies between Drakes Bay and a wildlife-filled estuary is set near the small, rural town of Point Reyes Station (population is just under 900) in Point Reyes National Seashore. It's just an hour's drive from San Francisco, yet feels worlds away.
Why go? The park is a magnet for hikers, campers and local equestrians, who trek dog- and equine-friendly trails to this seemingly never-ending beach. People on horseback riding along the gently rolling surf add to the stunning scenery.
Photograph: Yelp/Christine H
Where is it? Santa Barbara
What is it? Santa Barbara's East and West Beaches are separated by Stearns Wharf, an 1872 pier that juts out into the Pacific and recently earned the distinction of being California's oldest working wharf.
Why go? While both palm-lined strips of sand are gorgeous, East Beach is the bigger, better section. For those seeking a sense of seclusion, the Andrée Clark Bird Refuge lies 1.6 miles east of the dock. Closer to town, one can regularly find events like the weekly Reef and Run swimming competitions and volleyball tournaments on the sand-covered courts. Keep an eye out for strolling vendors hawking succulent mangoes on a stick.
Discover the best things to do in Santa Barbara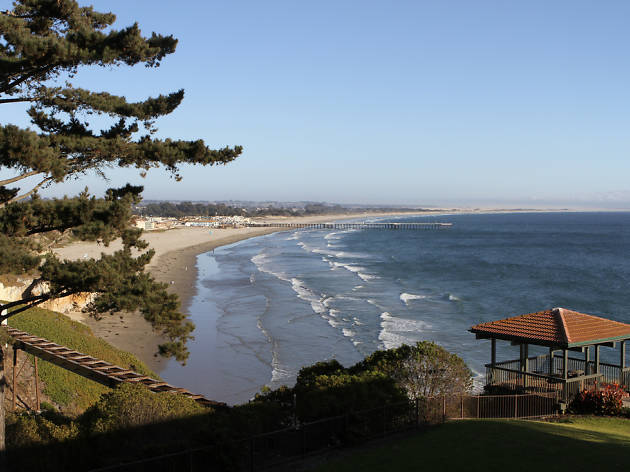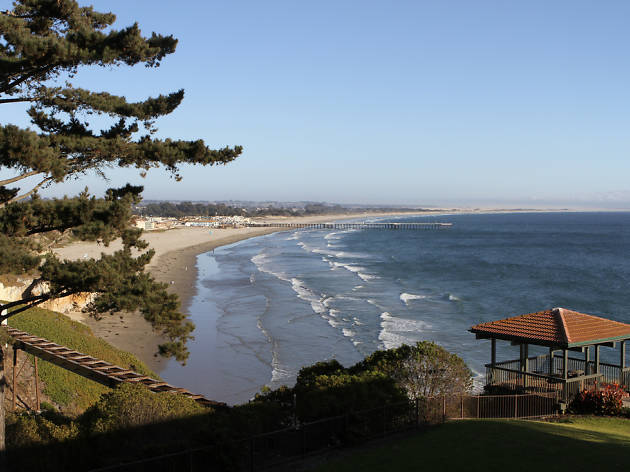 Photograph: Flickr/Shiny Things
Where is it? Pismo Beach
What is it? Oceano Dunes is the only California State Park where non-street-legal vehicles can be driven on the beach, so dune buggies and ATVs are frequent sights on this Central Coast stretch of coastline.
Why go? There's more to this soft-sand beach than driving. Most evenings, you'll see locals kicking back with a glass of wine and roasting marshmallows over a bonfire while watching the sunset behind the rolling hills that converge upon the sea.
Discover the best things to do in Pismo Beach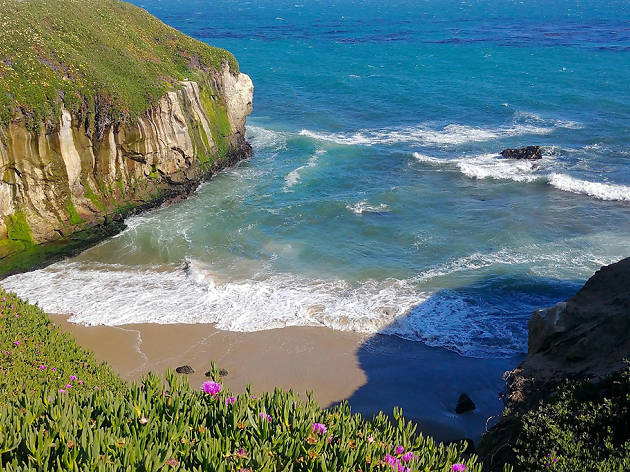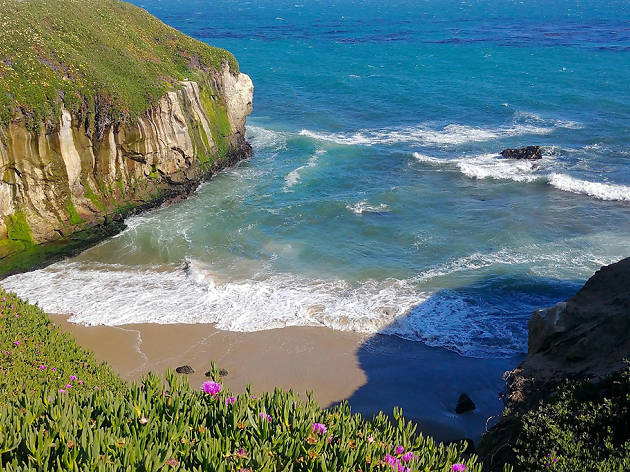 Photograph: Flickr/SK
11. Natural Bridges State Beach
Where is it? Santa Cruz
What is it? This wildlife destination gets its name from the iconic, natural bridge that sits just offshore. Often covered with resting pelicans and cormorants, it's a beautiful sight, especially at sunset.
Why go? Visitors to this park can often spot seals, tide pool critters and migrating whales, but the most impressive creatures found here are the butterflies. From October through February, more than 100,000 Monarch butterflies flock to the fragrant eucalyptus grove that's just a short walk away from the sand.
Discover the best things to do in Santa Cruz
Photograph: Yelp/Vidaa S
Where is it? Big Sur
What is it? With purple sand and a famous "keyhole" arch, Pfeiffer Beach represents one of a few accessible beaches along Big Sur's stunning coastline.
Why go? In a state that boasts nine national parks, a national seashore and lots of national forests, Big Sur still holds the title of the most beautiful place in California. Once you've whipped past the winding, rugged coastline of coastal redwoods, dramatic bluffs, and vibrant blue ocean hues, make your way down to Pfeiffer Beach's purple-tinted sands—a byproduct of an eroding, garnet-rich hillside—and watch for the sun to illuminate the iconic arch carved out of the massive outcrop just offshore.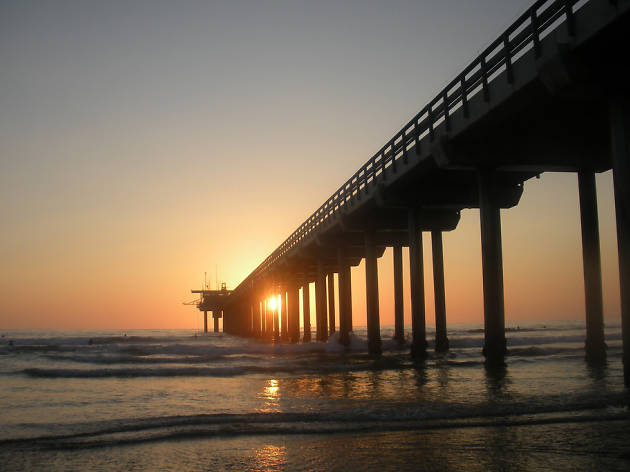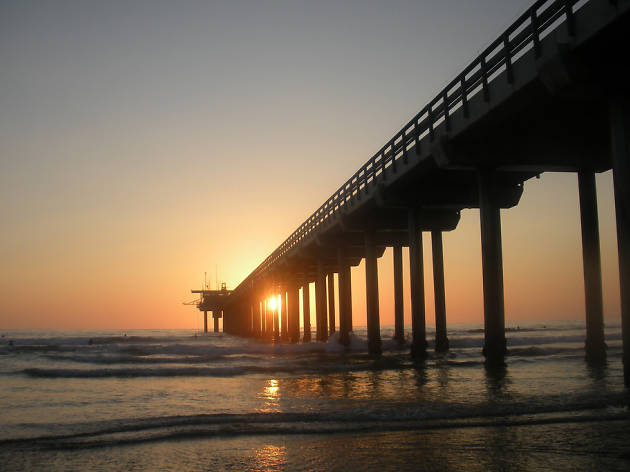 Photograph: Flickr/smilingmaya
Where is it? San Diego
What is it? Joined by sandstone cliffs to the north and south, this mile-long stretch of shoreline boasts classic California ocean views with access to numerous maritime activities. It draws surfers, scuba divers and boaters with the only beachfront boat launch in the city.
Why go? In the summer months, the waves at La Jolla are the gentlest in San Diego, so it's a prime spot for those who want to cool off with a relaxing dip in the sea between roasting in the relentless SoCal sun.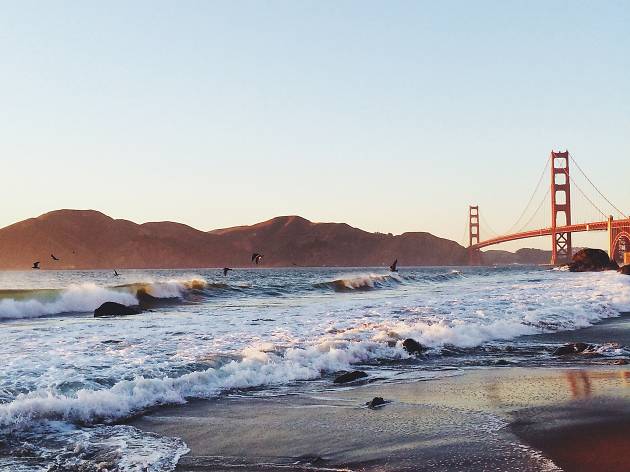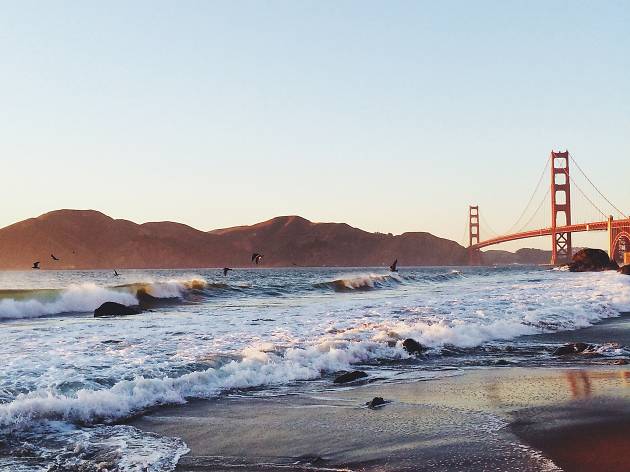 Photograph: Julian Bialowas
Where is it? San Francisco
What is it? San Francisco isn't known for its balmy beach days, but this sandy coastline is well worth a visit even if you have to bundle up in fleece to enjoy it.
Why go? Stretched out beneath the Presidio's jagged cliffs, this mile-long strip boasts Insta-worthy views of the Golden Gate Bridge and the craggy Marin Headlands across the bay. On those rare occasions when the sun is actually out, don't be surprised if you see a few exposed buns on the northern section of the beach, where clothing is optional.
Discover the best things to do in San Francisco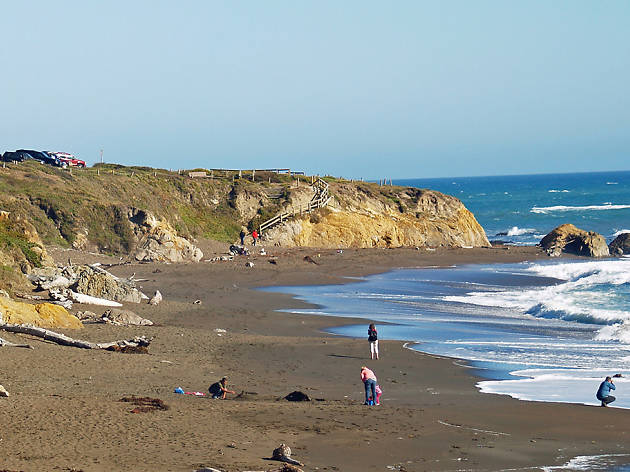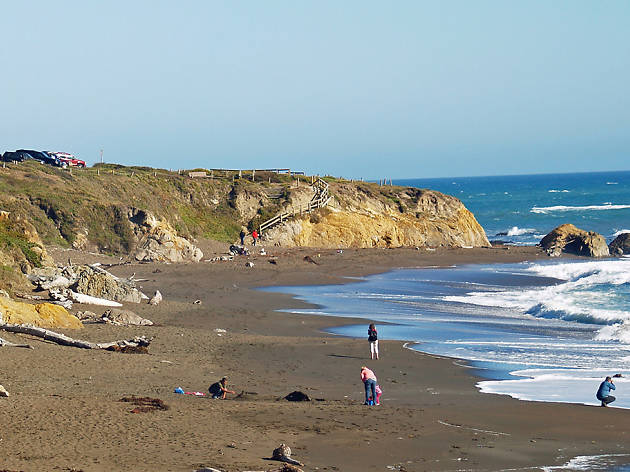 Photograph: Flickr/Stephen Gough
Where is it? Cambria
What is it? Slightly more rugged than many of the Central Coast's soft sandy strips, Moonstone Beach is ideal for beachcombers, wildlife admirers and fans of picturesque panoramas.
Why go? The dramatic, brown shoreline punctuated by multicolored sea glass and moonstones—hence the beach's name—is cradled by a rocky bluff topped with a one-mile wooden boardwalk from which one can spot sea otters as well as whales and dolphins during migration season. On clear evenings, watch for the elusive green flash during sunset.
Need more inspiration to get outdoors?
Whether you're planning to spend a weekend getaway under a canopy of giant Sequoias or taking a day trip to see Southern California wildflowers, we recommend making plans to see as many of these parks as possible.