Kai Oliver-Kurtin
San Diego & SoCal Correspondent
Kai Oliver-Kurtin is the San Diego & Southern California correspondent for Time Out.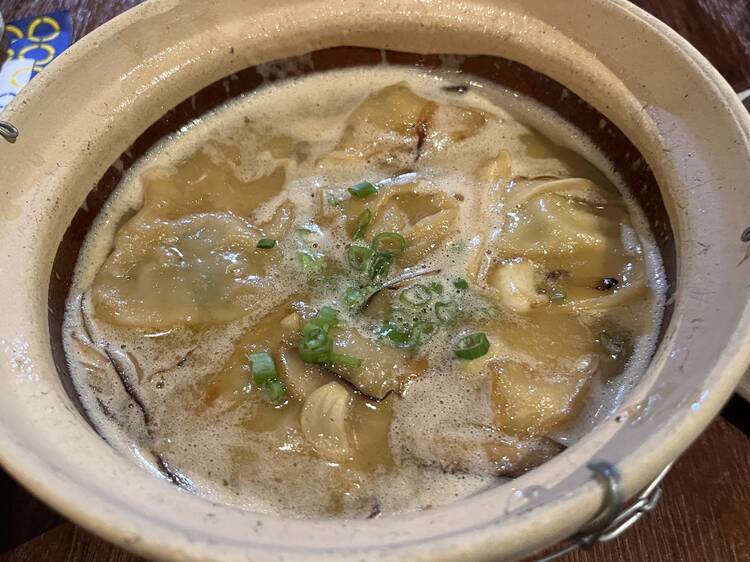 Roly China Fusion
The husband-and-husband team, chef Chad Gardner and artist Roly Paz, have doubled-down in Palm Springs. While their other restaurant, 533 Viet Fusion, stuffs lobster claw and local dates into Vietnamese spring rolls, this Asian fusion spot fills a major hole in Palm Springs dining: dumplings. Roly China Fusion is a modern space serving up braised short rib fried rice, lobster dumplings in truffle butter sauce, dan dan noodles, pork pot stickers, plus other house-made dim sum delights. But this isn't strictly a dim sum spot, and don't expect pushcarts; it's the type of restaurant that adds marinated flank steak to its pad see ew and lobster with kimchi to its fried rice. This is also a great place for takeout on the nights you feel like staying in.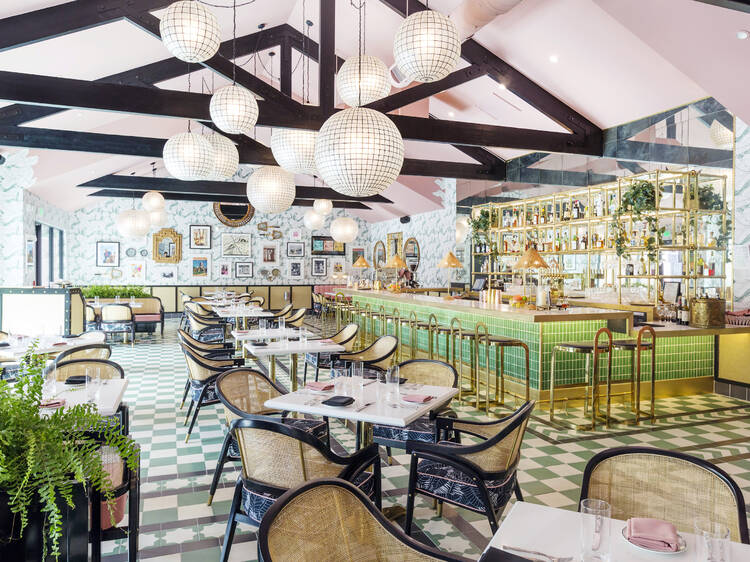 The Pink Cabana
A quick 30-minute drive from downtown Palm Springs, The Pink Cabana draws in diners from across the Coachella Valley. Located in the resort town of Indian Wells, The Pink Cabana is situated within Sands Hotel & Spa near the hotel's charming pool. Inspired by the tennis and racquet clubs popular throughout Palm Springs in the 50s and 60s, the space was artfully designed by Martyn Lawrence Bullard with large doses of pinks, greens, and brass. The menu leans Mediterranean with a Moroccan influence, featuring housemade yogurt naan, harissa chicken, lamb shank tagine, and a must-try mezze plate. Fancy a drink? The cocktail and wine lists shouldn't be overlooked. You'll find a wide wine selection from across the Mediterranean region alongside refreshing cocktails that focus on ingredients from the Great Spice Route (order the pink lemonade with vodka, a drink made with Herbes de Provence, Lillet Rose, and pink sea salt). End the meal with a Turkish coffee or a pink hot cocoa bomb for dessert (it will literally melt in your mouth). Thanks to its girly-chic vibe, the restaurant is a magnet for girls' nights out, drawing in large crowds in celebratory moods (take note: parties of eight or more people are required to order from a prix fixe menu). Throw on your retro shades and a silk scarf to match the setting, and don't forget to make an advance reservation — this place is pretty and popular, so it's best to plan ahead.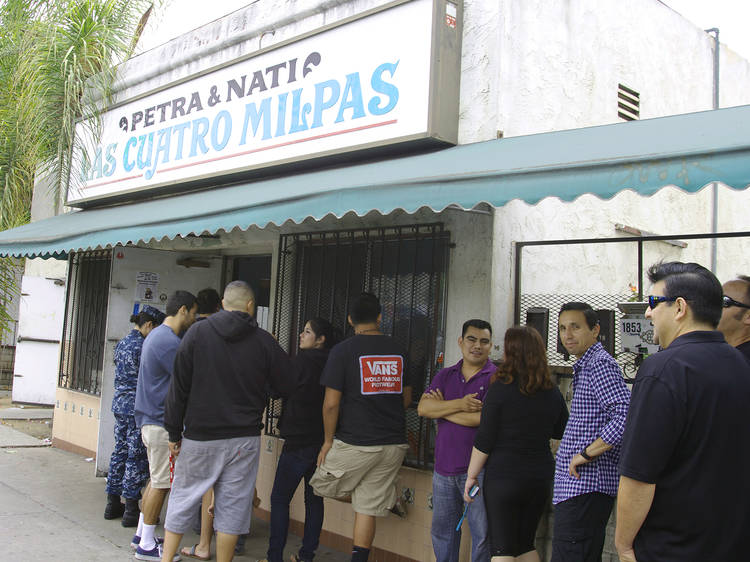 Las Cuatro Milpas
With a mere 20 miles between San Diego and the Mexico border, it should come as no surprise that you can find a proliferation of authentic Mexican food throughout the city. But Las Cuatro Milpas is perhaps the most well-known institution in the area.  A third-generation Mexican restaurant, Las Cuatro Milpas has been serving breakfast and lunch in San Diego's Barrio Logan neighborhood since 1933. It's known for classic dishes your abuela might make – think rolled tacos, burritos, tamals, house-made tortillas and fresh salsa. They also serve menudo, a traditional Mexican soup that's famous for being able to cure hangovers, on Saturdays. Diners line up early to order from the lunchroom-style counter. Expect a long line during lunchtime on weekdays – when you'll notice an influx of local government and city officials who work nearby in downtown's business district – and favorite dishes are known to sell out before closing time.  The dining room has no-frills picnic tables that fill up fast. Be sure to bring cash, since credit cards are not accepted at this mom-and-pop shop where prices are surprisingly low. You'll never go wrong with the rolled tacos, and shouldn't hesitate to purchase packages of tortillas to go.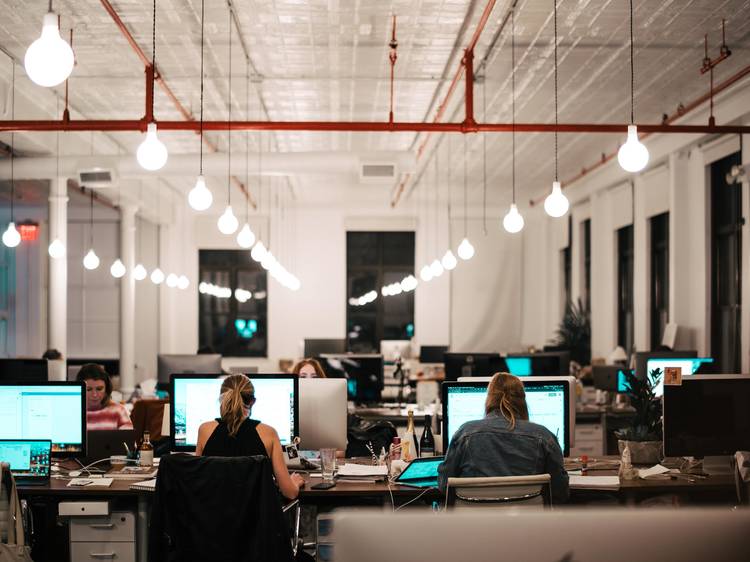 コロナ禍の働き過ぎを解消、アメリカで週32時間労働制を導入か
仕事で疲れ切っている? パンデミックの間、自宅で仕事をしていると、仕事の時間が「長くなる一方」だと感じたに違いない。アメリカでは多くの人がそうだったようで、この1年半で燃え尽き症候群や退職者の数が過去最高を記録した。 いわゆる「Zoom疲れ」と呼ばれる問題が浮上し、変な時間に上司とSlackで長々とやりとりすることも増加。さらには、パンデミックにより子どもの面倒を見てくれる場所が減ったことで、手ごろな料金かつ信頼性が高い子どもの預け先を、新たに見つけるのに苦労した人も多いようだ。働くアメリカ人の多くが、こうした休める時間が減った「新しい生活」に、うんざりしているというのも納得といえる。 そんな中、その状況が改善されるかもしれないというニュースが入ってきた。 南カリフォルニアのリバーサイド選出の民主党下院議員、マーク・タカノが、ほとんどのアメリカ人の週の労働時間を短縮し、今の40時間から32時間へ変更する新しい法案を提案したのだ。「The Thirty-Two Hour Workweek Act」と呼ばれるこの法案は、週に32時間以上働いた場合には、公正労働基準法の下で、雇い主が残業代を払う必要があると定めることを求めるもの。 タカノは法案の提出に際し、週の労働時間が短くなれば、より多くの人がより良い賃金で労働市場に参加できるようになるとの考えを示している。さらに、この法案が可決されれば、ほとんどの労働者の給料が上がることが予想されるという。ただしこの法案は、独立した契約者やフリーランサーなど、特定の働き手には適用されないようだ。 多くのアメリカ人が嘆いている週40時間労働は、ほぼ1世紀前から存在。フォード社のヘンリー・フォードが1926年に、週5日1日8時間の労働時間制を導入したことがきっかけで、ほかの大企業も追随するようになった。 いくつかのレポートで、アメリカ人が世界のどの国よりも労働時間が長く、同時に休暇を取る日数も少ないということを明らかになっている。また、パンデミック時には、アメリカ人は毎日追加で3時間以上働いたという報告もある。 この法案が上院に提出され、法律として成立するかどうかはまだ分からないが、近い将来、アメリカ人が仕事から離れられる時間が少しだけ増えるかもしれない。 原文はこちら 関連記事 『東京、飲みながら仕事できるクラフトビール店5選』 『猫と仕事ができるスペース、サンチャコが会員を募集中』 『旅気分で働けるリモートワークフレンドリーな宿4選』 『求められるリモートワークとコミュニティービルディングが共存する場』 『ワークスペースとしても利用可能、浅草寺近くで屋内キャンプ』 東京の最新情報をタイムアウト東京のメールマガジンでチェックしよう。登録はこちら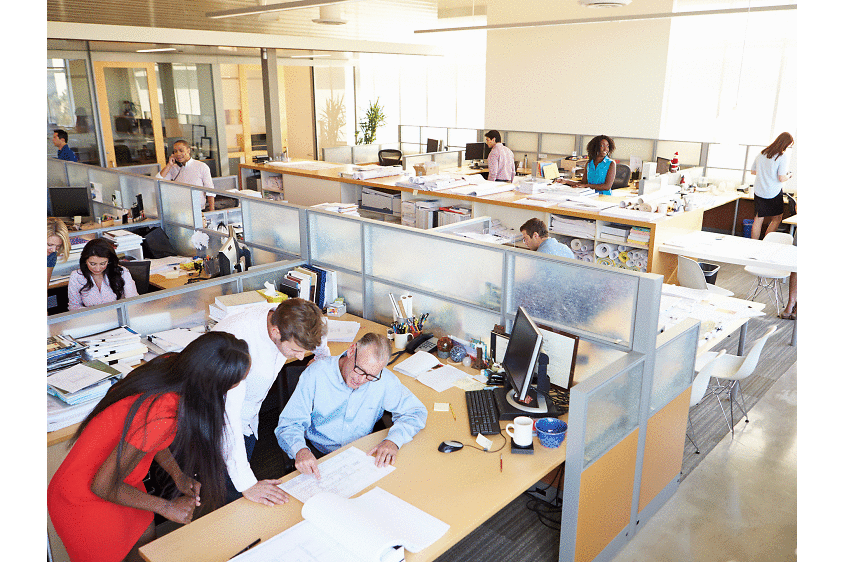 A new bill wants to shorten the American workweek to 32 hours
Feeling burned out at work? You're not alone.  For those who have been working from home during the pandemic (also referred to as 'living at work'), the workdays have seemed to only get longer in the last 18 months. And employees around the country are feeling it – burnouts and mass resignations are at an all-time high. Throw in additional challenges, like affordable and reliable childcare and what's come to be known as 'Zoom fatigue,' and Americans are pretty much fed up with this new life featuring fewer breaks and more time spent Slacking with your boss at odd hours.  The good news: relief may be on its way.  Southern California Congressman Mark Takano (Dem.) from Riverside, California has proposed a new bill that would shorten the workweek for most Americans, shifting it from the standard 40-hours to 32 hours. The legislation is referred to as The Thirty-Two Hour WorkWeek Act, and would force overtime pay to kick in after 32 hours of work per week under the federal Fair Labor Practices Act.  Takano says a shorter work week will allow more people to participate in the labor market at better wages. It's expected that most workers would see an increase in pay if the legislation is passed. Though the bill wouldn't apply to certain employees such as independent contractors and freelancers.  The 40-hour workweek much-bemoaned by most Americans has been around for nearly a century. Good ol' Henry Ford of the Ford Motor Company is largely credited with instituting an eight-hour-d