Heads up! We're working hard to be accurate – but these are unusual times, so please always check before heading out.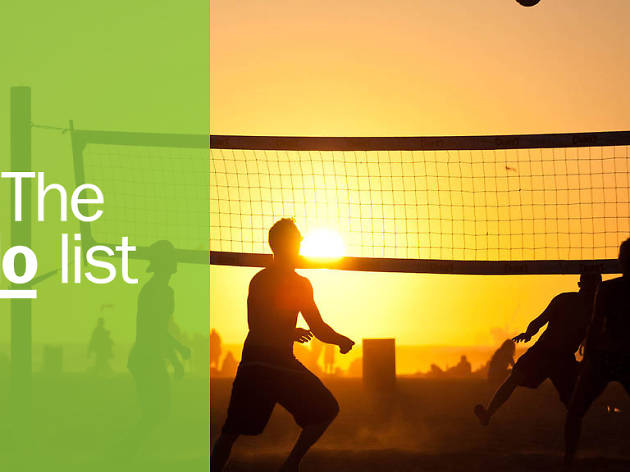 The 12 best things to do in Orange County
From Laguna Beach to Anaheim and everywhere in between, here are the best things to do in Orange County
Once famed for its namesake citrus, Orange County today offers contemporary delights that are just as juicy. Disneyland looms large, literally, with its snow-capped Matterhorn poking above the sprawling, seaside suburbia. Prominent shopping centers, which serve as popular gathering places, take cues from the theme park with elaborate, compelling designs—frequently set outdoors to enjoy a blissfully sunny climate. Yet, it's not all Real Housewives parading their yorkies around Neimans. Before OC native Gwen Stefani put her name on a perfume, she was part of hip, youthful scene that still informs towns such as Fullerton, Anaheim, and Santa Ana. Plus, an increasingly diverse population means more enticing and sophisticated dining options. And then there's the dreamy, tropical-like beaches, arguably the most alluring in Southern California. Peek behind the Orange Curtain, and you'll discover numerous noteworthy destinations—mouse ears optional.
Done something on this list and loved it? Share it with the hashtag #TimeOutDoList and tag @TimeOutEverywhere.
Find out more about how Time Out selects the very best things to do all over the world.
Best things to do in Orange County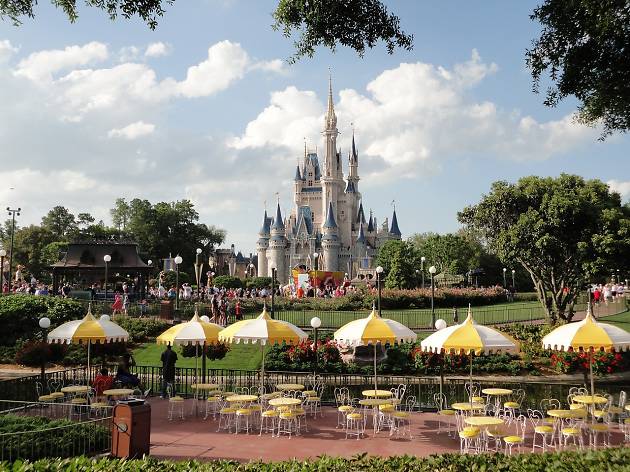 What is it? It's still the happiest—though starting to feel like most expensive—place on Earth.
Why go? Say what you will about the House of Mouse; its wondrous, immersive lands still provide a joyous escape for everyone from budding princesses to nostalgia buffs. Venture into the Temple of the Forbidden Eye with Indiana Jones, soar over London's twinkling lights en route to Neverland, and speed through the galaxy aboard Space Mountain's interstellar coaster. Plus, now that Disney does drinks, you can knock back a Racer 5 IPA alongside Lightning McQueen in Radiator Springs.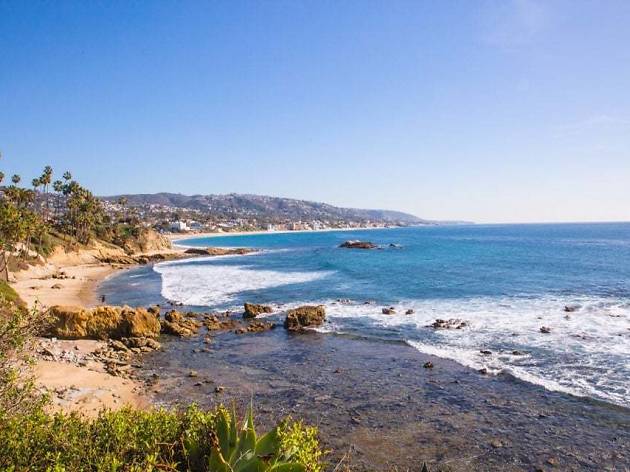 Photograph: Courtesy Yelp/Julie C.
What is it? Ridiculously scenic, oceanfront park in Laguna Beach should be the first stop for anyone who questions why people live in California.
Why go? Take Hawaii, remove the lava, and you have Heisler Park. Stroll a paved path that meanders alongside mesmerizing beach coves, and through lush, seaside gardens brimming with towering palms and enough succulents to crash Pinterest.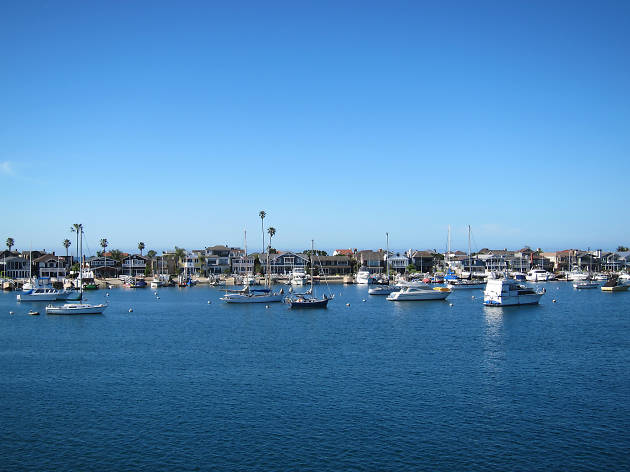 Photograph: Courtesy CC/Flickr/Ken Lund
3. Duffy of Newport Beach
What is it? Load up the cooler with rosé, and set sail around the islands and mansions of Newport Harbor aboard your own private touring boat.
Why go? Posh Newport Harbor is chock-full of mega yachts and Thurston Howell III types. For the rest of us, there's duffies, the sporty pleasure boats with canopy tops, ice chests, and cushy bench seating for friends. Enjoy a leisurely cruise around Balboa and Lido Islands, docking at numerous watering holes such as Billy's on the Beach for Mai Tais and raucous fun.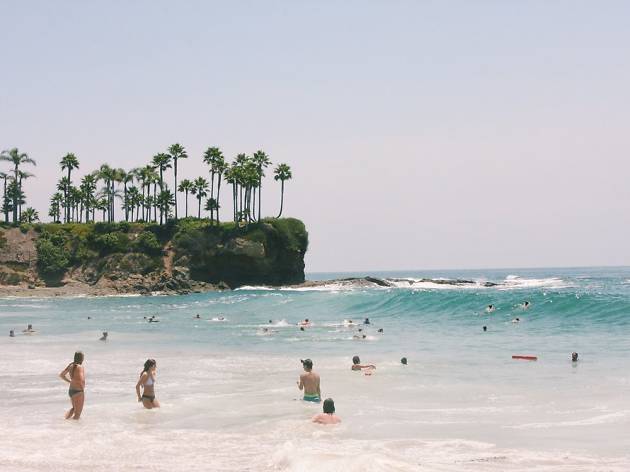 Photograph: Courtesy Yelp/Sydney H.
What is it? It's tough to go wrong with any patch of sand in Laguna Beach, but this crescent-shaped stunner is one of the best.
Why go? With shockingly clear, azure waters backed by palm tree-lined bluffs, this wide, sandy beach cove feels more far-flung than it's SoCal setting. Pleasantly warm waters teem with frolicking kids, snorkelers, and scuba divers. Parking is limited to nearby residential streets, but the extra walk is worth it.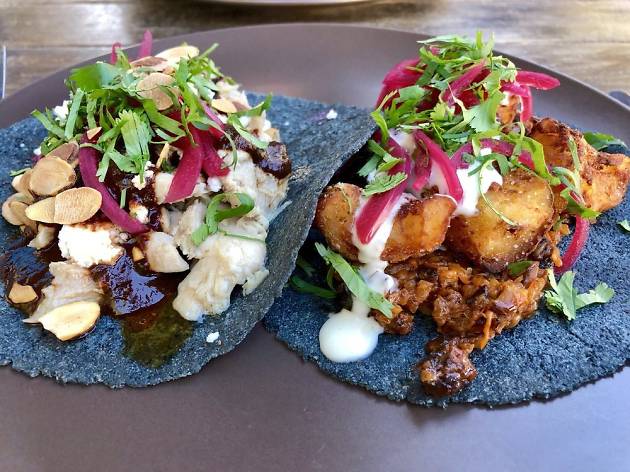 Photograph: Courtesy Yelp/Tracy C.
What is it? In a land of taquerias, this upscale Mexican restaurant offers Mexico City sophistication and, according to beloved food critic Jonathan Gold, the county's best meal.
Why go? OC-born chef Carlos Salgado cooked in rarified kitchens including San Francisco's three Michelin-star Coi before turning his attention to the cuisine of his heritage. His midnight blue, handmade tortillas serve as de facto plates for exquisite combos such as shiitake mushroom chorizo, smoked sturgeon with chile morita, and hanger steak with roasted chiles and bacon.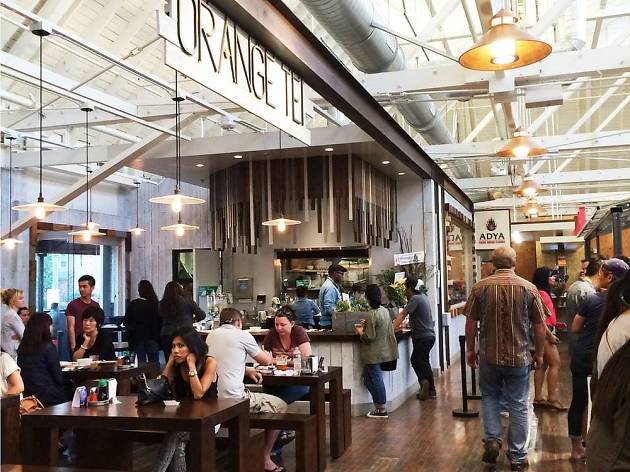 Photograph: Courtesy Yelp/Julie K.
What is it? Situated within a repurposed 1919 Sunkist packing facility, this stylish Anaheim food hall bustles with eateries, bars, and Millenials.
Why go? Centered around a light-filled atrium strewn with greenery and bench swings, the two-level former warehouse packs in twenty-six vendors whose culinary offerings span the globe. Create your own Neapolitan pizza on the garden terrace at Ecco, snap pics of Mini Monster's fantastical boba tea topped with Fruity Pebbles-sprinkled cotton candy, and seek out the hidden entrance for The Blind Rabbit's sexy cocktail den.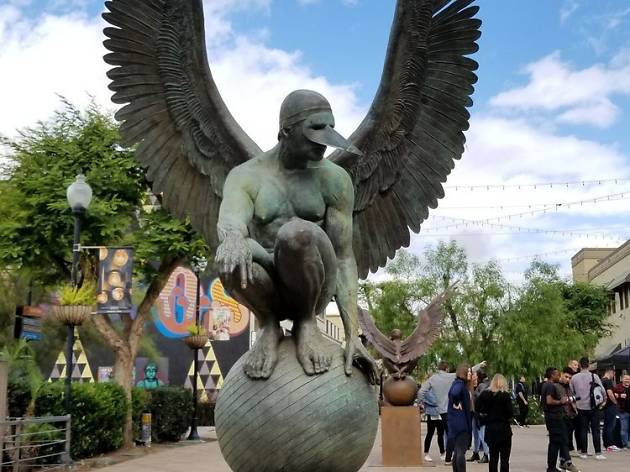 Photograph: Courtesy Yelp/Cat A.
What is it? You'll love that this revitalized, walkable hub is packed with hip food and drink options—and isn't a mall.
Why go? You'll find OC's buzziest bars and restaurants in "SanTana" which makes for a fun, food-fueled bar crawl. Pair pints with Pac-Man at Mission Control, sample rare Mexican craft beers at El Indio Botanas y Cerveza, and sit down for pork belly steam buns and cocktails at perennial it-spot Playground.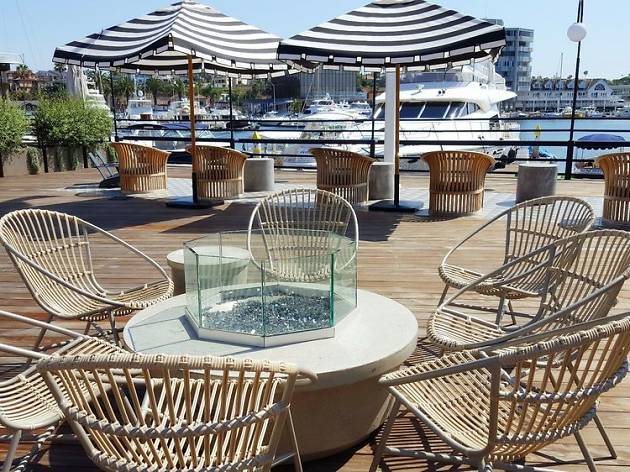 Photograph: Courtesy Yelp/May N.
What is it? Newport Beach's chic, waterfront collection of shops and restaurants redefines the mall for the Instagram set.
Why go? Awash in sleek white shiplap and nautical flair—including photo-ready graphics that proclaim "Let Your Dreams Set Sail"—the al fresco shopping center exudes the breezy vibes of a luxury cruise liner. Dress the part with a Marine Layer crew, Graham & Spencer denim, and Warby Parker shades.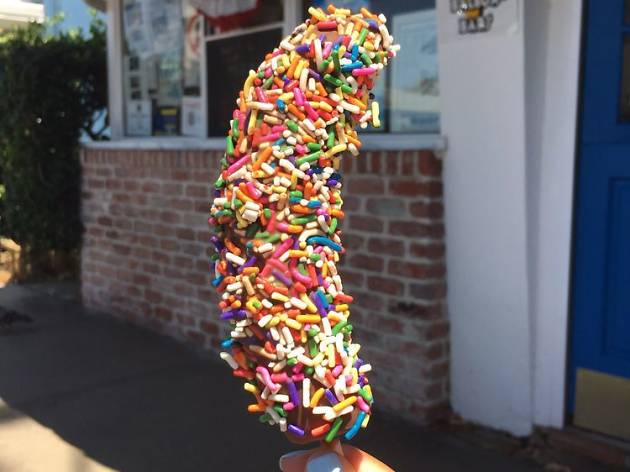 Photograph: Courtesy Yelp/Kayla M.
What is it? Fans of the Bluth family will take pleasure in the sprinkle-adorned treats at Balboa Island's "Original Frozen Banana Stand."
Why go? The kitschy inspiration for the beachside stand on "Arrested Development," Sugar 'N Spice has been dunking frozen bananas in chocolate and rainbow sprinkles since 1945. They also lay claim to the Balboa Bar, a block of chocolate-dipped ice cream whose invention is challenged by Dad's Donuts & Bakery, the rival frozen banana stand a few doors away.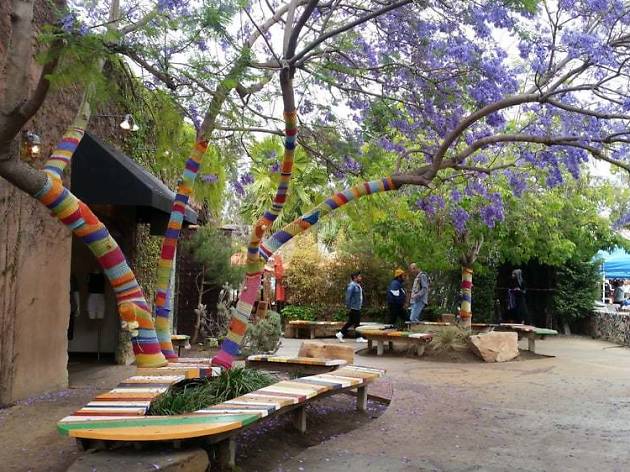 Photograph: Courtesy Yelp/Pris T.
What is it? While real housewife types preen for South Coast Plaza's lavish boutiques, the cool-kid set hangs down the street at this hip cluster of shops and eateries.
Why go? Billing itself as the anti-mall when it opened in the grunge-drenched 90s, the Lab's atmospheric, open-air grounds delight the current generation with vintage airstreams, street art-embellished walls, and light-strung garden courtyards, the preferred spot for sipping mojitos from fresh coconuts. Head across the street to The Camp whose Frontierland-like property features similar offerings with an outdoorsy theme.
Photograph: Courtesy Yelp/Jeng L.
What is it? This time-warp, subterranean eatery in Fullerton was designed in 1969 by the same team that created Disney's Pirates of the Caribbean ride, and has the atmosphere to match.
Why go? Sure, the old-school Continental-style dishes are fine, but you're here for the dramatic, windowless interiors—made to resemble an Old World wine cellar—and surprisingly up-to-date craft cocktails. Slide into a plush booth in the rock wall-enveloped lounge, order a pitch-perfect martini, and savor the retro-kitsch surroundings.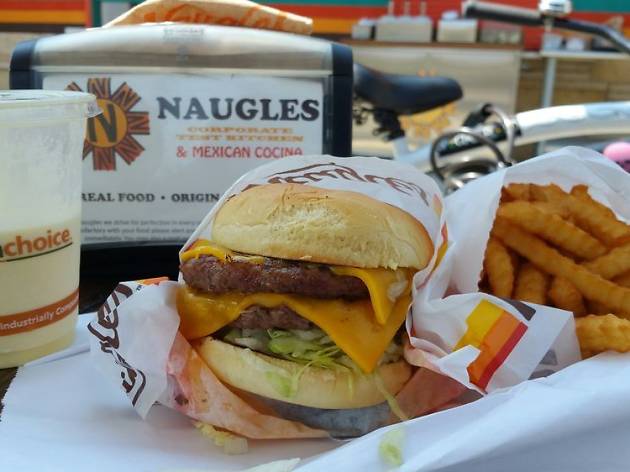 Photograph: Courtesy Yelp/S.E.
What is it? This 1970s SoCal Mexican fast-food brand was resurrected by a devoted blogger who fought a big chain to bring back the food he missed.
Why go? Acquired and subsequently jettisoned by fast-food chain Del Taco, the Naugles brand was won in court and rebirthed by local hero, Christian Ziebarth. At the standalone locale in surf-centric Huntington Beach, savor the nostalgia with cult menu items such as cheesy beef burritos, taco salad cups, and bun tacos, all packaged in the brand's hyper-70s orange, yellow, and brown colors.