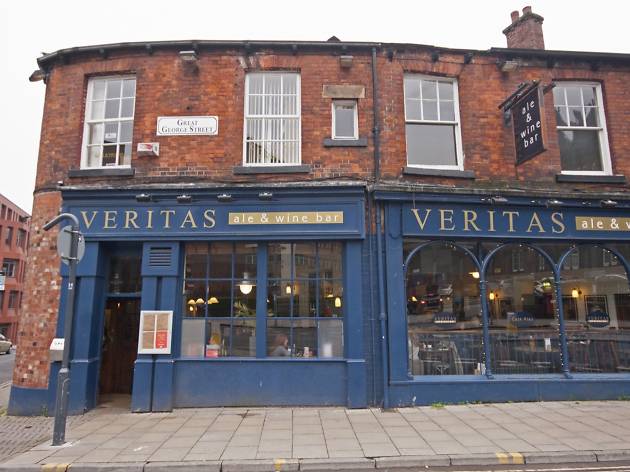 Time Out says
An underrated bar that offers good selection of local and world beers. The pub grub is great, and the homely environment is ideal for a quiet catch up.
Located in the less well-travelled North Western quarter of Leeds, among the boutique stores, law courts and hospital buildings, is one of Leeds' most underrated drinking establishments. Businesses around these parts have tended to change hands rather quickly. Despite it being relatively close to both Millennium Square and the university campuses, the area has always been something of a blind spot for nightlife. Veritas' location was no different, and in 2010 the bar was in a state of disrepair. However, following its relaunch under the ownership of the Market Town Taverns chain, it has grown into one of the best pubs for food in Leeds.

It has earned its reputation on the back of doing simple things well and inexpensively. As an eatery, Veritas offers pretty much the full panoply, from breakfast through to dinner, and with all manner of snacks, sandwiches and bar food to back it up. Most reviews of the food have been positive, and with a very reasonable fixed-price menu (two courses for £10.95 and three courses for £13.95) it won't hit your wallet too hard. In terms of drinks, it stocks a respectable range of wine in addition to a decent selection of local and cask ales, and continental and world beers. It has positioned itself well to benefit from the recent boom in real ale consumption – if you're looking for the likes of Fosters, Carling or Carlsberg, you'll be out of luck.

The environment is similarly earthy. The floor is wood-panelled throughout, with four distinct seating areas decorated tastefully with vintage Parisian-style posters and artwork. The large windows lining one side of the building mean that the interior never gets too gloomy, even on rainy autumn afternoons, and, while its location near to the hospital, courts and offices means it usually attracts well-heeled professionals, it's far from exclusive or elitist. If you want to pose, you'll be better off elsewhere. With its homely and welcoming atmosphere, Veritas is an ideal place for a quiet drink and a catch-up with friends.
Details
Best selling Time Out Offers