Whether your idea of the perfect Halloween is a rave from the grave, cooking up a spooky treat or getting dressed up for an interactive film, there is plenty of kid-friendly fun to be had in and around Leeds this All Hallow's Eve.
Here is just a selection of ghostly goings-on:
The Corpse Bride with Sneaky Experience
Corpse Bride
Watching a film is an interactive adventure with Sneaky Experience and the pop up cinema group has organised a collection of films in the perfectly eerie atmosphere of Kirkstall Abbey.
On Sunday November 1, families can watch Tim Burton's animated tale of love and the walking dead, 'The Corpse Bride'. Before the film everyone can play a live, kid-friendly game. This spooky treat will see cinema goers placed into teams and becoming the pieces for a spooky board game.
The Corpse Bride with Sneaky Experience. November 1, 3-6.10pm. Kirkstall Abbey, Abbey Road, Leeds, LS5 3EH. Buy tickets here.
Halloween Adventure at Stockeld Park
Stockeld Park
Stockeld Park has pumpkin carving, a wizard's den, wizards and witch training and creepy creatures to scare and entertain you this Halloween season.
For the truly brave (and over 8's) there are also terrifying fright nights featuring Freaks in the Forest, Moonshine Massacre and The Cage: Mutation. Stockeld Park caters for children from tots to teens so you can find something there for everyone.
Halloween Adventure at Stockeld Park. October 21-November 1. Harrogate Road, Wetherby LS22 4AN Tickets are available here.
Halloween themed cooking with School of Cook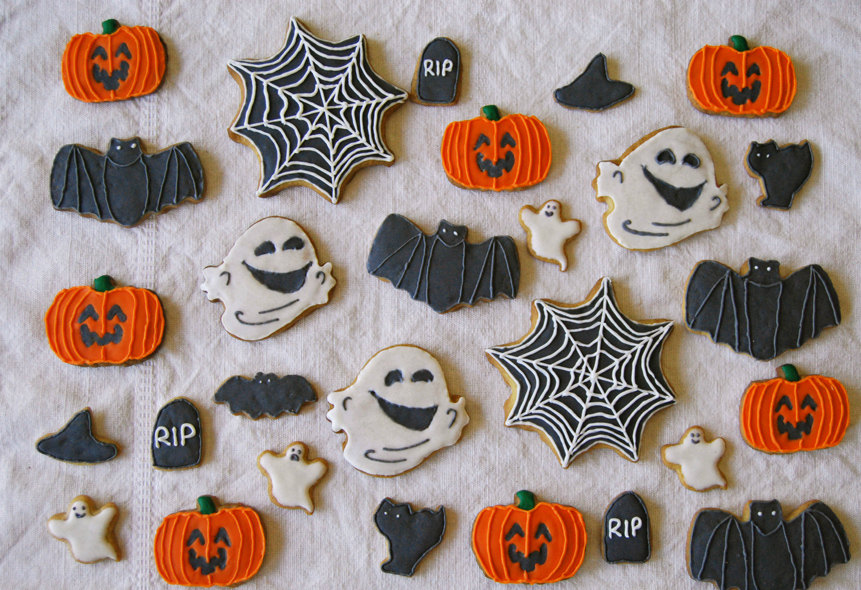 Flickr: Liliana Fuchs
Spooky pizzas, ghostly biscuits and a treasure hunt await children aged 2 and up at School of Cook's Halloween themed parties. Youngsters will get to make some Halloween themed treats and get creative at the craft table as well. Get on your fancy dress and make something yummy!
School of Cook Halloween Parties. October 29, 10-11.30am. Seacroft Village Hall, Wetherby Road, Leeds LS12 3AS and October 30, 10-11.30am, Churchwell Community Centre, Elland Rd, Leeds LS27 7SY. Email info@schoolofcookco.uk to book. Suitable for children aged 2-8, although older children welcome.
Rave from the Grave with Baby Rave North
Baby Rave North
Little ravers and their grown ups will take over the Control in Leeds for a Rave from the Grave Wednesday October 28 with Baby Rave North. Children from 0-7 years old are welcome to join in the fun that includes live music, singing, dancing and a soft play area.
There will even be a photo booth on site to take photos of your little monsters.
Rave from the Grave, October 28, 1-4pm, Control Nightclub, Cardigan Fields, Kirkstall Road, Leeds, LS4 2DG. Tickets £6 per person. Under 1's free. Suitable for children aged 0-7.
Halloween Spooktacular at Temple Newsam
Temple Newsam House and Farm make the perfect setting for some frightening Halloween fun. This includes the Gruesome Newsam tour, where you can discover the ghostly secrets of the house (October 24 & 31, 2-3pm) and the Halloween Spooktacular, where you can don your best costumes and come along to collect treats!
Halloween Spooktacular. October 31, 5-8pm. Temple Newsam, Off Selby Road, Leeds, LS15 0AE. Tickets available here.
Creepy crafts at Lotherton Hall
Lotherton Hall
Families looking for some Halloween-based crafts will find plenty to do at Lotherton Hall. Along with a crafting activity inspired by the dogs in Lotherton's pet cemetery on October 27, you can make a spooky scarecrow on October 28 and 29, or enjoy some creepy Halloween themed crafts and activities in the education centre in the Bird Garden on October 28.
October 31 is Lotherton's Halloween Day where you can follow clues around the estate to find the scarecrows, along with crafts, face painting and more.
Lotherton Hall Halloween activities. October 27-31. Lotherton Hall, off Collier Lane, Aberford, Leeds, LS25 3EB. Find out more information here.
Frightwater Valley at Lightwater Valley
Lightwater Valley
All manner of creepy ghouls and beasts lurk within Frightwater Valley! You can find mini, mega and ultimate scares this Halloween including Trick or Treat Doors, a Monster Puppet Show and the Lightwater Express. Many events are suitable for the entire family but things get so frightening at dark that under 12s are advised to leave by 4pm!
Frightwater Valley, October 30-November 1, 10am-6.30pm, Lightwater Valley, North Stainley, Ripon, HG4 3HT. Tickets £19.50 for over 1m, £5 under 1m.
Find more things to do in Leeds.