For those of you about to start at one of our three wonderful universities in Leeds, we envy you. Three (or more) years of drinking, socialising and eating out awaits you. Oh, and the occasional bit of studying, of course...
While many of you may end up scattered around town in random student housing, that doesn't mean you need to miss out on sampling some of the best food in Leeds, nor does it mean breaking the bank of Mum and Dad or spending all your loan in the first few weeks.
So, when you want to take a break from instant noodles and economy microwave meals and treat yourself to something both delicious and affordable, here are five cheap places to eat in Leeds for students: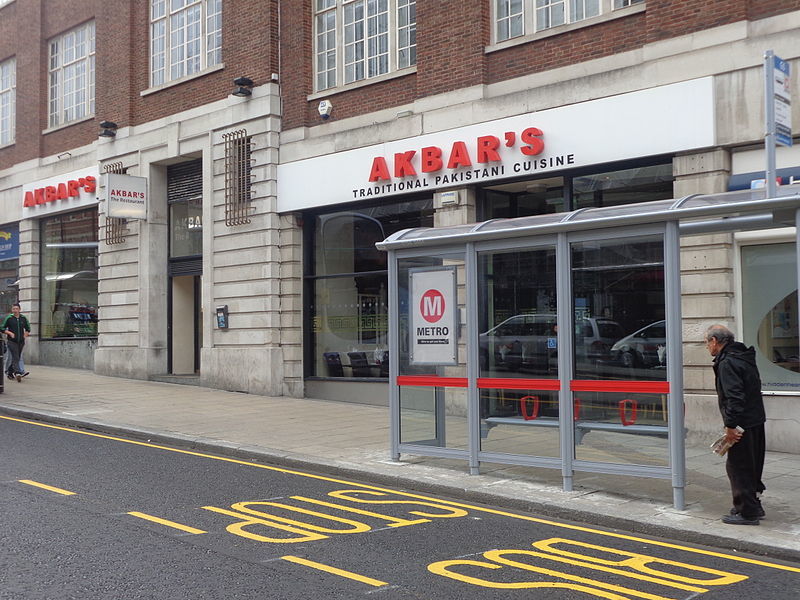 Wikimedia Commons
Akbar's probably isn't going to blow your mind if you're a foodie (although try their gosht handi for something a bit more traditional). However, it is good value for a meal out before you hit the town.
Featuring a chance to 'one up' each other with the 'chef's challenge', the enormous naan breads will provide a talking point for even the least sociable of curry fans. There's also a nice bar area upstairs to have a pre-meal drink in.
Ackbar's,15 Eastgate, Leeds, LS2 7LY.
Leedsfoodie.co.uk
For anyone lucky enough to be based in the Headingley area, Whites is a gem just waiting to be discovered. With a range of excellent meals on offer, from breakfast to a big lunch, Whites offers some tasty treats in a relaxed atmosphere where you can watch the day go by with a coffee and a slice of cake.
For those of you who are sick of a drink out with your mates being interrupted by Spiderman or macho lads wearing ballet dresses, Whites also offers the bonus of not welcoming Otley Runners, so you can sit down and enjoy a range of decent drinks and food without suddenly feeling like you are part of this year's Comic Con...
Whites Deli, 9 Otley Rd, Leeds, LS6 3AA.
Leedsfoodie.co.uk
Offering very good value for a meal that will leave you full for the day (yes, it'll even fill up hungry students), there's the added bonus that it's healthy and good for you.
Although there are numerous decent(ish) offers in town aimed at getting student diners to part with their cash, for Leeds city centre itself, Humpit is the best place to fill your face when out and about shopping in Leeds. Try their half and half pita for a really tasty treat.
Humpit, The Corn Exchange, 2 Call Lane, Leeds, LS1 7BR
Leedsfoodie.co.uk
A recent introduction to the Leeds food scene, this location is a perfect start for a student night out, especially if you are keen to share your gap year memories. The décor offers a perfect starting point for good conversation, the free popcorn adds a taste of Bangkok authenticity, and the food is cheap and packed full of big flavours.
Zaap is also open all hours (well, at least late enough for you to grab a bit of Thai food on your way home from a night out on the town) and considered one of the best places in town to grab some Thai food. Yes, there is a lot of competition for this crown, but Zaap just hits that perfect note for a great student meal out.
Zaap, Grand Arcade, Leeds, LS1 6PG.
Leedsfoodie.co.uk
The Agora is arguably the nicest Greek (and Turkish) option based in Headingley for Leeds Beckett Uni or University of Leeds students – or in Horsforth, for those of you attending Leeds Trinity Uni.
Whilst the normal prices might be a bit steep for an average student budget, the Sunday-Thursday two course offer of £12.95 is a great way to get a good deal whilst enjoying home cooked food. The whole menu is appetising, but the kleftiko will quickly become your favourite dish.
The Agora Headingley, 55A Otley Road, Leeds, LS6 3AB. The Agora Horsforth, 207-209 New Road Side, Horsforth, LS18 4DR.
Honourable mentions go out to
Pinche Pinche
in Chapel Allerton, as well as
Jino's Thai Cafe
and
Ecco
in Headingley. Jino's in particular is a good shout as you can BYOB.
Of course, you don't have to be a student to like good value food. Here are more places for cheap eats in Leeds.