Man to a flame; one of the earliest attractions in existence. The primeval practice of cooking meat with fire outdoors has seen men gather round discussing briquette colour to heat ratios, when to use artificial lighting agents and the safe edible levels of pink meat since prehistoric times.
So why, now, has barbecuing been classified as a 'scene'?
Most of us are aware of fashion scenes, music scenes – even craft ale, cocktail and street food scenes. But the suggestion that barbecued food had generated sufficient activity and interest in a city to constitute a 'scene', is somehow amusing.
A scene suggests people from the outside flock to it, and it carries a certain unique look or style. Can this really be applied to meat that has been smoked over a grill?
Look deeper into it, though, and evidence exists that there is indeed a significant number of organisations loosely labelled as specialising in 'barbecued foods'. They are operating up and down the country, and dedicated barbecue festivals like Grillstock now attract thousands of visitors drawn by the culinary appeal of charred animal.
Can Leeds really boast a barbecue scene of its own? Holy hickory smoke, it sure can.
Various barbecue restaurants have opened in Leeds in the last two years, and while some of these are chains that also exist in other cities, it's hard to imagine such a concentration of like-minded operations having congregated elsewhere.
This is particularly true when you consider the amount of street food vendors also sizzling slabs of finest cuts for a slice of the barbecue bucks.
Flirting on the periphery of the scene are the plethora of burger joints in Leeds. This includes venues such as Almost Famous, Byrons Hamburgers, MEAT Liquor,The Pit and Handmade Burger Company.
These have all arrived in recent years with bold Texan intentions and have combined to make burger-making into more than just fast food. To these guys, meat in a bun has become an art form: their burgers are towering, triple-decked giants, stuffed with all manner of increasingly outrageous accoutrements.
Venture elsewhere and the quintessential barbecue-lover now has plenty more choice to tickle their fancy. Or, rather, raise their cholesterol...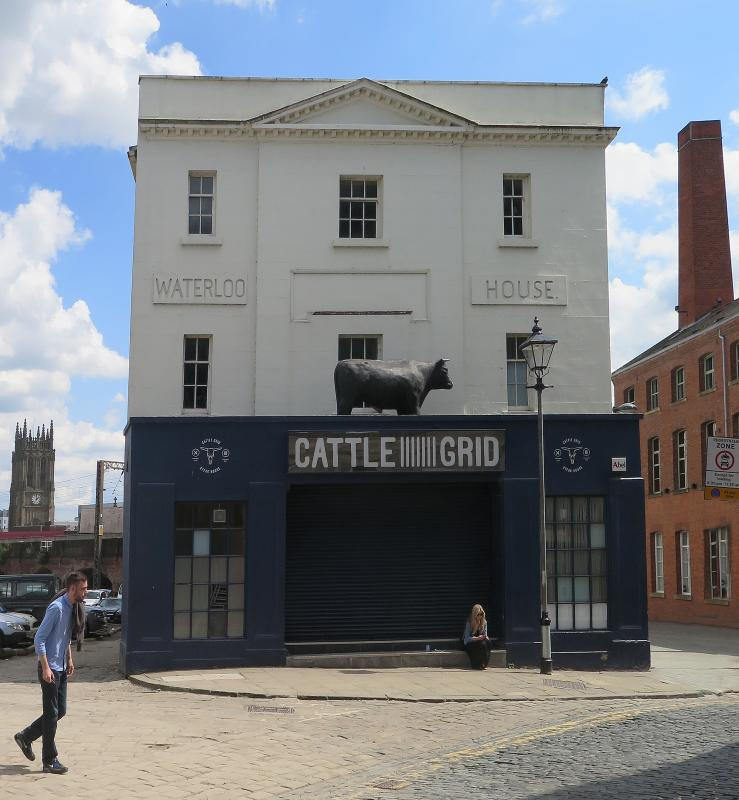 Andy Maguire/Flickr
Cattle Grid, next to the Corn Exchange, is well-established and sells its cuisine with little pretension. It states its intentions quite plainly, with a menu separated into 'Cow' or 'Pig'. But, despite such limitations the variety of cuts, the flavours and accompaniments are staggering.
Leeds' big player is Red's True Barbecue, now operating on Cloth Hall Street in town and on Otley Road in Headingley.
Red's tagline 'let there be meat' belies its faithful devotion to flavours. Many barbecue lovers concede that sauces are often what makes the difference, and Red's do this very well. Amongst others, you'll find Pickleback BBQ sauce, Unholy Sauce, Judas Ketchup, South Carolina BBQ sauce and more. The restaurant also pays faithful attention to glazes, rubs and 'smoking low and slow'.
Salivating? Yep, we are too.
Moving to a South American influence, surely every Leeds diner knows about the dizzying choice of meat supplied by Fazenda? This place, along with Bem Brasil on Greek Street, are 'churrascaria' restaurants, where an endless supply of meat skewers – including various cuts of beef, pork, lamb and poultry – are delivered to your table, buffet-style, for an all-inclusive price.
Cabana is a chain of 'Brasilian Barbecue' restaurants, and its latest venture in Trinity follows the same culinary theme as Fazenda and Bem Brasil, but comes in individual dishes. Hence it is a bit cheaper overall, and has a slight concession to fish also.
Truly taking the barbecue ethos to its definition is the newly-opened Bulgogi Grill in the resurgent Merrion Centre.
Although dubbed a 'Korean barbecue restaurant', Bulgogi embraces the DIY nature of barbecue cooking, whereby you order your meats and fish and cook it yourself on a grill built into your table. Certainly this is a challenge for kitchen novices, but at the same time you can't exactly complain about the standard of cooking.
Naturally, given the current trend for street food, barbecue food has emerged as a fashionable offering to produce from the back of a van. Patty Smiths Burgers are well-established in Leeds and Shoot The Bull have recently arrived in Trinity with a truckload of meats and flavours.
However, perhaps proving once and for all that what Leeds has in terms of a love of barbecue food that can be termed a 'scene', is the story of Crowder Barbecue. This is an embryonic operation started by two brothers, who have evolved popular barbecue parties at their Headingley student flat into an emerging business.
Admittedly seeking financial assistance to take them to the next level, they are offering their barbecue skills at monthly supper clubs, parties, festivals, events and weddings. And while they retain a backyard authenticity, their passion results in far more than a lonely sausage in a bun with a dollop of ketchup.
Add to all this the impending opening of Smoke in the 'Arena Quarter' – a barbecue restaurant promising yet more tangy flavours and plenty of meat – and yes, anyone would have to concede that Leeds probably does have a 'barbecue scene', along with the interest to support it. However ludicrous that seems.
So down tools, forget the firelighters and stop peering at the heavens praying for a break in the clouds. Let's embrace the scene before we have to go back to doing it ourselves.
Looking for more suggestions where you can grab a burger? Take a look at our list.