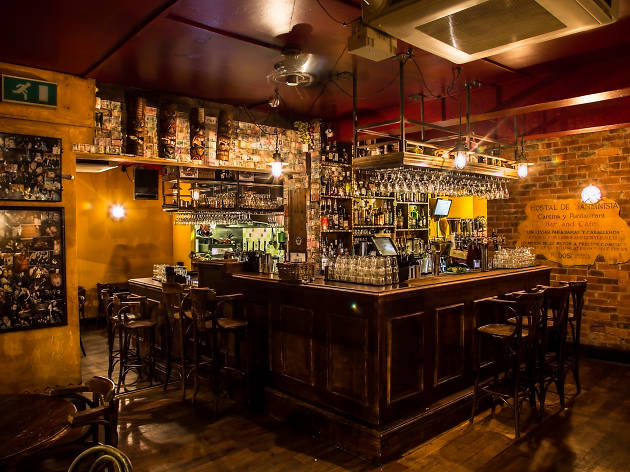 Time Out says
Late-night drinking den that features a decent menu of tapas and platters, with many ingredients ethically sourced. Decor is ragged but cosy.
Since it opened in 2002, Sandinista has been a late-night watering hole par excellence. Its Cross Belgrave Street location makes it easy to dismiss it from your calculations if you're on a group night out because it always seems to be just a bit too far away from everything else. But with its late opening hours – 4am on Saturday nights, 3am all other days of the week – it can always be relied upon to provide decent entertainment and affordable drinks.

Named after the band of Nicaraguan revolutionaries and the fourth album by The Clash, Sandinista bills itself as having a 'non-conformist spirit and complex ethos'. As soon as you walk in, you get the gist of what it means: wooden floors, and slightly beaten-up-yet-cosy-looking tables and chairs that give the vague impression of a backstreet café in pre-revolutionary Cuba. And if you're there in the evening at the weekend, the music really hammers it home, with a head-spinning mixture of 60s and 70s pop, rock and punk classics combined with post-80s indie. The recently unveiled student night Nevermind, held every Thursday, is a fantastic example of the music it has to offer.

Sandinista also has a decent menu that's focused on simplicity and sharing, reflecting the Latin American origins of its name. Tapas dishes and meat and cheese boards are the headline acts, and wherever possible the ingredients have been ethically sourced. The same goes for the drinks menu, into which a clear effort has gone towards authenticity: coffee is from Nicaragua, for instance; bottled water is supplied by certified partners of WaterAid, and virtually all of the wine is Chilean or Spanish. Food service in places that are primarily drinking spots can sometimes feel like they're thrown in as an afterthought, but not with Sandinista, which is ambitious in its scope and successful in its execution. The restaurant's website claims that 'it's more fun to eat in a bar than drink in a restaurant'. Well, it certainly is here.
Details
Address:
5 Cross Belgrave Street
Leeds
LS2 8JP

Contact:
Opening hours:
Sun-Fri 11am-3am; Sat 10am-4am